'Night Owl Radio' 308 ft. Bleu Clair and PAX
This week, Bleu Clair selects his Up All Night tracks and PAX delivers the exclusive Guest Mix.
Night Owl Radio is available via iTunes, so get to subscribing on your iOS devices.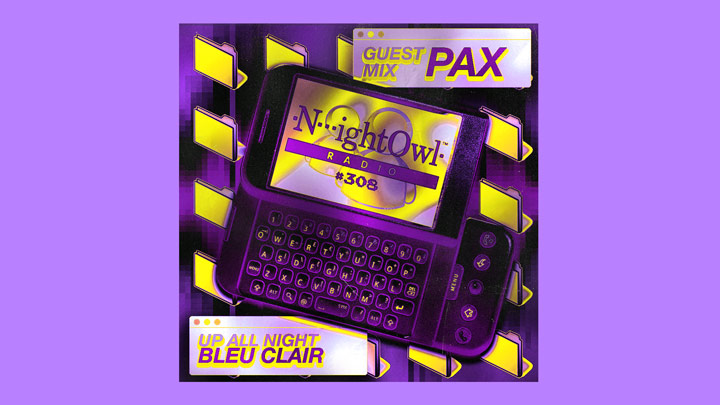 'Night Owl Radio' 308 Track List

BURNS "Talamanca"
Vintage Culture, Fancy Inc, Roland Clark "Free"
Hérve "Together" (Illegal Bass)
Akey "High"
APOLLO. X Hannah Boleyn "Riptide" (UR2wo Remix)
Marsh "Liberator"
Falden "Don't Wanna Know" (Le Youth Remix)
Yotto "Trudow"
BLVD. & Laidback Luke "Cielo"
Pagano "Infinite Regress"
Jerome Hill "A Million Ways to Get Ill"
X&G x 2Point "DON'T STOP"
Curbi & Mike Cervello "The Drum"
Tommy Trash & Yolanda Be Cool "Emergency" (Black V Neck Remix)
DONT BLINK "What You Like"
Oomloud "Rebirth"
Gibson Parker "Psyhouse"
OOTORO "Poser"

Bleu Clair - Up All Night
Apashe & High Klassified ft. Cherry Lena "I'm Fine" (IMANU Remix)
Fourword "Snake Charmer"
Bleu Clair ft. Jelita "Have Me All"
Subscribe to the Insomniac Events YouTube channel now.
Bleu Clair's "Have Me All" is available via Insomniac Records here.
PAX's "Cosmic Kiss" is available via Factory 93 Records here.
Follow Bleu Clair on Facebook | Twitter | SoundCloud
Follow PAX on Facebook | Twitter | SoundCloud
---
Share
---
Tags
---
You might also like