'Night Owl Radio' 226 ft. Countdown New Year's Invasion 2019 Mega-Mix
This week, we have the Countdown 2019 mega-mix! With all mashups, it is about 74 tracks.
Night Owl Radio is available via iTunes, so get to subscribing on your iOS devices.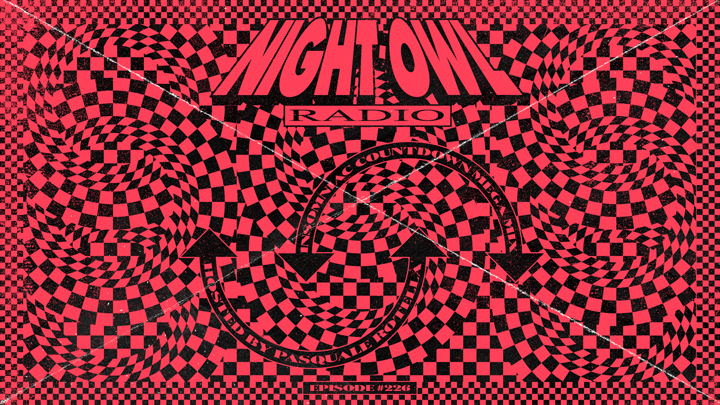 'Night Owl Radio' 226 Track List

JSTJR "I See You"
Chris Lorenzo ft. POLINA "Ghost Dub"
CID & Riddim Commission "ME N U"
Dr Kucho! & Gregor Salto "Can't Stop Playing" (Oliver Heldens & Gregor Salto Remix)
Gryffin ft. Elley Duhé "Tie Me Down" (Spencer Brown's Ibiza Mix)
Oliver Heldens ft. Devin & Nile Rodgers "Summer Lover" (CID Remix)
Oliver Heldens & Lenno "This Groove"
Disclosure ft. Sam Smith "Latch" (Oliver Heldens Remix)
Dombresky "Futurmastic"
Tom & Collins ft. Rachel West "Only One"
Dombresky & Noizu "Rave Alarm"
Noizu "Lasers"
Dombresky "Simple Hit"
CID "No!"
Dombresky & Lucati "Like This"
Alesso x SUMR CAMP "In the Middle"
CID & Kaskade "Sweet Memories"
Franklyn Watts, Steady Rock, Dances With White Girls "Family Funktion"
Walker & Royce ft. VNSSA "WORD"
Mel G & VNSSA "The Light"
CamelPhat, Fatboy Slim, Dr. Fresch "Sick Right Here" (Dr. Fresch Bootleg)
Gryffin & ZOHARA "Remember" (Madison Mars Remix)
Alesso ft. tINI "Sad Song" (Alesso Remix)
Galantis ft. OneRepublic "Bones" (Hook N Sling Remix)
Zedd ft. Selena Gomez "I Want You to Know" (Elephante Remix)
Gryffin & Illenium ft. Daya "Feel Good" (Crankdat Remix)
Elephante ft. RUMORS "I Want You"
Alesso vs. OneRepublic "If I Love Myself" (Alesso Remix)
Porter Robinson & Mat Zo "Easy"
Tiësto & The Chainsmokers "Split (Only U)" vs. Kanye West "Love Lockdown" (Fedde Le Grand Mashup)
Galantis "Peanut Butter Jelly"
SAYMYNAME "Bounce"
Nitti Gritti & Shndō "4 on the Floor"
SAYMYNAME "Turn up Da Bass"
Dr. Fresch "Dr. No"
Lost Kings ft. Norma Jean Martine "When We Were Young"
ETC!ETC!, Brillz, Diplo "Bueller"
Said The Sky & Kwesi "All I Got"
Post Malone, Porter Robinson, Ekali, Quix "I Fall Apart" (Cazes Language Bootleg)
Marshmello x SVDDEN DEATH "Sell Out"
Gentlemens Club & Samplifire "Pump It Up"
Eliminate "I'll Be There"
SVDDEN DEATH X AFK "BZZRK" (UBER Remix)
ATLiens "Alchemy" (MineSweepa Remix)
Peekaboo, G-Rex "Babatunde" (Eliminate Remix)
Gentlemens Club & SampliFire "Pump It Up" (Boogie T Remix)
Borgore x AFK "Jimmy's Rage"
Tokyo Machine "Spooky" (Tisoki Remix)
12th Planet ft. MACTurnUp "Let It Bang"
12th Planet "Swamplex Terrestrial"
Nitti Gritti "Forbidden Kingdom Anthem"
Borgore & Axel Boy ft. GG Magree "Reasons"
The Chainsmokers ft. 5 Seconds of Summer "Who Do You Love"
The Chainsmokers "Who Do You Love" (Marc Benjamin Remix)
Eliminate "Running"
12th Planet & PhaseOne "Taco Bout It"
Tisoki "Simulation"
Borgore ft. Barrington Levy "Blast Ya"
Flux Pavilion "Bass Cannon" (Nitti Gritti Bootleg)
Riot Ten & Krimer ft. Virus Syndicate "Blitz" (Blunts & Blondes Remix)
JSTJR ft. Snappy Jit "Oh My My"
Raiser "The Weapon"
Jai Wolf "Indian Summer" (Kasbo Remix)
Lost Kings ft. Sabrina Carpenter "First Love"
Madeon & Porter Robinson "Shelter"
Said the Sky ft. Kerli "Never Gone"
Countdown 2019 is an 18+ event taking place Tuesday, December 31, at NOS Events Center in San Bernardino, CA. Tickets are on sale now. For more information, visit the official website.
Follow Countdown on Facebook | Twitter | Instagram
---
Share
---
Tags
---
You might also like