'Night Owl Radio' 175 ft. Best of 2018 Mega-Mix
The year 2018 may have been a turbulent one for many people, with so many ups and downs that it might as well have been an amusement park ride. However, there were still plenty of positives to consider, including every Friday night—when Pasquale would fire up the Night Owl Radio studio and take control of the airwaves one solid selection at a time.
Since no end-of-year celebration is complete without some proper reflection, Pasquale is taking the final episode of December to show some love to the biggest, baddest, bangiest bits that came out on top from way back in January to now. Press play up top, and let the Best of 2018 mega-mix give you an auditory recap of the year we shared together, week in and week out.
Night Owl Radio is available via iTunes, so get to subscribing on your iOS devices.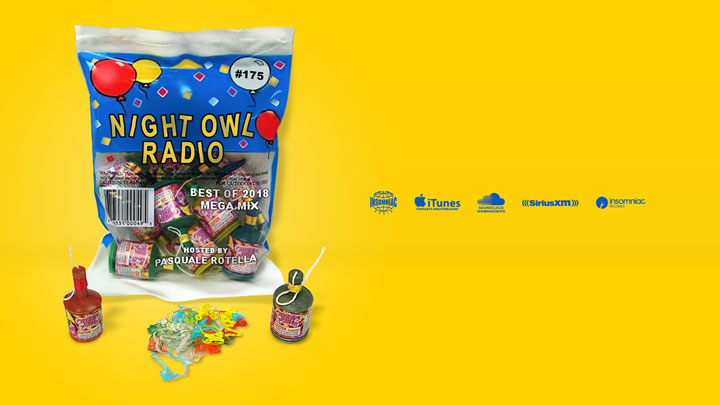 Night Owl Radio 175 Track List

Redlight "Get Wavey"
Mo Falk, Zoopreme and Yukio "Midnight Strike"
Tchami "Aurra"
Purple Disco Machine "Dished" (Male Stripper)
Weiss "Feel My Needs" (Siege Remix)
Raito "One Step Beyond"
Au/Ra & CamelPhat "Panic Room"
Lane 8 x Khåen "Duchess"
Bad Computer "Disarray"
Shiba San & Tim Baresko "All I Need"
James Zabiela "X Ray"
SL2 "DJs Take Control" (Slipmatt & Sooney 2018 Remix)
Alex Metric & Ten Ven "Otic"
Ettica "The Light Within You"
Yotto "Walls"
Dom Dolla "Take It"
Dombresky "Futurmastic"
UFO Project "Apollo"
Mak & Pasteman "My MPC"
Nic Fanciulli ft. Damon Albarn "Saying" (Kölsch Remix)
Cirez D "Dare U"
Fisher "Losing It"
GAWP "Gold Baby"
Anti Up "Hey Pablo"
Rico Tubbs "Sweet Time" (Circa 92 Remix)
Hervé "Jungle Is Massive"
Valy Mo, Rave & Crave "Survival"
Dope Ammo, Kathy Brown & Wyld Child ft. Frenic "I'm Good" (Liquid Remix)
Pryda "Elements"
Siwell "On the Fly"
Tony Hughes & JRJ "Give Her the D"
Bicep "Opal" (Four Tet Remix)
Icarus "Love Has Come Around"
Kölsch & Tiga "HAL"
Pryda "The HoaX"
Chris Lake ft. Alexis Roberts "Turn Off the Lights"
Krystal Klear "Neutron Dance"
Virtual Self "Ghost Voices" (Raito Old Skool Remix)
Chris Lake & Green Velvet "Deceiver"
---
Share
---
Tags
---
You might also like