'Night Owl Radio' 173 ft. Audiotistic SoCal 2018 Mega-Mix
It's an exciting time for anyone who ever attended Audiotistic back in the day and recalls just how instrumental the festival was in creating an unlikely connection between the worlds of hip-hop and dance music. After a hiatus that went on far too long, the SoCal edition of Audio is making a comeback next Saturday, and we couldn't be any more stoked for its return.
Pasquale is also pumped to get back out there and check out what the one-day event will bring next weekend—so much so that he's taken the time to compile the very best bits from the heavy-hitting lineup and has strung them all together into a sensational Audiotistic SoCal 2018 mega-mix. For the next couple of hours, spend some time getting warmed up for what will undoubtedly be a strong return for a festival that has (and will continue to) flip the mother Fing script.
Night Owl Radio is available via iTunes, so get to subscribing on your iOS devices.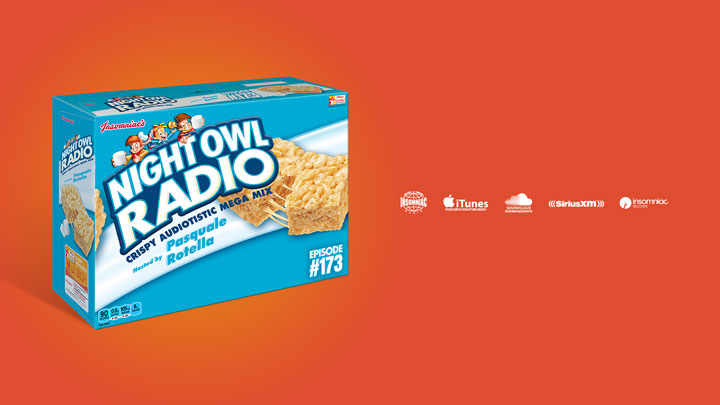 'Night Owl Radio' 173 Track List

Boombox Cartel "NBD" (Phlegmatic Dogs Remix)
AC Slater & BIJOU "Louis V"
Drezo & Dustycloud "House"
Dombresky & Noizu "Rave Alarm"
Ardalan "All Day Since Every Day"
Chris Lake "Stranger"
Drezo & DJ Hanzel "Anxiety"
Phlegmatic Dogs & AC Slater & Kaskade "Fun"
Porter Robinson & Mat Zo "Easy"
Flosstradamus & Boombox Cartel "ID"
Lil Uzi Vert "Money Longer"
Flosstradamus "2 MUCH"
Lil Uzi Vert "XO Tour Life"
Quix & KRANE "Next World"
Pendulum "The Island" (4B & Stevie G Remix)
Quix "All I Have"
Electric Mantis + Mothica "Lying & Loving"
Flosstradamus & Dillon Francis "Tern It Up"
4B & Aazar "Pop Dat"
Quix & Dabow "Like That"
Born Dirty & Anna Lunoe "Badass"
Anti Up "Pizza"
Steady Rock & Sage Armstrong "Drippin Wet"
Anti Up "Hey Pablo"
Chris Lake ft. Dances With Wolves "Give Her Right Back"
Dombresky "Hardcore"
Born Dirty "Get Up Get Out"
Ardalan & Justin Martin "Mr. Spock"
Steady Rock & OMNOM "On Sight"
Lil Xan ft. 2 Chainz "Tick Tock"
Sober Rob "Salt"
Porter Robinson "Language" (Quix & Ekali Remix)
Sober Rob "Jungle Robot"
Diplo & Lil Xan "Colorblind"
Electric Mantis "Flips and Flops, Drips and Drops"
Audiotistic SoCal 2018 takes place Saturday, December 29, at NOS Events Center in San Bernardino, CA. Tickets are on sale now. For more information, visit the official website.
Follow Audiotistic on Facebook | Twitter | Instagram
---
Share
---
Tags
---
You might also like