'Night Owl Radio' 171 ft. Countdown NYE 2018 Mega-Mix
We are only a few hours shy of it officially being December, which means 2019 is about to sneak up on us before we even have a chance to take notice. And once New Year's Eve is in front of us, you're going to want to be ringing it in at Countdown. Rumor has it that we will be making contact with some friendly aliens who may or may not love to party just as much as we do.
As a way to get his listeners prepped for the rave invasion, Pasquale is dedicating this week's show to the sounds that will be popping off when the UFOs are hovering overhead. He uses up the two-hour window by stuffing as many out-of-this-world selections into the official Countdown NYE 2018 mega-mix. Press play up top, turn it as loud as possible, and get ready to be blasted straight into another galaxy.
Night Owl Radio is available via iTunes, so get to subscribing on your iOS devices.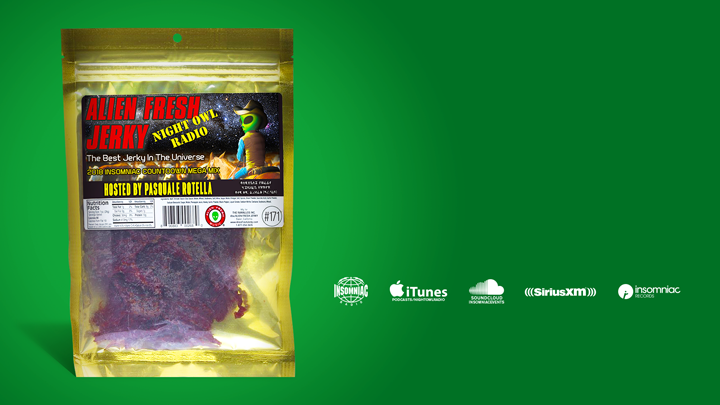 'Night Owl Radio' 171 Track List

Claptone "The Music Got Me" (Justin Martin Remix)
Faithless "Music Matters" (Sage Armstrong & Steady Rock Remix)
Shiba San "I Can't Remember"
OMNOM & Steady Rock "On Sight"
Sage Armstrong & Bruno Furlan "Gotdamn"
Justin Martin & Ardalan ft. PartyPatty "Function VIP"
Loud Luxury "See It Again"
CID "I Miss You"
Loud Luxury & Anders "Love No More"
CID & Kaskade "Sweet Memories"
Tiësto & Sevenn "BOOM"
Afrojack & MC Ambush "Step Back"
Wolfgang Gartner & k?d "Banshee"
Jauz & Snails "Motherfuckers"
Tiësto & John Christian ft. Marshall Masters & The Ultimate MC "I Like It Loud"
Dillon Francis ft. G-Eazy "Say Less" (Dillon Francis & Moksi Remix)
Dillon Francis ft. G-Eazy "Say Less"
Shlump "Top Shotta ft. Badmon Bishop"
Champagne Drip "Nerf This"
KRANE & QUIX "Next World" (ZEKE BEATS Remix)
Kendrick Lamar "DNA" (PartyWave & Shlump Remix)
ZEKE BEATS "Devastate"
Zomboy "Rebel Bass"
LAXX ft. GG Magree "Heart"
HEKLER & Gladez "404"
Zomboy "Biterz"
Shlump "Maniac"
Dirty Audio & ZEKE BEATS "Mind"
Zomboy ft. Bok Nero "Rotten"
Kill the Noise & Snails ft. Sullivan King & Jonah Kay "Shake the Ground"
Ekali, TYNAN & Hekler "Blood Moon"
RL Grime "Feel Free"
Zeds Dead & NGHTMRE ft. GG Magree "Frontlines"
LOUDPVCK ft. Karra & Rickyxsan "More Than I Can Take"
What So Not & San Holo ft. Daniel Johns "If You Only Knew" (Graves Remix)
RL Grime "Reims"
Snails & Boogie T "Redline"
Shlump "Higher Than a Plane"
Xie "Drip"
Shlump "Like a Drug"
Marshmello ft. Khalid "Silence" (YULTRON Remix)
Zomboy "Saints & Sinners"
Pegboard Nerds & Dion Timmer "Escape"
Party Favor & Bad Royale ft. Richie Loop "Bury"
LOUDPVCK ft. Reese La Flare "Jumanji"
Party Favor "WAWA"
LOUDPVCK & Michael Sparks "Bones"
LOUDPVCK & QUIX "Pace"
RL Grime "ERA"
The Chainsmokers "This Feeling" (Afrojack & Disto Remix)
LAXX & Dion Timmer "Join Me"
Zomboy "Lone Wolf"
Snails & Dion Timmer ft. KLP "Forever"
Herobust "WTF" (Hekler Remix)
Dion Timmer "Down With Me" (VIP)
Herobust "Debt 'N Eight"
Champagne Drip "Argent Energy"
Soothslayer & Follow the Sun "Nova"
Skepsis "Goes Like" (The Prototypes Remix)
Deuce & Charger "Who Can You Trust?" (Consouls Remix)
Friction "Galactic"
The Prototypes & TC "Species"
Friction ft. Doctor "Mad in the Jungle"
The Prototypes "Pale Blue Dot"
Friction ft. Riko Dan & Tantrum Desire "Stinker"
Krewella "Beggars" (Consouls Remix)
Graves "un4getable"
Alison Wonderland "Church"
k?d ft. Mickey Kojak "Electronic Memories"
Zedd, Alessia Cara "Stay"
Dillon Francis ft. Ximena Sariñana "Esta Noche"
k?d "Vindicta"
RL Grime "Pressure"
Countdown 2018 is an 18+ event taking place Monday, December 31, at NOS Events Center in San Bernardino, CA. Tickets are on sale now. For more information, visit the official website.
Follow Countdown on Facebook | Twitter | Instagram
---
Share
---
Tags
---
You might also like