'Night Owl Radio' 165 ft. Escape: Psycho Circus 2018 Mega-Mix
It's crazy to think that in just one week, we will be losing our collective mind at Escape: Psycho Circus, our once-a-year festival where our wildest nightmares are free to run rampant. Before our Headliner haunt kicks off, though, Pasquale is ready to turn up the frightening to an 11 to get your blood pumping through a special two-hour Escape mega-mix. The entire show is crawling with choice cuts culled solely from artists slated to perform across both days. Hit play on the show above, and prepare to test your threshold next weekend as we attempt to overcome the carnage of a killer lineup, hair-raising performers, and the madhouse maze known as the Asylum.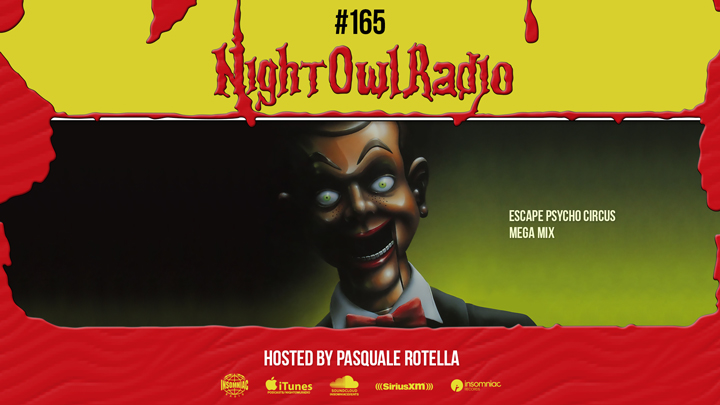 Night Owl Radio 165 Track List

Jamie Jones "Melodic Phase"
Pryda "The HoaX"
Adam Beyer & Joseph Capriati "Congenial Andeavor"
Pan Pot "Fugitives" (Joseph Capriati Remix)
Latmun "Everybody's Dancin'"
Mercer "Alright"
Dombresky & Tony Romera "Girl's Night Out"
No Requests "Staccato"
Loco Dice "$lammer"
Salvatore Ganacci & Sanjin "Motorspeed 300 km/h"
Richy Ahmed "Kiralaya"
Martin Garrix & Florian Picasso "Make Up Your Mind"
Silk City, Dua Lipa ft. Diplo & Mark Ronson "Electricity"
Tchami & Malaa "Kurupt"
A-Trak ft. Todd Terry "DJs Gotta Dance More"
Virtual Self "Ghost Voices" (GTA Psy Edit)
Seven Lions & Blastoyz ft. Fiora "After Dark"
Kai Wachi "Cerberus"
KAYZO ft. XO SAD "FAKE FAKE FAKE"
Champagne Drip "Industry Black"
Noisia "Get Deaded" (Moody Good Remix)
Dyro & GTA "Talkin' Bout"
Brennan Heart & TNT "Hard Knockin' Beats" (2018 Edit)
Zatox "Unstoppable"
Junkie Kid ft. Fasko & Bagha "Two Clips"
Yellow Claw "Dog Off"
Excision "Tonight"
SAYMYNAME "Don't Stop"
RayRay & Crisis Era "Ninja"
Zeds Dead "Woman Wine"
QUIX & Matroda "LAMBO"
QUIX ft. Jaden Michaels "Giving Up"
Wasted Penguinz X Crisis Era "Can't Stay"
Angerfist "Still Pissin Razorbladez"
Salvatore Ganacci ft. Nailah Blackman "Kill a Soundboy"
A-Trak & YehMe2 "Prayer Hands"
Tinlicker ft. Cut "Wanderer" (Extended Mix)
CamelPhat "The Solution"
Tinlicker "Waschmaschine"
Dubfire ft. Miss Kittin "Exit"
CamelPhat & Elderbrook "Cola"
Adam Beyer, Layton Giordani & Green Velvet "Space Date"
Nicole Moudaber & Carl Cox "See You Next Tuesday" (Solardo Remix)
ANNA "Portable Paradise"
Lane 8 "Daya"
Franky Rizardo "I'm Feelin'"
Latmun "Counting Tool"
Kaskade "That Dance" (With LöKii)
Moksi & Mike Cervello "I Like To"
Dombresky "Utopia"
Martin Garrix & Loopers "Game Over"
JOYRYDE "Hari Kari"
Malaa "Cash Money"
Crisis Era, Seth Hills "Basslevel"
Kai Wachi & G-Rex "ICHOR"
20 Fingers ft. Roula "Lick It" (Lady Faith Bootleg)
Excision ft. Akylla "Die For You"
Lady Faith "PLUR"
Digital Ethos "Heavy"
Zeds Dead x DNMO ft. Tzar "We Could Be Kings"
Champagne Drip "Deckard"
Noisia & Prolix "Asteroids" (Noisia Remix)
Geo "Tetris"
Andy C "What Bass"
Diplo ft. Lil Pump, Juicy J, Famous Dex & French Montana "Welcome to the Party" (Remix)
Escape: Psycho Circus takes place October 26 & 27, 2018, at NOS Events Center in San Bernardino. Tickets are on sale now.
Follow Escape: Psycho Circus on Facebook | Instagram | Twitter
---
Share
---
Tags
---
You might also like