'Night Owl Radio' 132 ft. Beyond Wonderland SoCal 2018 Mega-Mix
All of the indescribable feelings are still stirring after a massive weekend at EDC Mexico. Pasquale recounts the good times by dipping into a few Headliner shout-outs we captured while running around the festival grounds. Prepare to deal with some severe FOMO if you happened to sit this one out.
And just like that, it's on to the next one as Beyond Wonderland SoCal quickly creeps up on us. In a few weeks from now, the portal to a faraway playground will open up and transport Headliners to a two-day getaway of your wildest imagination. In an effort to get his listeners on the same page, Pasquale puts together a special mega-mix with two hours' worth of music by artists slated to perform at the party. Get ready to lose it, because the next 120 minutes are going to be out of control.
Beyond Wonderland SoCal 2018 takes place Friday, March 16, and Saturday, March 17, at the NOS Events Center in San Bernardino, CA. Tickets are on sale now.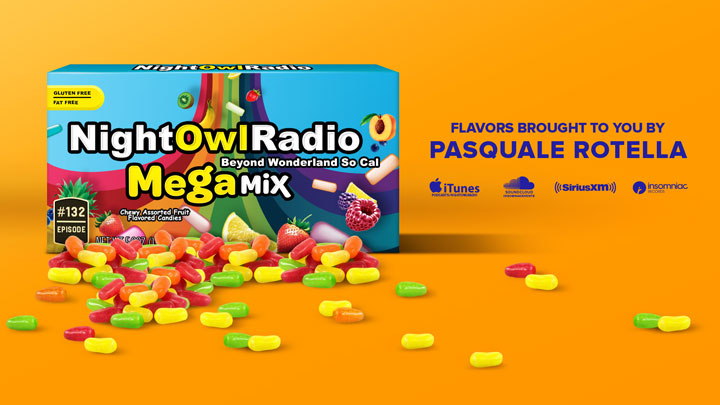 Night Owl Radio 132 Track List:

 


EDC Mexico Recap

Sam F "Run Away"
Elephante ft. Matluck "Come Back for You"
RKCB "Elevated" (Christofi Remix) (Extended Mix)
Judge ft. Jesse Rutherford & Lil West "Addicted" (co-prod. Dylan Brady & Alexander Lewis)
Tritonal "Call Me"
JSTJR "158"
Chance the Rapper "All Night" (Mr. Carmack & Swindail Remix)
Showtek & Moby "Natural Blues" (Extended Mix)
Dash Berlin & DBSTF ft. Josie Nelson "Save Myself"
Sage Armstrong & BOT "Amber Alert"
LondonBridge x Lliam Taylor "Gassed"
NuKid "Hustlin'"
Born Dirty "Crazy"
Claptone ft. Ben Duffy "In the Night"
Fisher "Stop It"
Jack Beats "The Lean"
Solardo "Keep Pushing On"
Anna Lunoe, Valentino Khan & Wuki "Bullseye"
Wolfgang Gartner & K?D "Banshee"
Morgan Page & Jayceeoh ft. Kaleena Zanders "Lost Dreams"
Walker & Royce ft. Sue-Yenn "Reaching"
Will Clarke "On the Train"
Catz 'n Dogz "It's Happening"
Chris Lake & Chris Lorenzo "Nothing Better"
Mercer & Ron Carroll "Satisfy" (Extended Mix)
Tiësto & Sevenn ft. Gucci Mane "Boom"
R3hab, Mike Williams "Lullaby"
Latmun ft. Amy Douglas "Footsteps"
Sinden & BIJOU "Technique"
J. Worra "Downtown Diva"
Jax Jones ft. Ina Wroldsen "Breathe"
Redlight ft. Sweetie Irie "Zum Zum"
Left/Right "Burn"
Rell the Soundbender x B!tch Be Cool "Diablo House"
Alesso "Move Like That"
Champagne Drip & 9 Theory ft. Ashley Mazanec "Circles"
Zeke Beats "Devastate"
Just A Gent "404"
Flosstradamus ft. 24hrs "2 MUCH"
Gammer "THE DROP"
Seven Lions & Kill the Noise "Cold Hearted"
DROELOE ft. Nevve "BACKBONE"
Lil Uzi Vert "XO TOUR Llif3" (DJ Mustard Remix)
Electric Mantis ft. Mothica "Lying & Loving"
Black Tiger Sex Machine & Sullivan King "Madness"
Slander & SAYMYNAME "I Can't Escape"
Kayzo ft. Micah Martin "Overload"
Midnight Tyrannosaurus "Supreme Symbiote"
Kronology & Consouls ft. Daniel Hunter Jones "Lose Control"
Andy C "What Bass"
The Upbeats "Punks"
KUURO "Omen"
Rockwell & Roni Size "Easy"
YULTRON "Imma Be a Raver"
Follow Beyond Wonderland SoCal on Facebook | Twitter | Instagram
---
Share
---
Tags
---
You might also like