Moodymann "I Can't Kick This Feeling When It Hits"
The birth of our underground brand Factory 93 not only brought on an adrenaline rush reminiscent of the renegade warehouse era of raving—on which Insomniac was founded—but it also had us thinking back to all the people, places, and parties that made this whole operation possible. And with that came a burning desire to crack open our collection and dust off the classic records we couldn't live without. Through our From the Crate series, we break out seminal and obscure cuts alike, imparting some knowledge in the process.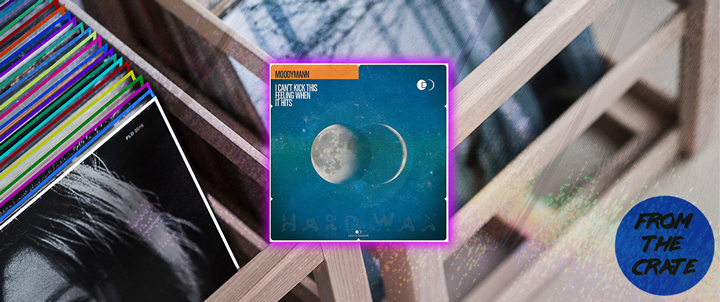 It drifts by like a phantasm, feeling more like a gorgeous, half-forgotten reverie than an earthly dance track. It barely registers that the song's lyrics—running throughout its nine-plus-minute runtime—are lifted from one of the most ubiquitous disco cuts of the '70s, nor that its breakdown comes from one of that decade's most beloved R&B hits. Drenched in ineffable emotions, positioned somewhere between joy and sorrow, it's as much pure atmosphere as it is a functional piece of music.
The song is "I Can't Kick This Feeling When It Hits," first released in 1996; the artist is Kenny Dixon Jr, the musical iconoclast otherwise known as Moodymann. He's the man who once said, "I don't make music for the masses to dance to. I make music for the small majority that listens," and while the track is immediately recognizable as house music, it's the kind of house that's made as much for a late-night date with the headphones as it is for a twirl on the dancefloor.
Prior to "I Can't Kick This Feeling When It Hits," the Detroit producer had been releasing music for a few years, much of it on his own KDJ label (he also runs Mahogani Music). But at the time, he was still relatively unknown—at least outside of Detroit circles and the most rabid of underground house fans. He still is, at least as far as his personal life goes: He has a presence on Facebook, Instagram and Twitter, but gives up little in the way of biography, beyond the fact that he likes good music and doesn't gladly suffer fools. He's been known to play semi-anonymously from behind a sheet, shielding him from the audience, but he's also deejayed some of the most soulful (and fun) sets we've ever heard, a grin on his face as he hands out promo copies of his latest record. He enjoys playing at roller-skating parties, has a house that's decked out as a tribute to Prince, and loves his hometown. He rarely gives interviews. One that he did consent to, a 2010 live chat with Benji B for Red Bull Music Academy, saw him take the stage with four women in Moodymann T-shirts, one of whom proceeded to work on his hair for much of the interview. It's well worth checking out just to see how quietly charismatic he is, despite his reputation as a somewhat prickly character.
But a track like "I Can't Kick That Feeling When It Hits" doesn't require much in the way of background information to work its magic. Like most of Dixon's gritty early work, it is simple in construction, based on a handful of samples and a bare minimum of additional elements. It commences with an eerie yet majestic monolith of a synth string line, its frayed-wire modulations hinting at decay. That synth runs thorough the track, fluctuating in intensity and serving as the underpinning for everything that follows. A simple snare, kick, hi-hats, and conga drum pattern kick in, followed by a looped "gonna do" vocal snippet, which eventually reveals itself as a slice of the "I can't kick this feeling when it hits… what am I gonna do" lyric from Chic's "I Want Your Love."
As that vocal swirls through the track, a filtered two-note bassline imbues the cut with forward propulsion. Elements fade in and out until around the eight-minute mark, when all but the synthline fades out, leaving space for a brilliant breakdown that borrows the "skyscrapers and everything… a jury of your peers having found you guilty" passage from Stevie Wonder's "Living for the City." The end.
As is often the case with a Moodymann track, numerous alternate versions exist. The original 12-inch vinyl version—it's the one with "KDJ 6" etched into its run-out groove—hazily ambles along for another five minutes after the breakdown, before dissolving into the ether (the Mass Production–sampling B-side, "Music People," is another wondrous tune). The eight-minute album version, from Moodymann's 1997 debut long-player, Silentintroduction, loses the breakdown but makes up for it with an ambient intro that features Dixon, buried deep in the mix, sticking up for his hometown: "I'm tired of motherfuckers coming up and telling me that 80 percent of material from Detroit ain't good material," he complains. "You see, what you don't understand is that 80 percent of that shit ain't from Detroit." There are a number of remixes around, as well—Sensurreal and Appointment are among those who have dared to take it on—but they don't have nearly the immediacy and emotional kick of the original.
"I Can't Kick This Feeling When It Hits" is certainly simple in construction, a collage made from a spartan array of elements—yet it's a bona fide classic, brimming with as much emotion as a roomful of lesser producers could possibly muster. One of the most atmospheric, goosebump-raising house tunes ever, it's a testament to how a talented producer can squeeze an ocean of soul out of a constrained palette. In the decades since then, of course, Dixon has become one of the most respected producers around, with a varied discography that ranges from gritty house to loose-limbed soul, from the raw-as-fuck disco tech of "Shades of Jae" to the deep-funk burner "Sloppy Cosmic" (a rework of Funkadelic's "Cosmic Slop"). But for many, "I Can't Kick This Feeling When It Hits," 22 years down the line, still tops them all.
---
Share
---
Tags
---
You might also like