Metronome #024: Stanton Warriors
Insomniac's Metronome series features mixes from some of today's fastest-rising electronic stars, as well as championed legends. It takes listeners deep across a wide range of genres, movements, cultures, producers, artists and sounds that make up the diverse world of electronic music.
Leaving an everlasting impression on the mind of a dancer is a goal for any music producer—an indelible memory of the night their booty moved the way it should. Any Stanton Warriors fan will most likely recall the precise time and place they heard the dynamic duo for the first time, when their jaw dropped with the bass.
The hits created by beat boys Dominic Butler and Mark Yardley for the past 14 years cross an entire spectrum of genres and never disappoint on a night out: Party smashers like "Doomsday," "Pop Ya Cork," "Shake That Ass," "Get Wild off This," "Superstar" and the unstoppable "Get Wild," featuring the one and only Big Daddy Kane. It's an endless sea of tunes mashed up with originality and mastered with excellence.
Sailing through the scene with a multi-award-winning compilation (The Stanton Sessions), they have withstood the test of time and show no signs of slowing down. Their latest single, "Loving Me Wrong," has already achieved #1 status on KIIS FM in Australia.
Dominic came out to play with us on a conference call from Sydney, where the duo kicked off another world tour.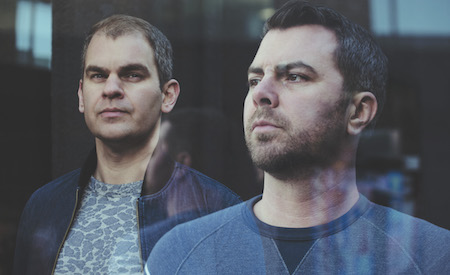 Want to drop any hints on the sound of the new album or its guest appearances?
The new track, "Loving Me Wrong," sets a good template for the sound. We worked with a lot of people, like Tony Quattro of Trouble & Bass, AC Slater of Los Angeles, Chris Lorenzo and Kane of Cause & Affect in the UK, and lots of great singers. We have made lots of different tunes over the years with different styles and the heavy bass stuff. We've always had our signature sound—more big room, deep underground kinda stuff. We've never really done four-to-the-floor. We have always been the beat-makers with vocal elements, but now we have gotten into some deep house and techno template for the sound we use. Whether a person is into breakbeat, garage or dubstep, it seems like they all like it. We have always stuck to what we want to hear and what we enjoy making, rather than make what is popular at the time. That would be too easy. We've always stuck to our plan.
Your fan base has grown so strong, I think because they know when they go out to see you guys, they are going to hear top-quality music and not be disappointed. They have always loved you guys.
You gain longevity from that, and people respect you over a period of time. Here in Sydney, the shows are all sold out. Half of them in the club are hearing music they have never heard before because they go to the EDM big-rave stuff. To these young kids, it's just a completely fresh sound. The fans ask us to sign records, and the others are like, "What is this music? It's amazing."
In a way, it seems like you have finally achieved what you wanted all along, and that was to not be pigeonholed into one genre.
Yes. We have achieved the different sounds over the years, and the reason why we talked about it so much in magazines and such is because we wanted to build our own direct market and direct fan base, which can link onto our Facebook or whatever.
The fans come to the shows, and they aren't about scenes or trends.
Do you think the EDM bubble is going to burst?
EDM is a very unique American thing. No one gives a shit about EDM in the UK. They tried to bring the EDM shows to the UK, and they lost millions because they just want to hear quality music mixed properly. People always want to hear good music—none of the pop stuff—and that makes us able to continue to make good music. It's as simple as that. The rumor that the bubble will burst just means it doesn't have staying power, that it's just a fad. Drum & bass is a great example. They have staying power. They are true underground warriors. Look at Andy C: He sells out [shows], and he stays true to his sound.
I read that you were a little star-struck when you worked with Big Daddy Kane on "Get Wild."
Yes, I was. I grew up on hip-hop, and he is one of the best rappers. It was fun because he was an iconic person [from] my childhood.
Is there any iconic person that you guys would like to work with?
I think Mark would like to work with Prince. I just like to work with fresh, new singers. I'd literally like to find the next "somebody." I think that the ideal situation would be to help launch someone's career.
Is there anybody fresh, new and amazing that you have your eye on now?
There are some guys on our record label, Punks Music, who we have signed, and we see potential in them. A lot of the up-and-comers that we think are special are on our label.
I am quite impressed by your fans' tattoos. Do you guys have a count? There must be hundreds.
There's bound to be a hundred. It's pretty crazy, and it's a phenomenon. It's pretty egocentric, and we don't have any of them ourselves, which is kinda weird. We are building a little cult.
That pretty much shows the power of social media. I guess one person just got the tattoo and posted the picture, and it went on from there?
Yeah!
I saw you posted online that you guys got permission to climb the Sydney Harbour Bridge?
Yes, I'm not sure about it, but I'm going to do it anyways. We are always seeking out adventure at different places. It's not like I'm afraid of heights. If we see something crazy, we just do it. If we see a speedboat, we get on, or if we want to get dropped off on a mountaintop in a helicopter, we do it.
What's the craziest thing you guys have ever done?
We were in Cambria, quite drunk after a gig, and saw some [hot] air balloons flying over us, and we managed to flag one down. Next thing we know, we are floating over the city.
How do you manage to succeed so much with your social media?
I have a simple answer to that: Do it yourself. You can upset people, but it's just you. In this world of everything being fake, like PR companies on Facebook, it's just dry and boring. I just think you should keep it real. I think they come back to our Facebook page because they know it's the real deal. We have more interaction with fans.
Was it "Pop Ya Cork" or "Doomsday" that you think launched you into stardom?
It was "The Virus" in 1999. I think that really kicked us off. Then we got a lot of media after that.
What are you guys looking forward to with this tour?
We actually can't wait to get to L.A. because it is very open-minded with music. We are excited to go to New York, Miami, New Orleans and even Nashville, where they take to the music very well, even though they don't get a lot of it out there. We do really like to also play outside of the Western world, to the jungles of Cambodia, Bali or India.
You were flying solo at shows for a while during your last shows. Did Mark have a baby or something?
Yeah, he had a kid! But he's back on the saddle now.
I read that one of your goals was to play in North Korea. Are you guys still striving for that goal? Are you creating music honoring their leader, and then just throwing some bass on it?
Yeah! Kim Bass!
Track List:

Stanton Warriors "Hoping"
Worthy "On The Floor" ft. Kevin Knapp (Stanton Warriors Remix)
Stanton Warriors & AC Slater "Dig Deeper" ft. Eva Lazarus
Stanton Warriors "Bang"
Hannah Wants & Chris Lorenzo "Rhymes" (Stanton Warriors ReBounce)
Stanton Warriors "Hold On"
Stanton Warriors "Pop Ya Cork" (A capella)
Stanton Warriors "Loving Me Wrong"
Bombo Rosa "Birds"
Jamie XX "All Under One Roof Raving" (Stanton Warriors ReRave)
Stanton Warriors & Tony Quattro "Get Low" ft. Eva Lazarus
Follow Stanton Warriors on Facebook | Twitter
---
Share
---
Tags
---
You might also like