Insomniac's Metronome series features mixes from some of today's fastest-rising electronic stars, as well as championed legends. It takes listeners deep across a wide range of genres, movements, cultures, producers, artists and sounds that make up the diverse world of electronic music.
New York City's Eskuche has been a hot name to watch over the past few years. With releases on the likes of Hot Creations, Repopulate Mars, Solä Records, Elrow, and more, he's quickly risen up the ranks with his penchant for thick and chunky basslines, rolling through low-key, energy-fueled deep house thumpers. Even other producers are quick to point out his smart rhythmic choices and intricate construction of percussive elements. These combined skills surely led to his biggest release last year, "Activator," which climbed to fifth place on Beatport's overall chart. But these talents and drive go beyond the studio, as Eskuche's DJ sets are not only lauded for their ingenuity, but also frequently contain only the artist's own material.
Originally from Russia, Eskuche became enamored with DJ culture there, quickly doing his best to learn the ins and outs of the skills involved. His current success shouldn't come as that much of a surprise, as his first release, "Into It," was given big support by Italian techno legend Marco Carola. This gave him the leverage he needed to take things to the next level. In a short matter of time, his tracks were appearing on BBC Radio 1, and he was dropping releases on Green Velvet's Relief and moving onto the aforementioned Elrow label. Soon, he was making the rounds at big names such as Paradise NYC, Ministry of Sound, Output, Marquee, and many more.
Riding this hot streak, Eskuche recently dropped two top-notch EPs: Space on Elrow and Pop Dat for Sola Records. He's played in Brooklyn with Pete Tong and is currently in the middle of a string of shows in Thailand. Obviously, both the year and Eskuche are just getting started.
Today he leaves us with a warm, lush journey of a mix. Vibing house and tech house creep through soundscapes full of rich bass lines, hypnotic rhythms, and enchanting vocal hooks. Tune in, and keep your eyes peeled for Eskuche. You're going to be seeing a lot more of him.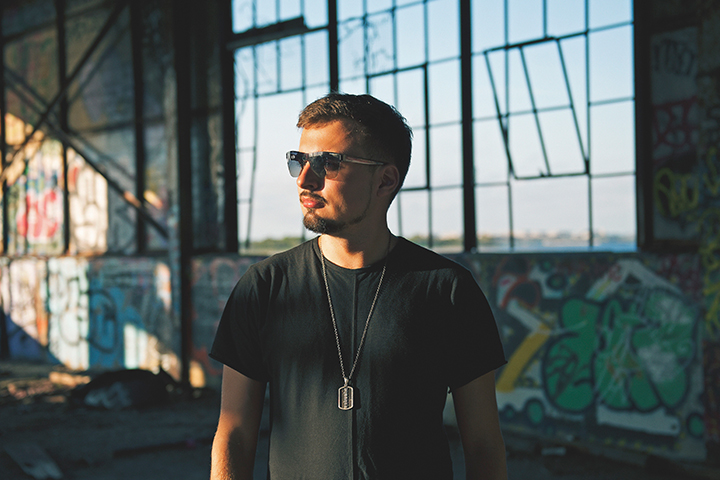 What have the Thailand shows been like so far, and what has it been like to experience that country?
Thailand is amazing—such a different vibe. I'm really glad to escape from NYC winter and be in the summer paradise now. Love the crowd here, all gigs been amazing so far. Kolour fest did a really great job and put together such a dope festival.
According to some recent press blurbs, you've been spending more and more time in Ibiza. What's the total story there, and is there a larger plan for you in Ibiza?
I've spent the two last summers in Ibiza, and this definitely was a life-changing experience. It's really good even just to be there to experience the vibe of the island; music culture just really lives there. But you have to have balance there, because parties are never-ending. You need to mix it with chill vibes and explore the island; it's really beautiful. I'm definitely going back this year and will try to stay as much as I can between my tour dates. We are working now on a few residencies, which will be announced soon!
You're originally from Russia—where exactly? What was that area like, and what was the DJ scene (or even music scene in general) like?
I'm from Tambov; it's a small city close to Moscow. It's really nice and chill there. I love going there during summertime. Unfortunately, the music scene there is very small, like in any other Russian city now, besides Moscow and St. Petersburg.
It wasn't until you moved to NYC that you got more into tech house, correct, especially from your experiences at Pacha? Who were some of your favorite local DJ crews at that time, and how many of your peers from that era have gone on to greater success as well?
NYC definitely changed the game for me, and Pacha was my high school, haha. When I started, the music scene was very different. Lots of people who were in the scene, I don't see now. But there are also a lot of homies who are doing really good—not only in NYC but globally, like David Berrie, Alan Nieves, Jean Pierre, just to name a few. There's lots of talent coming from NYC!
If you typically play sets of only your own material, you must have a pretty high production output. What's your studio process like?
I like hardware, drum machines, and analog synths. That's my thing! I love to jam and just see how it goes. I try to do everything quick and finish tracks right away. I believe if the idea is pretty strong, you will do it without a problem.
What was your process like when writing "Activator," considering it's been one of your biggest hits?
That was exactly like I said before; I did it after Paradise closing in Ibiza, and this track just wrote itself in one night. Pretty insane was to see Leon playing it next day at Music during the closing.
You've already put out two big releases fairly back-to-back this year. What's the response been like so far for those two?
Both releases were pretty special for me, and I love that they got good support and response from top DJs, like Nicole Moudaber, Claude VonStroke, Solardo. Both charted very well.
After you leave Thailand, you're heading back to the States for a chunk of dates. Care to talk about some of those?
After I land home from Thailand, basically the next day I'm flying to Orlando to play for the Protocol guys, and then straight to Miami Music Week after that. I'm really excited for my debut at Green Velvet's La La Land! I have five gigs in Miami this year—will announce all dates soon. After MMW, I'm playing again with the legend Green Velvet and Latmun at the Relief Records party in Austin, TX, and then I'm doing a California tour. Exciting times ahead! 
Anything else you'd like to mention or plug?
I'm really excited for my second release on Relief coming up in May; this time is a three-track EP! And we are closing tours in Brazil, UK, Ecuador, Russia, and Australia right now. Really looking forward to all of this!
Eskuche 'Metronome' Mix Track List

Eskuche "Vibration"
Basti Grub ft. Crace Johnson "Darling" (Rich NXT remix)
Big Miz "Break the Law"
Eskuche "Concentrate"
Eskuche "Imagine Yourself"
Piero Pirupa, Alex Kennon "Vision"
Nic Fanciulli "Where U At"
James Cole "Go With Me"
Eskuche "Futuristic"
Ray Okpara "For Those Who Know" (Davide Squillace remix)
Eskuche "Freak"
Green Velvet, Layton Giordani "Fuzion"
Eskuche "Pop Dat"
Bob Moses "Enough to Believe"
Follow Eskuche on Facebook | Twitter | SoundCloud
---
Share
---
Tags
---
You might also like