Insomniac's Metronome series features mixes from some of today's fastest-rising electronic stars, as well as championed legends. It takes listeners deep across a wide range of genres, movements, cultures, producers, artists and sounds that make up the diverse world of electronic music.
For an act that has existed just five short years, UK duo Icarus has already hit a whole bunch of milestones. They've enjoyed multiple hit singles like "Home" and "King Kong." They've earned accolades from industry heavy-hitters like Pete Tong and Annie Mac. They've reaped loads of crossover radio success. Plus, they've performed at a full run of festival favorites in their country, including Creamfields and SW4, as well as Amnesia in Ibiza and beyond.
Icarus are brothers Tom and Ian Griffiths, two Bristol-born lads whose secret weapon is the fact that they've been playing music together for nearly their whole life. Both played in bands together during their teens, both went off to study music at the same university, and eventually, both brothers fell in love with DJing and production and began creating infectious club music together.
Icarus' musical versatility is showcased perfectly in their new In the Dark EP, which represents the perfect jumping-off point for Stateside fans who might not yet be familiar with the act. Hence, it feels like high time we get acquainted with Tom and Ian on the Metronome tip.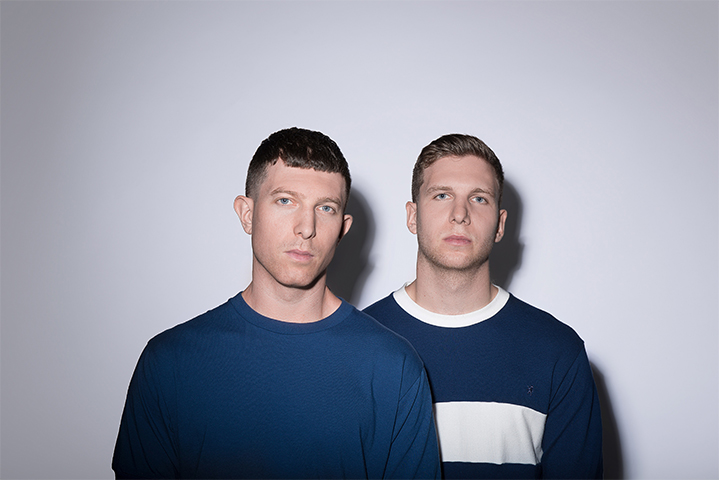 What's been cooking for you in 2018?
2018 has been a good one so far! We've had a few highlights already. We've released our first EP in over three years, which has felt great. It's really nice to get more of a body of work out there, after some time just releasing singles. And two of those tracks ("Love Has Come Around" and "Flowers") received "Hottest Record" from Annie Mac on Radio 1, which was amazing!
Another big highlight for us was providing an Essential Mix for Pete Tong. We've always wanted to do one, and to be asked was an honor. We had a lot of fun putting that together. And last but not least, we've completed our first-ever live tour in the UK. We played three cities: London, Bristol, and Manchester. Each one was even better than we could have hoped for. Again, that's something we've always wanted to do, so finally being able to put together a live show was great. It was a lot of work, but seeing it come together made it all worth it.
For those in the US who might not be so familiar, tell us the story of Icarus so far.
We're two brothers (Tom & Ian), and we live in Bristol in the UK. We became Icarus just over five years ago now, but we've been writing music together for over 10 years. We both played instruments throughout our childhood and went on to study music at Uni. From there, we started making various types of electronic music together, but Icarus is the project that's really felt like we've found our lane, and subsequently, it's had the most success.
We have also been fortunate enough to garner some great support over the last few years, especially from people like Pete Tong (whose label signed us back in 2014). But we feel that Icarus is still a young project, and we still have a lot more music to get out there! We're excited to see where it'll take us in the next few years.
Your sound is very versatile! How would you broadly describe the "Icarus sound"?
We really do have a lot of influences. Sometimes in the past, that may have actually hindered our writing! But I think nowadays, our influences just naturally find their way into our music. We don't tend to listen to something and say, "Okay, let's make something like that." We just start writing and see where it goes.
As for our sound, that can vary, too—but probably only in its mood, really. I think now we have a bit of a back-catalog behind us; listeners can hear us do different things with our music, but hopefully the style of the production and the way we write still shows it's an Icarus tune. That's the aim, anyway! We don't really have a specific approach to writing music, or certainly not a formula or process we follow every time we start a new tune. Our music starts from different ideas. Sometimes it can be a melody line that's come into one of our heads. Sometimes it's a drum groove we like. Or sometimes, it can stem from being out somewhere, recording some ambience on your phone and wanting to use that in a tune! It varies quite a bit.
You're both brothers, of course, and have a long history of making music together. How does this feed into the creativity of what you do with Icarus?
It's a positive thing for Icarus. We're lucky, in the sense that both of us have pretty clear ideas about how we want Icarus music to sound, and those ideas usually match! There are rarely any disagreements in the studio, and if one of us isn't too keen on an idea we have in a tune, we just change it. We work until both of us are happy with the result, and don't dwell on any ideas that didn't quite work. 
You've had a few big hits so far, and lots of radio play in the UK. What would you point to in terms of your most important releases so far?
I think "Home" was definitely a moment for us, and it's still one of our favorite tracks. We still play it in our sets, and we've just seen it grow and grow over the years. It's amazing to see a crowd connect with one of your tunes like that! And of course, "King Kong" was definitely a big one for us. It put us in front of people who may not have heard of us before, as it got quite a lot of radio play. It also took us to Ibiza to play at Mambo for Radio 1's weekend in Ibiza, which was an incredible experience.
Your new In the Dark EP has also just dropped. What were you aiming for there?
We really wanted to put a collection of music out. In fact, we want to continue putting more collections of music out this year, and beyond. We feel it gives us a broader opportunity to experiment and give listeners a wider view of our sound. In the Dark was also the first release we've done with a theme in mind. All of the music relates to the idea of a blossoming relationship: the ups and downs, and everything in between. We liked having that theme in mind when bringing the music together, as it gave it some context—rather than just putting random tunes together for release.
What else is coming up for Icarus in the immediate future?
We're back in the studio, writing again (after it was pretty much dismantled to prep for our live show) and looking forward to our next EP, which will come later in the year. We're both feeling really inspired, so it's an enjoyable process.
We're also continuing to release music on our Fly Boy imprint. We've just released a great EP from a new producer called Jemu, who will follow up with more music later this year. And we also have music coming from My Friend and Swan.
Apart from that, we have festivals and club shows over the summer. A few we're playing are Parklife, Forbidden Fruit, MINT, Rize, and SW4. We're actually taking our live show to SW4, so that'll be fun! And we're also back and forth to Ibiza a few times over the summer. We can't wait to get back out there!
Icarus 'Metronome' Mix Track List:

Paul Simon "Gumboots" (Joyce Muniz Remix)
Demuja "Getting Dark"
Dachshund "Millions of Particles"
Icarus "Home" (Lane 8 Remix)
London Grammar "Hell to the Liars" (Gorgon City Remix)
Claptone "Under the Moon" (Lee Foss Remix)
Illyus & Barrientos "California"
Detroit Swindle "Señor Blues"
Tino Gomez "Cities Don't Sleep"
Ron Blanco "I Wait" (Mall Grab Remix)
Icarus "Flowers" (Soft Focus Mix)
Ki Creighton ft. Jem Cooke "Love Is Here" (Franky Rizardo Remix)
Themba "Who Is Themba"
Follow Icarus on Facebook | Twitter | SoundCloud
---
Share
---
Tags
---
You might also like