Metronome #148: Proper Villains
Insomniac's Metronome series features mixes from some of today's fastest-rising electronic stars, as well as championed legends. It takes listeners deep across a wide range of genres, movements, cultures, producers, artists and sounds that make up the diverse world of electronic music.
Proper Villains is a quintessential New Yorker: Intense. Fast talking. Opinionated. And that ironclad conviction translates into his music, whether he's on the decks or in the studio.
The emerging NY-based producer recently delivered an exclusive DJ mix, and it's exactly what you'd expect from the driven East Coaster: raw, hedonistic, and funky—all 27 tracks of it, from house to deep tech to drum & bass and beyond. "Just trying to cram as many songs as possible into a 60-minute mix while keeping it cohesive," he says.
Stream our exclusive Metronome mix above, featuring standout selections from Daft Punk, Kyle Watson, Christian Martin, Ray Keith, Proper Villains, and more.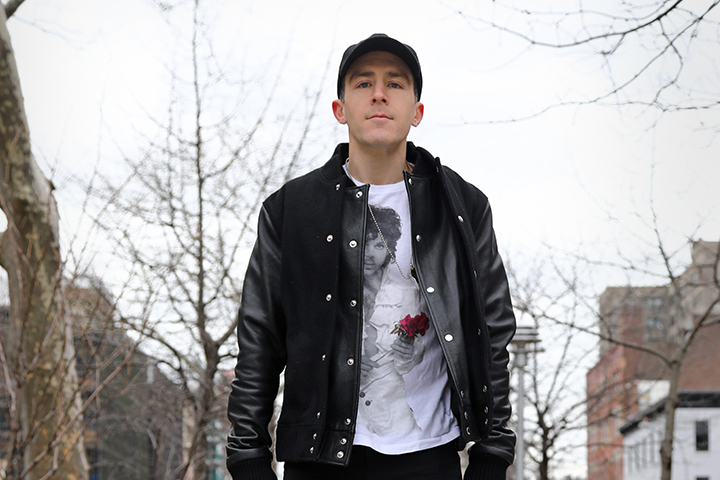 What's the inspiration behind your exclusive mix?
There's so much great music out there. I dig for music daily, and the FOMO is still intense.
There's a bunch of old-school jungle at the end, for my own selfish reasons. I started out as a jungle DJ back in the late '90s and recently got invited to play an old-school set at a D&B monthly at Sunnyvale in Brooklyn. It was my first time playing this style of music in YEARS. The party was packed and super fun. The gig motivated me to digitize all my old jungle vinyl; those records are super rare, worth a fortune, and are NEVER leaving my apartment!
It seems like everything from the mid/late '90s is coming back into vogue again, which I love, because it was a formative era to me. Also, it's weird to see what I wore in high school (band T-shirts, flannel, ripped jeans) gracing runways and showing up in Hot Topic.
Working on any new music at the moment?
A ton! I work out of a studio in my apartment, so I fire up Ableton when I wake up in the morning and turn it off right before I go to bed. Right now, I'm juggling about 10–15 songs at any one time, so the struggle is to get things finished and out into the world.
Just this month, I released the Freak Mother / You Sweatin' EP on Trippy Ass Technologies and a remix for Grensta on Tons & Tons. I've got an EP coming out through Country Club Disco in a couple of weeks. In June, I'm putting out a free release with Psycho Disco! and finalizing an EP with Tons & Tons that's slated for July.
I also work with a couple of hip-hop artists, and I'm in the dancehall/electronic group Fire Alarm with the Trinidadian MC Metric Man. Growing up on dancehall mixtapes and Hot97, I love to express that side of myself. Whenever I produce stuff for other artists, I learn some new technique or gain some insight that gives me a fresh perspective on my techno and house solo work.
Any upcoming gigs you're looking forward to?
This year, I've been super picky about taking out-of-town DJ gigs, because I want to focus on building my catalog as a solo artist. That said, I'm psyched for Movement Detroit! I'm playing the Country Club Disco After Party, but I'm attending the whole festival just so I can fan out on all the amazing artists and DJs who're performing.
How does living in NYC inspire your work?
That's a difficult question, for two reasons: The first is that I have no idea what "inspiration" is anymore. It's one of those nebulous words, like "talent," that I can't wrap my head around. I googled it, and it says, "the process of being mentally stimulated to do or feel something, especially to do something creative," which makes absolutely no fucking sense to me. On a human level, we're always feeling SOMETHING—happy, sad, tired, romantic, energized, nostalgic, anxious…
I make music every day, and it reflects however I'm feeling in that particular moment. If the music that day is good, I try damn hard to finish it and get it out to people. If it's not good (which it mostly isn't), it sits on my hard drive. But I haven't found any rhyme or reason to it. Being in a pissy mood after getting caught in traffic for two hours is just as inspiring as watching the sunrise on a mountain top. Art reflects the sum total of my life—not just the highlight reel.
The second reason this is hard to answer is because I've lived in New York for almost my entire adult life, and I don't know anything else. How does a fish describe water? I guess the fast pace of living and being surrounded by so many people "inspires" me. There's this constant background "hum" of a couple million people all crammed together that I don't notice anymore, but whenever I leave New York, things just feel… too quiet? Also, the level of competition is tougher here.
It filters down to everything, the most mundane stuff. I have this one favorite checkout counter clerk at my local grocery store. She is AMAZING at her job. You put your items on the conveyor belt, and somehow she makes them fly past the UPC scanner and land in the grocery bag. All you see is this blur and hear, "beep, beep, beep" like the machine is about to break. Then, suddenly, she's yelling at you to swipe your card and get the hell out of the store.
Seriously, if you visit New York City, skip the Rockettes and go to the express checkout lane at the D'Agostino on 3rd avenue and 35th street. The show is way better.
Favorite all-time DJ and why?
I love so many different DJs for so many different reasons, so it's impossible for me to name a favorite. Here's my top five in no particular order:
Roctakon: It's hard to explain why he's so good. He doesn't do anything flashy. No key mixing, no word play, maybe a clever transition or he'll play a little blend. He just crushes every time, and it's really funny, because he's this jaded New York open-format DJ who hates playing open format, but he's so good at it.
Four Color Zack: Before I even get into Zack, go listen to this Four Color Zack on Sway in the Morning Mix. He's the DJ's DJ. Every transition is like a magic trick, and his sense of humor and joy really show through in his DJing.
Jeff Mills: I could watch him DJ with cotton stuffed in my ears. Just the way he touches the mixing console is like it's an elegant weapon for a more civilized age.
Jesse Mann: He's a good friend and plays an eclectic mix of house/disco/boogie/funk/world music. I'm in awe of his crate-digging skills. He recently came back from a trip to South Africa and was playing me South African boogie records from the '80s. If you're ever in New York City, check him out.
Anna Morgan: Brings a really fresh perspective to bass music. She's great at connecting the dots between dancehall, drum & bass, and footwork while keeping things dancefloor-oriented. She's also good at opening, which, in the D&B scene, makes her a magical unicorn in my book.
Top tracks of 2018 so far?
Ryan Forever "Nasty" (technically 2017, but whatever)
Ardalan "Escape in Acid"
Treasure Fingers "Filter God"
Krames "Deprivation"
Shadow Child "Galactico"
Jimmy Edgar ft. Dawn "Burn So Deep"
Del-30 "You Won't Regret"
Genghis Clan & Gene Farris "We Work the Bass"
What's next for you?
No idea. As Mike Tyson said, "Everybody has a plan until they get punched in the face."
Proper Villains 'Metronome' Mix Track List:

Paul Johnson "Get Down" (option4 remix)
Rawle Night Long "35mm Tembo"
Scottie B & King Tutt "African Chant"
A-Trak & YehMe2 "Prayer Hands" (Proper's Tribal Edit)
Jesse Perez "Pachanga in Cutler Ridge"
Eli Brown "Kingston Crunch"
Del-30 "You Won't Regret"
Treasure Fingers "Filter God"
Michael Jackson "Rock With You" (Daft Punk Remix)
Grensta "Mind Games" (Proper Villains remix)
George Kranz "Din daa daa" (Acapella)
Eric Sharp & Give In "Version 3" (Tenova Remix)
Madeaux ft. Viktoria Modesta, Cakes Da Killa "Look at Me"
Juyen Sebulba "Resist"
Chris Lake "Lose My Mind"
Redlight "Ride That Thing"
Option4 ft. Jpatt "I'm W Dat"
Proper Villains "Yeah"
Kyle Watson "Vice Versa"
Proper Villains "Freak Mother"
DJ Deeon, Gettoblaster, Jon Kennedy Featuring DJ Milton "Hit It From the Back" (Christian Martin Remix)
Genghis Clan & BOT "Super Sharp" (Edit)
Ganja Kru "Super Sharp Shooter"
88.3 ft. Lisa May "Wishing on a Star"
Ray Keith "Terrorist"
World's Fair "Elvis' Flowers" (Proper's Konkrete Jungle Remix)
Follow Proper Villains on Facebook | Twitter | SoundCloud
Follow Trippy Ass Technologies on Facebook | Twitter | SoundCloud
---
Share
---
Tags
---
You might also like