Lucati Showcases His Craftsman Approach to Groove-Heavy House on 'Questions' EP for IN / ROTATION
Lucati is an L.A-based producer who's been gradually polishing his sound over the past few years, while steadily earning support from house stalwarts such as Claude VonStroke, Shiba San, and Mark Knight. In 2018, he's seen all his hard work pay off.
"This year has been a dream come true," Lucati tells Insomniac, "from starting the year by getting signed to Dirtybird Records, to launching Kȯlmē Records with my brother Dateless, and most recently a massive b2b at Dirtybird Campout. This ride has been 10 years in the making, and I wouldn't trade it for the world."
A wealth of artfully crafted, groove-heavy house music is emerging from the Lucati studio at the moment, and he's got three such beautifully crafted tracks on offer on his fresh Questions EP, which has just arrived this week on IN / ROTATION. We grabbed Lucati for a chat and discovered that he's a young producer who is certainly on the rise.
Lucati's Questions EP is available here.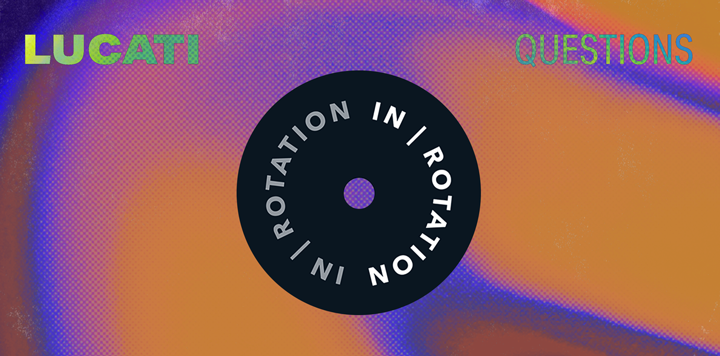 You had a fairly big January 1 with your Whistling Duck EP, your debut on the Dirtybird label. Did this represent a step up for you, personally?
The Whistling Duck EP represented a pivotal point in my career. At the time, I was working a 9-to-5 job that I hated, and I would come home and work on music until 4am every day for a year. Having respected Dirtybird for their creativity and authenticity, I always aimed to see my music on that label. My brother had been signed a year prior, and I decided I'd keep sending music until something hit. When I received the email containing the good news, it felt like a sign from the universe to follow my passion for music. Shortly after, I quit my job—and the rest is history. A step up is an understatement; it was life-changing!
For those not familiar, tell us a bit about the Lucati sound, from your point of view.
I enjoy answering this question, because it helps me reflect on what I'm doing musically at the moment. My sound is simple, clean, and with Latin-inspired elements that come together to form a groove to dance to. A lot of music today is made for impact, which has a place—but it neglects the groove, to me. I like to incorporate techno elements (e.g., no claps, kick and bass sections, and so on) with house percussions and basslines. It creates a vibe on the floor that gets everyone moving, because it speaks to something that is very human and innate in each one of us. Dancing is a crucial part of the human experience; it's sad to see it neglected as it is by the mainstream culture. You can dance when you're sad, happy, in love, and alone—there's never a bad time. I make music for the person in the middle of the floor, because I am that person.
In your bio, you talk about "refusing to impersonate" the producers you look up to, but instead "taking inspiration." What has been your path toward developing your sound?
It was a long road of trial and error, experimentation, and then finally having the courage to stick to my guns. I do a few things in the studio that make me different from other producers. Some elements are obvious, and some are subtler, but they add up to what makes a Lucati track unique. For instance, I released a few tracks with no claps in the drop—near blasphemy in house music. I got a lot of flack for it from my peers, because they hear a phantom clap in their head and therefore feel tracks were lacking. I explained that I did it on purpose to create a rubbery, bouncy, liquid feeling on the floor when the track drops—a contrast to the brightness and staccato sounds of a clap. A perfect example would be my track "Locito," which was signed by Shiba San to his label Basement Leak after dropping it to a massive reaction at Dirtybird Campout East Coast. It felt like the stamp of approval I needed when deviating from the norm.
You've just delivered three rather slamming tracks for your debut EP on IN / ROTATION. How did you get connected with the label?
I made this EP after watching the livestream of Jamie Jones at Ultra Miami. It was inspiring to hear the tracks he played, all of which I'd never heard before. The theme was grooves with an eclectic range of percussions and leads that didn't make sense on paper, but somehow ended up working beautifully together to create a sonically mesmerizing dance record. I think the Questions EP reflects that vibe: sounds that shouldn't work but somehow do. For example, in "Rock the House," I stretched the vocal using Ableton's beat warp setting, doubled the tempo, and reduced the transient to create an eerie but interesting vocal sample.
What's up next for Lucati?
I'm currently sitting on about 20 fresh demos I believe in and am actively sending out to labels to see if they fit. I have a double EP with Dateless coming out November 30 on Kȯlmē Records, as well as a few remixes here and there to round out the year. I'm working on a tour for next year and tons of music releases already in the works. If 2018 was any indication, 2019 is going to be a wild year for this old dog.
Follow Lucati on Facebook | Twitter | SoundCloud
Follow IN / ROTATION on Facebook | Twitter | SoundCloud
---
Share
---
Tags
---
You might also like