Liquid Soul on Taking the Psy Sound to the Trance Massive
Swiss psytrance favorite Liquid Soul has more than a decade under his belt as an established psy artist, though he's stepped further into the spotlight the past few years with a real presence in the trance scene overall. He's become a regular at Armin van Buren's A State of Trance parties in the past few years, not to mention the Dreamstate events that have quickly become favorites for the US #trancefamily. Liquid Soul played a special Dreamstate one-off show in January, and he's set for the massive Dreamstate San Fran show in May.
Having earned the respect and support of scene leaders like Armin van Buuren, this year Liquid Soul finds himself situated at the forefront of a new wave of psytrance that's being embraced by the wider trance community. We checked in with him prior to Dreamstate San Francisco.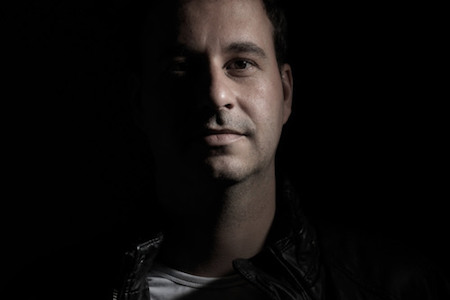 What do you think is going on at the moment with the explosion of psytrance's popularity?
I guess nobody really knows what's happening at the moment or where it will go, but something is happening, for sure! I guess there is a trend that sees people moving back to the underground and pure trance music, and I believe it is happening because the scene needs to recover from an overdose of commercial selling out. And wow, I was very surprised when I got contacted by Armin van Buuren to play at ASOT as the first psy artist ever. What an honor! Shortly after, Tomorrowland, Dreamstate and others followed. I was just stunned. I think it's a natural development to make a fusion of all kinds of trance music at these events, because trance will always be trance!
Is there something in particular about your approach to psytrance that connects with those who might otherwise be into the more euphoric sounds?
I guess the connection lies in that, generally, my tracks are quite melodic, underlined with a strong bassline. They're uplifting and have a positive vibe, but in a psychedelic way—that's why I never go "cheesy" and keep it pure and solid as much I can. It's important for me that my songs have a story or a catchy melody which generates a journey of body and mind each time you listen and dance to it. This type of connection to a track resonates more deeply—meaning it stays with you and you clearly remember the euphoric feeling you got from it, even after you come home from the party and listen to it again. It reconnects you to that feeling over and over.
You played a special L.A. show for Dreamstate in January. How was that?
It was absolutely blasting, and I really enjoyed it—especially because I had to cancel their previous show in L.A., due to some visa problems. It made me wonder whether this delay may have added to the crowd's amazing energy and euphoria. Then again, it may just be because they are fantastic fans and enjoy the underground vibes!
You've really delivered a mix that represents you as a producer—whether it's the strong collaborative productions or remixes for huge artists, such as Paul van Dyk. Do you feel like you're on a healthy creative streak at the moment, in terms of your studio work?
Since the beginning of 2017, I've had literally no time to be in the studio, as I was on my yearly one-month vacation. Since then, I've had a very busy gig and tour schedule that lasts all the way until the end of April. But I always give my best, and I am looking forward to being back in my beloved studio environment to let my creativity flow. Let's see what comes out of it.
It's interesting to see you collaborate with veteran peak-time trance experts, like Alex MORPH. What sort of creative challenges do these collabs present for you?
I actually played his tracks about 20 years back, before I changed my sound, so I knew his sound. I felt honored to get asked to make a collab with him. But of course, it wasn't easy at first to find the balance between my view and his own view of trance, and we went into it not knowing for certain if it will even work out at all. But I like challenges, and it's always great to get new influences from other artists. That's why I made so many collabs in the last 2–3 years, something I rarely did before. Since Alex had really been enjoying the psy influence lately, we found a way, and I guess we nailed it! After the release, many other trance artists contacted me to collab with them—that looks like a good sign to me!
"The vibe of the psytrance culture is full of love and happiness and aims to create a better world."
The psy influence has obviously always been such a defining part of your sound. What do you think it brings to your work, and what creative possibilities does it open up?
I first used to play trance music in the early '90s, and it was only a few years later that I discovered the freedom and creativity of psychedelic sounds. It was clear to me that I can create something new out of it. My vision was to try to combine the positive trance feelings with a deep, psychedelic touch. Somehow, I became one of the pioneers of the "psychedelic progressive trance" genre.
The psy influence has been a big part of the wider trance scene for quite a while, thanks to the support of DJs like John 00 Fleming. However, it seems to be really taking on a more visible role; it's something that Armin keeps mentioning. How does it change things when the bigger scene leaders like this offer their support?
I personally have big respect for John and Armin, and I am quite amazed by the kind of support we get from them and many others artists nowadays. This year, we even got our own psy floor at ASOT, which is a great sign! But the first reaction from the psy scene wasn't that positive. I must admit that I also got some bad vibes and comments 3–4 years ago, when I started to make collabs or remixes for the big trance artists—as I was getting quite a lot of these requests—and even for playing at those events. Many fans were afraid I will go commercial and sell [out], but I felt that it's a great opportunity to spread our message and lifestyle from the psychedelic community to a bigger audience.
The vibe of the psytrance culture is full of love and happiness and aims to create a better world. There is a tangible feeling of unity at psy events, which goes back to the roots of freedom of expression, community, and love. As more people connect to this feeling and start to understand the peaceful vibes, the better it will be—both within any scene and in a broader sense of the world. Psychedelic trance is not just a genre; it's a lifestyle!
What can we expect from you at the next Dreamstate party coming up?
An uplifting, psychedelic journey through colorful sounds and feelings. 😉 I hope it will be something that everyone can take with them, even after the event, and reconnect with over and over.
Liquid Soul Dreamstate San Francisco 2017 Mix Track List:

Vini Vici & Liquid Soul "Universe Inside Me"
Paul van Dyk & Jordan Suckley "City of Sound" (Liquid Soul Remix)
Liquid Soul & Neodyne "Cherub"
Liquid Soul & Zyce ft. Solar Kid "We Come in Peace"
Transwave "Land of Freedom" (Liquid Soul remix)
Liquid Soul & Neodyne "Believe"
Liquid Soul "Crazy People" (Captain Hook & Domestic Remix)
Liquid Soul & Alex M.O.R.P.H. "The Journey"
Liquid Soul & Zyce ft. Solar Kid "Anjuna" (Symbolic & Outsiders Remix)
Liquid Soul & Animato "Hope for Life"
Catch Liquid Soul at Dreamstate San Francisco 2017, taking place Memorial Day weekend, Saturday, May 27, and Sunday, May 28, at the Bill Graham Civic Auditorium. For more information, visit the official website.
Follow Liquid Soul on Facebook | SoundCloud
Follow Dreamstate on Facebook | Twitter | Instagram
---
Share
---
Tags
---
You might also like