Left/Right and Steve Darko Take Trippy to the Next Level With "Down" for IN / ROTATION
When two artists run in the same circles long enough, they are bound to bond once the right opportunity presents itself. Left/Right and Steve Darko had been floating around in each other's orbits for a few years, but they never actually had a direct connection outside of their respective regular appearances among the Audiophile umbrella of imprints. That gap would eventually become nonexistent after they crossed paths at one of the local watering holes found at the medieval rave gathering known as Middlelands, back in 2017.
Even though the two forward-thinking artists specialize in different time signatures—Left/Right owning the broken-beat game, while Darko destroys the four-four arena—the common denominator linking them together is their ability to look beyond what has been done before. Chris Lund is the brains behind Left/Right, and his expertise in audio engineering and music composition has allowed him to take breakbeat and bass music into any direction he chooses (if you aren't already up on his BRØKEN label, it's time to do your homework).
On the other hand, Darko is a Massachusetts native known to geek out on audio gear as his daytime gig. A developer at iZotope, he's responsible for giving birth to some of the music production software's most raved-about titles. Outside of his trade, though, the producer has been taken under the wing of Dirtybird head honcho Claude VonStroke, acting as support on his world tour while these very words were strung together. Darko's signature blend of brain-warping house and techno has allowed him to fit right in right with the other boundary-pushers on the Dirtybird stable.
A trailblazing bottom-end is another trait the pair have in common, and they bridge the gap between their styles flawlessly on the debut collab they've conjured up for IN / ROTATION. "Down" is a nearly six-minute trip into the abyss, as the boys tear through the veil and venture straight into uncharted territory. It's weird-ass tech house of the highest order, riding low on warbling synthlines, rumbling bottom-end, mind-tickling vocals, and a level of sound design that falls extremely outside of the norm. Hear the track in action up above, and then head below to pick the brains behind this beast.
Left/Right and Steve Darko's "Down" is available here.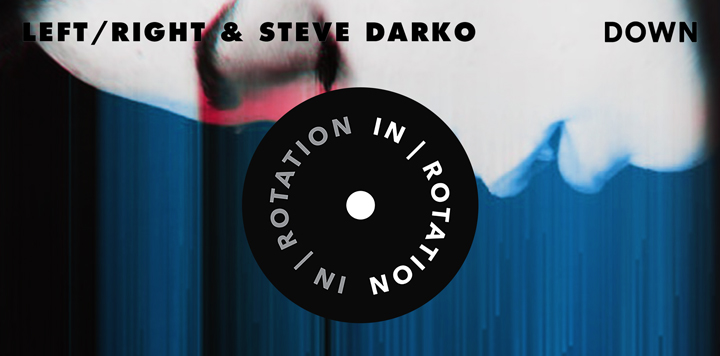 Let's kick this off by hearing what you're both most excited about right now, either on the horizon or happening as we speak.
Left/Right: Right now, I'm off to Burning Man with quite a few sets at Opulent Temple, Church Art Car (new this year), Duck Pond, sunrise on Icarus art car, and a few others. I'm also working on a ton of new music (over 25 tunes in the works).
Steve Darko: I'm currently on tour with Claude VonStroke, which has been a blast so far. We played at Meow Wolf in Santa Fe, which was quite a trip—definitely worth checking out that venue, if you can. The next big thing I'm excited for is Dirtybird Campout in early October. 
Can you each shed some light on how the two of you know each other and how the strength of your relationship plays into your new collab?
L/R: Steve, do you remember? I think it was at Middlelands. I was already playing some of his tunes at that time, and we were both on Audiophile XXL with mutual friends, so we ended up hanging out and connecting on music. Great festival.
SD: Yes, we met in some sort of medieval-themed outdoor bar. It was excellent.
What do you appreciate most about each other's style/sound?
SD: Left/Right has a truly refined style. I think his broken beat and bass-heavy style was a great complement to mine, and I'm really happy with how this track came out. L/R has great ears, and I always trusted his feedback when we were iterating on the mixdown for "Down."
L/R: Steve is killing it right now in his arena. He's got a refined taste for true dancefloor aesthetic: impeccable grooves, always a solid dose of fun, and very original/catchy hooks. Even a long time ago, I saw big things for him, and it's no surprise he's popping off so hard, with Dirtybird support and beyond. 
Give us a timeline on when and how "Down" came together. How many versions were there before it was ready to be unleashed into the wild?
L/R: "Down" was a sketch I had started a year or so back and had been sitting on for some time (that vocal is mine, haha). It had some of the basic synthwork but just wasn't quite there on the groove and dancefloor vibes. I figured Steve could take it in that direction, and he nailed it. I don't think the process took long, but the gaps between trades probably added up to six months or so; there wasn't ever a rush. 
Has either of you tested this one out yet? If so, has the reaction lived up to your expectations?
SD: Yes, and it definitely stomps on big systems. The kids have seemed to love it so far.
L/R: I have—quite a bit, actually. It's done well every time, even to a lot of the bassier crowds I often play (to my pleasant surprise).
Chris, your label BRØKEN is fresh off releasing its Conspiracy Vol. 2 compilation. What makes you the proudest about running this imprint? From your eyes, whom should we be on the lookout for?
L/R: Yes, very proud of the whole BRØKEN (as well as Punks) teams. One of my favorite aspects of BRØKEN is how we really are pulling the underground UK bass sound into the US. Been very happy to achieve that crossover and support. A lot of the label's material is a bit heavier/darker than I often play, but it's very curated between myself, cofounder Zander, and label manager Isenberg's tastes. Definitely keep a lookout for Khesis, Tyler Clacey, Affiliate, and Daze Prism—some of our favorite artists and big innovators in their sound. 
What's next for the two of you?
L/R: I'm sitting on a few other tunes scheduled for release, including a remix on mau5trap, a tune featuring Dread MC, more music with singer Jacq, and a large album for next year, with a possible live show to follow. Exciting and bewildering times.
SD: I have a couple more releases on Dirtybird lined up before 2019 and a ton of unsigned and unreleased tunes I'm sitting on. I just bought a Prophet 6, so I'll be locked in the studio, messing with that beauty, when I'm not on the road.
Follow Left/Right on Facebook | Twitter | SoundCloud
Follow Steve Darko on Facebook | Twitter | SoundCloud
Follow IN / ROTATION on Facebook | Twitter | SoundCloud
---
Share
---
Tags
---
You might also like