Jauz Takes a Bite Out of Musical Boundaries With His EDC Las Vegas 2018 Mix
Jauz is big. Real big.
The Jauz sound is an exercise in scale, enveloping everything in its path with heavy waves of bass, whip-cracking beats, and enough energy to power 400,000 people in the middle of the Nevada desert all night long.
For Jauz the producer, all's fair in moving the dancefloor and crafting the perfect mix, which is why he deflects any talk of being the leading light of any subgenres and check-the-box dance music categorization.
"The 'Jauz sound' was never supposed to be bass house," insists the artist himself, aka Sam Vogel.
"The whole mantra behind the brand is 'Music has no boundaries.' My goal is to always evolve myself and my music. For me, it's the only way to keep making music interesting for myself," he explains. "I do this for myself; not anyone else. I think that's the real reason behind me writing a full-length album. I wanted to remind people exactly what Jauz is all about: I make all different kinds of electronic music, and it all sounds like me. And if you can get behind that, great. If not, too bad."
Clearly, this Los Angeles native is not here for any games. His passion and steadfast determination to stay true to his art are what drive his constant output of tracks, mixes, and collaborations.
With so much noise around the rapid ascension of the bass house sound and his own profile, Jauz makes it plain that he remains all about his business. After making a sizable impression at cosmicMEADOW at EDC Las Vegas last year, in addition to the b2b2b madness with Diplo and Alison Wonderland at kineticFIELD, he's slated to return to kinetic with a vengance for a solo set.
"Last year at cosmic, I made it a point to play as much of my own material as possible. I think I ended up playing around 33 of my own songs," he recalls. "I always try to do something a little extra special for my EDCLV sets, and this year will be no exception. Considering the album is so close to being finished and being released, I'm definitely going to take this as an opportunity to showcase as much of my new music to as many people as possible."
Jauz promised that with the move to the bigger stage, he's more than ready to turn everything up to 11 and spread his beat-powered gospel to the masses.
"Playing at kinetic is always an awesome opportunity to play to tons of people who might not know your music, which is really exciting to me. I always try to play songs that are crowd-favorites and spin them in a way that no one else on a mainstage would," he says. "My goal is to play as much weird music to people who would never hear it and package it in a way that feels like something they know or are comfortable with."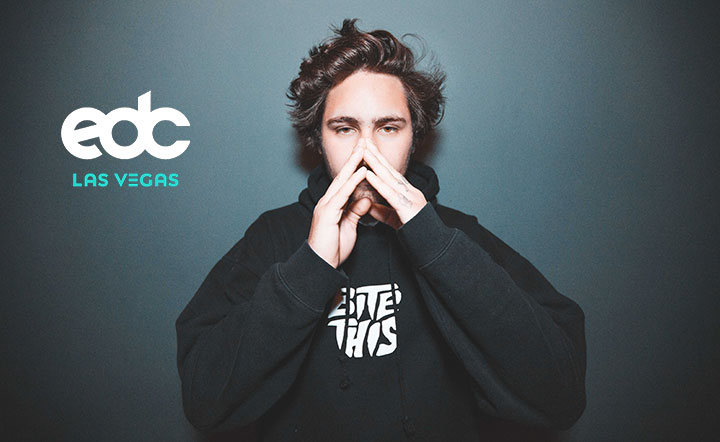 What's new with your label, Bite This!? What are some new releases or events lined up that you're most excited to share with fans?
We've slowed down releases on Bite This! since our First Bites compilation to focus all our efforts on my album. I wouldn't feel right not giving 100 percent attention to anyone's music I'm putting out on the label. Once the album is out and released, we already have a bunch of singles, EPs, and a new compilation ready to go from some really incredible artists. I'm almost as excited about all of those as much as I am about putting out my own album.
What can you tell us about connecting with DJ Snake for the collaboration "Gassed Up"?
Snake has always been a great friend to me and, even more importantly, such a huge source of inspiration throughout my career. Everytime I would sit and talk to him about life and music, he would always leave me completely juiced and ready to make incredible music. I always wanted to make a song with him but wanted to wait until the time felt right, and I thought the album was the perfect moment to make it happen. The track came together super naturally, and he helped elevate it to a level I couldn't have taken it to myself.
You've said the album "plays out as a story" and that it's influenced by growing up watching rock acts go through the cycle of making an album and then touring behind it. What can you tell us about the album now?
I've put a ton of thought and effort into how the album plays out. Seventeen tracks might feel like a ton—almost too much—to put out as one collective piece. But when it's broken down into "chapters" or sections, it feels like just the right amount. Every song on the album serves a purpose and helps evolve the story behind the album. I can't say much more than that right now, but all the pieces are going to start falling into place really soon after EDC. And all of that—this whole album—is just the very beginning of a completely new chapter in the Jauz world. There's so much more we already have planned based off the album, and I really can't wait for it all to start unfolding.
You recently shared a remix of Avicii's "Seek Bromance" that you made back in 2011. Clearly, his tragic passing has dropped a bombshell on the dance music community. How was his music influential on you when you began making music? How has his passing affected your thoughts on work, travel, and health going forward?
Like pretty much everyone who makes dance music, Avicii was one of the first people I discovered when I started exploring the electronic music world—even though when I really first started listening to dance music, I pretty much only listened to dubstep. I had transitioned from playing metal guitar. I grew up playing video games a ton and actually had an early exposure to lots of dance music without realizing it. So, hearing tracks like "Seek Bromance" for the first time really struck a chord with me, and I couldn't even figure out why—until later.
I could probably credit him as being one of the few artists in my early years who really helped push me out of my comfort zone of only making heavy, aggressive music and exploring more melodic and uplifting ideas. The remix I did of "Seek Bromance" was one of the first things I ever made that I actually really loved. Even today, I still love the idea of it. I'll always have a special place for Tim in my heart, because without his music, I may have never been motivated to push through and get to where I am today.
I think Tim's passing, among so many other things, has been a giant wakeup call to not just us as touring artists, but the entire community. You look at someone in his position and think he's a god, he's invincible, that there's no way he's "really depressed." But no one can see what was going on in his head, through his eyes. And it's heartbreaking. You can have the entire world in the palm of your hands, in a material sense, but none of that means a thing if you're eating yourself away from the inside. I've been blessed to maintain positive mental health throughout my years of touring, but seeing things like this shakes me, and all touring artists, to the core. It really makes it clear that no amount of money, success, fame, any of it, can equal real happiness. And it's something that should be talked about much more often without having the death of a legend be the reason it's brought back up.
What music do you listen to when you're not spinning or producing dance music?
When I'm on planes or chilling at home, lately all I've been listening to is either the metal bands I loved so much when I was younger, or actual electronic music—not dance music, but just real, indie/alternative music that happens to be produced electronically. I love listening to metal again, because it gives me the same feelings of when I was a kid, so enamored with music and excited to figure out how to make my own. Some of my favorite metal bands at the moment are Architects, Bring Me the Horizon, Metallica (obviously), and the Devil Wears Prada, to name a few. I have a playlist of like 3,000 songs, both new and old, that I shuffle through pretty much every day.
I love listening to real electronic music because it shows me how much different, interesting music can be created using the same exact tools we use to make "dance music." Some of my favorite songs of the moment are "Roll Back" by George Fitzgerald, "Somebody" by Jim-E-Stack, and "Still Think" by Chrome Sparks. I play a lot of that kind of stuff on the "Lost at Sea" section of my radio show, Bite This! Radio. I think anyone who loves dance music needs to listen to more of this kinda stuff; it's really eye-opening.
What's your most meaningful tattoo, and why?
I have a lot of tattoos that are meaningful to me, even if the actual art isn't meaningful on its own. All the tattoos on my left arm have been done in different places around the world. My goal is to make my arm into a kind of "passport," so anytime anyone asks where I've been or what my tattoos are, I can show them all the places I've been. I thought it would be cool for when I'm old and wrinkly.
My most meaningful, however, are probably the big piece on my left forearm and the key on my right arm. The piece on my left arm is an anchor sitting in waves with my parents' initials on the anchor. The idea behind it is that no matter how crazy my life gets, my parents will always be there to keep me anchored. The key on my right arm, I got with my fiancée, Joann. She has a lock on her right arm. I think that one is pretty self-explanatory.
Last question: Will the world ever get the Jauz remix of Dickie Goodman's "Mr. Jaws" that it deserves?
Brb… going to listen to that song for the first time. I guess you'll have to wait and see for your answer.
Jauz's EDC Las Vegas 2018 Mix Track List:

Jauz x DJ Snake "Gassed Up"
Slushii "Level Up"
Rusko "Look Out!"
Jauz ft. Romeo "Meant to Love You"
Rusko "Jahova" (Jauz Remix)
Riff Raff "Tip Toe Wing" (Jauz Remix)
Sikdope & Loud About Us! "Back Again"
Jauz x Example "In the Zone"
Axel Boy "Dog Fight"
Valentino Khan "Lick It"
Jauz, Ephwurd "Rock the Party"
Holy Goof "Weapon"
DJ Snake "Propaganda" (Jauz Remix)
Jauz x Nirvana x Martin Garrix "Smells Like Teen Spirit" x "Animals" x "Feel the Volume" (VIP) [Jauz Edit]
Jauz & Crankdat "I Hold Still" (Ray Volpe Remix)
Knife Party "PLUR Police" (Jauz Remix)
Zeds Dead & Jauz "Lights Go Down" (Sikdope Remix )
Svdden Death & AFK "Bzzrk"
Joker "Mad Night"
Andy C "What Bass"
Dimension "UK" (Skrillex Edit)
Rabbit vs. DJ Hazard & D Minds "Mr. Happy Tequila"
Bensley "Ascension"
Prolix "Lightspeed"
Jauz x Netsky "Higher" (The Prototypes Remix)
Jauz plays kineticFIELD at EDC Las Vegas, which takes place Friday, May 18, through Sunday, May 20, at Las Vegas Motor Speedway. A limited number of VIP passes, shuttle passes, and Camp EDC RV spots remain for EDC Las Vegas 2018. Grab your passes now! 
Follow Jauz on Facebook | Twitter | SoundCloud
Follow EDC Las Vegas on Facebook | Twitter | Instagram
---
Share
---
Tags
---
You might also like