Insomniac Records Launches In / Rotation Offshoot With Dombresky's Weighty Club Creation "Technikal"
Upcoming Event
Known for never taking its finger off the pulse of dance music, Insomniac Records continues to align itself with the ever-changing tides of the festival circuit. Whether it's through the event-specific compilations they issue or getting behind artists who are going against the grain, the imprint is always finding new ways to stay on top of the game. The next item on their agenda is the birth of In / Rotation, an offshoot that aims to big-up emerging artists of all natures and give recognition where it is due.
"The next revolution in our Insomniac Records family, In / Rotation was created to provide a unique platform for artists on all levels to showcase their music and more," says Insomniac Founder Pasquale Rotella. "By releasing free tracks from some of our favorite producers and highlighting art and photography that catches our eye, we hope this is a special space that people will enjoy exploring."
And who better to set the standard with the inaugural release than Parisian producer Dombresky? Dude has been kicking up quite the stink on the bass house tip, having earned the highly coveted cosign from Tchami and his ubiquitous Confession imprint. He turns that skillset loose on "Technikal," a weighty club creation powered by shimmery chord stabs, intoxicating vocalizations, and all the slyness you can squeeze into a nearly four-minute run.
As will be the case with every subsequent In / Rotation release, you can snatch up your copy free of charge by smashing the download button on the player. Dombresky was also generous enough to kick us down with some background on his new single and his career as a whole.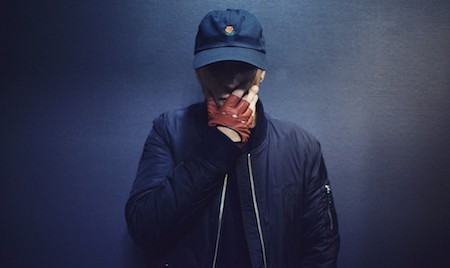 When did you first get the itch for music production, and how long after did your big break come?
I loved music since day one. I started really young, doing some stuff on my father's drums. Then, I started producing electronic beats on my own 10 years ago, and I started thinking of doing a project with my own tracks two years ago.
What influences have you invited in with this project?
I've been really keen on UK music for a long time. One of my biggest inspirations is definitely Jamiroquai.
It seems like you're super tight with Tchami, Point Point, and other label cohorts. Who do you hit up when you want feedback on your new tunes?
All of them! They are also inspirations for me, and it's really important to get their feedback on my tracks, just like it's important for them to get my opinion. We need that French team spirit to move forward. Sharing is crucial for me.
Whom do you lean on for general life advice?
Family—especially my mother and my sister, the two most important women in my life.
House and garage are obvious influences, but what would we find if we dug a little deeper into your music library?
You will find some George Michael compilations.
Who is your biggest music hero?
Prince, because he's the king.
Your new single "Technikal" is the first release from In / Rotation. How did the deal fall into place?
My manager was in touch with Insomniac Records' label manager, and they really enjoyed discussing music together. Then, the idea came up for us to work on a release together, and "Technikal" fit perfectly with the In / Rotation perspective, so we made it! I believe things happen for a reason. It's destiny.
In terms of the record itself, how did it come together?
For this track, everything went really fast. It was just about vibes and inspiration of what I liked in the moment.
You rocked the house at Beyond Wonderland this past weekend. What were some of the highlights from your performance?
It was definitely the moment when I saw people waiting for me. I really loved the vibes, the caterpillar, and jellyfishes—something special happened there. Then, I launched the intro, and I let the alchemy happen between the crowd and me. It was really strong—one of the best moments of my career.
Follow In / Rotation on Facebook | Twitter | SoundCloud
Follow Dombresky on Facebook | Twitter | SoundCloud
---
Share
---
Tags
---
You might also like