Halogen Gets a Little Cheeky With "Too Soon" for IN / ROTATION
In 2012, when Josh Taylor and Alex Dunsker began producing together under the alias Halogen, dance music was still in the midst of spreading like wildfire as a global phenomenon. At the time, their hometown of Atlanta was still catering primarily to a hip-hop-centric crowd, while the dance music scene existed in the shadows. After coming together and realizing they had mutually aligned goals of creating floor-grinding house, the duo quickly capitalized on a fast-emerging market in the city whose dance music community had plenty of space for an act like Halogen to edge its way to the forefront.
Not only did they make major headway in filling that void in Atlanta, with DJ gigs on stages both large and small, but Josh and Alex have also created their own local hangout: Housewerk, their homage to all of the amazing artists who inspire them to continue to spread the good word.
Over the last six years, Halogen has seen a steady rise on the back of a stream of stellar remixes, which have, over time, moved from heavier electro to deeper future grooves. With releases on Mixmash, Spinnin', and Universal, the boys have provided shining examples of their blinding glow in the studio, reimagining tracks by artists like the Chainsmokers, Felix Cartal, and Krewella.
Today on IN / ROTATION, Halogen releases "Too Soon," a dark and scintillating groove-riding single that exemplifies the depths of the duo's house chops. The cheeky vocals provide the perfect accent to the shuffling rhythm and slithery bassline, creating a track that gets its job done without taking itself too seriously.
We caught up with Josh and Alex to chat about how they met, what it's like to juggle a 9-to-5 and a career in music, and how they see DJing and producing as separate parts of the same circle.
Halogen's "Too Soon" is available here.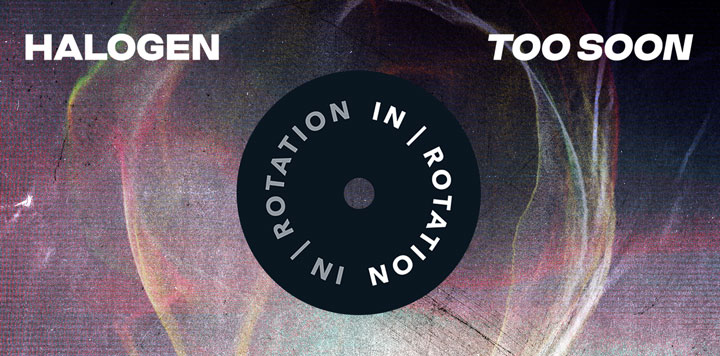 The two of you have quite a history together. How did you meet, and what compelled you to start creating together?
We met through mutual friends back in 2012 [and] got together to talk about production. Our goals were aligned, and stylistically, we were similar in what kind of music we wanted to make. Very quickly, we decided to start the project, originally making electro house and later transitioning into more deep/future. We were very passionate about music and had strengths in various facets of both production and performing live.
Can you talk a bit about the scene in Atlanta and what it was like growing up there as a musician?
Atlanta has predominately been a hip-hop-oriented city. Over the past few years, it has really seen a shift in the music scene. People are becoming more knowledgeable about dance music, and the house culture has grown significantly. We have been fortunate to work with some of the most talented musicians in Atlanta. It has been interesting at times, but early on, it was easy to stand out; the city was not nearly as saturated with producers when we began.
Although you've been working together for quite some time, you released your debut single only last year. What can you say about your patience and the power of honing your craft?
We spent a great deal of time improving our production skills and getting our mix quality to the point where we could fluently make music with no real setbacks. Creating remixes and working with high-quality vocal stems was an important step toward being able to hone both our original sound and process flow. Patience is important with production; you will never be able to create dance music without it. When it comes to releasing music, however, patience isn't important—it's necessary.
Besides production work, you two run a pretty successful club night and have brought out some amazing artists. What do you get out of throwing a show that's different from making music or DJing?
It has been a great time having our own house night. Atlanta was really in need of a regular underground show to bring in acts that fit the vibe for a more intimate experience. As we have gotten older, we have begun to appreciate these types of shows just as much as the big ones at huge venues. Being able to add to the culture of the scene and meeting people at the shows has been a very humbling experience for the both of us.
Alex, you are also a VJ and were recently on tour with Minnesota. What's it like to see the worlds of music and visual art converging in such a big way?
I always enjoy broadening my skillset when it comes to art of any form. Learning is key to innovation in any field, and I'm constantly trying to put myself in the shoes of the artist I'm working with. Once I find something I like in the visual realm, I then try to stash concepts away that go well together. The goal is to create all the visuals for the live set, as well as music, and hopefully one day play an entire set that tells a story visually, as well as audibly.
Working on Minnesota's fall tour was the first time I had been on the road on such an extensive schedule. After six weeks straight on the road working 5–7 days, I realized what it is like to achieve the goals we have been working so hard on. Being a VJ that is also a DJ helps me point out cues as I listen. I'm basically thinking about what I would be doing onstage and then preparing myself for it to happen on the other end.
Josh, you had a day job at a tech company that works with kids. Can you tell us a bit about balancing a day job and DJ career?
I used to work with kids. Now, I work as an engineer on the home security app for Comcast/Cox. Working 40 hours a week and producing/performing in my free time has been very Hannah Montana–esque, lmao. We all have our outlets. I'm just having fun and trying to be great at everything I spend my time doing. Eventually, I plan to shift into doing music full-time. I am an advocate for doing exactly what you want to do with your life.
You stated on Twitter: "Don't even know if I like being called a DJ. I feel more like a producer that stands in front of people and plays music, sometimes." Yet you have a pretty extensive DJing schedule. Which comes first for you: DJing or producing, and what do you get out of either?
When you spend countless hours in the studio and compare that amount of time to the slots allotted for DJing, it really makes it feel like producer first, DJ second. But in all reality, they are both art forms that we take seriously. You need to have expertise in both to be complete artists. It does help, however, to compartmentalize them at times.
Follow Halogen on Facebook | Twitter | SoundCloud
Follow IN / ROTATION on Facebook | Twitter | SoundCloud
---
Share
---
Tags
---
You might also like