Gwen Guthrie "Ain't Nothin' Goin' on but the Rent"
The birth of our underground brand Factory 93 not only brought on an adrenaline rush reminiscent of the renegade warehouse era of raving—on which Insomniac was founded—but it also had us thinking back to all the people, places and parties that made this whole operation possible. And with that came a burning desire to crack open our collection and dust off the classic records we couldn't live without. Through our From the Crates series, we'll be breaking out both seminal and obscure cuts alike, imparting some knowledge in the process.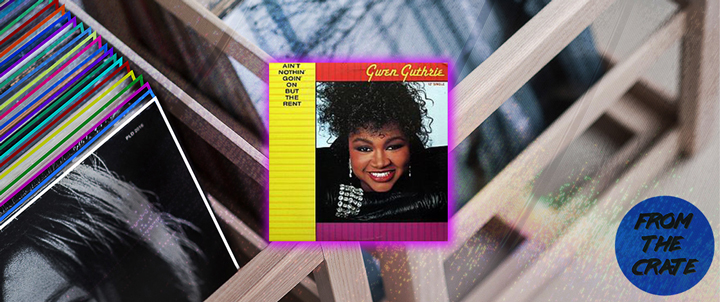 "Ain't Nothin' Goin' on but the Rent" is one of the best boogie tracks of the '80s and a record that defines the post-disco Paradise Garage sound, a vibe and aesthetic still hugely influential in the underground and beyond. Written and performed by Gwen Guthrie and mixed by the legendary Larry Levan, the track features both of them at the peak of their abilities in the studio and offers a keyhole into the oft-mythologized world of early-1980s Manhattan.
French dance music buff Laurent Garnier once said the track "felt like house music before house music really arrived." Larry Levan, widely considered one of the most influential DJs in club culture, was a queer DJ (and later, remixer) who came from Harlem's underground ball culture and got his start under the tutelage of first-wave legends like Nicky Siano. Gwen Guthrie was perhaps his greatest collaborator. They made many records together, and she was the voice of the Paradise Garage, even though she never got her due respect from the American mainstream.
Levan's decade-long residency at the Paradise Garage, from 1977–87, was the prime of his life and career. Formerly an actual parking garage, the space was a members-only, no-booze club with a ferocious system installed by sound wizard Alex Long. Levan took disco grandfather David Mancuso's template of inclusivity and cross-class, cross-ethnicity, cross-racial partying to a wilder, more aggressive place. The vibe and community he helped create spawned a hagiographic following, and the records he broke there (or were mixed specifically for him to DJ there) are almost universally considered canonical tunes in the history of dance music.
"Levan was one the very first examples of the DJ-as-shaman, a technomystic who developed a science of total sound in order to create spiritual experiences for his followers," wrote Simon Reynolds. Many of the people who lionize him and the Garage were never lucky enough to go there (like me, for example). That's where the Garage records come in. Levan's mixes—particularly the records he made with chanteuse Gwen Guthrie—have gone on to become the artifacts we can still experience, even though the club has been shut down for almost 30 years now.
"Rather than being the prototypical "gold digger" anthem, it's arguably more of a song of empowerment. It's a gender reversal, where the woman is calling the financial shots."
Guthrie was also a frequent collaborator with Sly & Robbie, a Jamaican dub and reggae duo whose fingerprints are all over great records of the early '80s. Sly, Robbie, Guthrie, and Levan were fans of dubbed-out disco, often drenching their productions in reverb, delay, and echo to achieve a big, spacious sound that borders on the religious.
Originally from New Jersey, Guthrie caught her break subbing for one of Aretha Franklin's backup singers, who had fallen ill, and would later tour with artists like Roberta Flack before branching out on a solo career. She established a home at Island Records with Compass Point All Stars as her backing band—including Sly, Robbie, synth genius Wally Badarou, and many other ridiculously talented session players—developing a post-disco, proto-house boogie sound with Jamaican sound system influences. Guthrie and Levan helped perfect this recipe over several records before "Rent," including 1982's Sly & Robbie–produced "Seventh Heaven" and "It Should Have Been You," 1983's "Padlock," and 1985's sticky, midtempo monster "Peanut Butter."
Then came 1986's "Ain't Nothin Goin on but the Rent," which represents a sort of peak for both Guthrie and Levan. Lyrically, the song is about seeking a partner who can financially provide, which was seen by some as pretty gauche for the time. But it was the '80s after all, and Reagan's trickle-down austerity capitalism was decimating inner-city people everywhere, forcing them into a dystopian sort of competition for resources. The song starts with a refrain of "Bill collectors at my door," and it's probably the funkiest tune you'll ever hear about financial hardships.
But rather than being the prototypical "gold digger" anthem, it's arguably more of a song of empowerment. It's a gender reversal, where the woman is calling the financial shots. The song contains a spin on a lyric from Billy Preston's 1974 hit "Nothing From Nothing," which was later riffed on by other artists. Eddie Murphy had a famous standup bit where he borrowed the line, "No romance without finance."
Class and gender politics aside, "Rent" is fiercely catchy and a perfect midtempo (~107 BPM) record to really wind a party up. It didn't make as big a splash as it should have in the States, peaking out at #42 on the Billboard singles charts, but it fared well on the British charts, cracking the top 5 singles and entering the radio classic canon across the pond.
Levan mixed and edited both the 12-inch club mix and the dub mix. The sound is relatively polished, but it doesn't feel stringent or antiseptic. It feels strong and undeniable on a proper system.
In the years following "Rent," Guthrie and Levan's careers declined. Guthrie struggled to stay relevant or develop a larger mainstream following. Levan's partying and substance abuse were finally catching up to him by the end of the '80s. Many involved in the Garage and the queer disco scene were falling prey to AIDS (Guthrie was one of the first artists in the '80s to publicly raise money for the AIDS crisis, via proceeds from her 1988 song "Can't Love You Tonight," which also addressed the epidemic). The Paradise Garage owner Richard Brody died in 1987, months after the club had closed. Levan died from a heart infection in 1991, at the age of 38, and Guthrie followed in 1999, at the age of 48—both lost too young.
Larry Levan's legacy—despite often inflated—is undeniable. His records and expressive style prove his unique, enduring sound and sensibilities. He knew what moved people in sweaty, dark rooms. Gwen Guthrie was also a force of nature, one of the underground's clarion voices, and her contributions to disco, house, and dance music will forever endure.
---
Share
---
Tags
---
You might also like