Griffin Stoller Slides Into Summer With Fire HARD Summer 2018 Mixtape
In this day and age, artists are no longer required to sign their life away in order to share their vision with the world. Griffin Stoller is a young multi-hyphenate artist who is proving that good music not only speaks for itself, but it also can amass upward of 33 million streams without the "help" of any self-interested suit-and-tie types.
Based out of San Fran, Stoller has risen above bedroom producer status because of his keen business sense. He's a true entrepreneur at heart, yet no amount of lurking on his social channels would give you the slightest inkling that he's trying to push a product. Instead, he creates a connection with his audience by putting himself out there through honest videos of various cover songs and unreleased material, which show him baring his soul on vocals, fiddling with the many instruments he's mastered (this is an appropriate time to mention his Carnegie Hall award as a violinist at 16), and executing live renditions of his emotion-fueled singles. His is a brand that never feels disingenuous, and that's exactly why you can't help but root for the guy.
This August, Griffin Stoller is strolling into SoCal for his debut appearance at HARD Summer, where he will be unveiling new visuals during his live set. As he gears up for the big show, we tapped him for a stellar mixtape that showcases his own productions, including loads of IDs (read: new music on the way). In addition to the one-hour trip through his fire future-leaning sound, he also let us climb inside his head to find out what makes his wheels turn.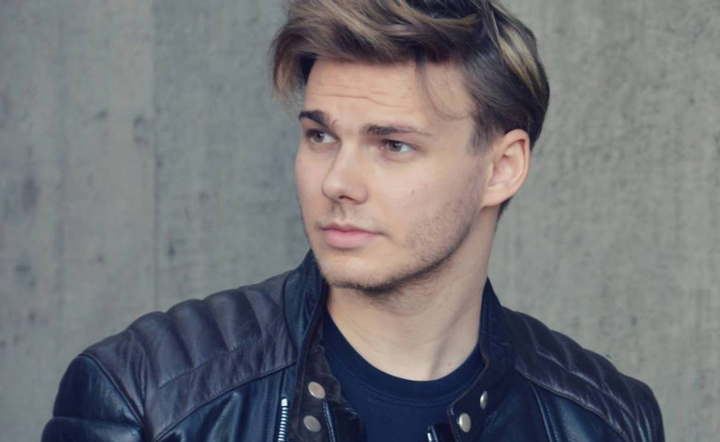 Tell us a little bit about the mix you've put together here.
I really enjoyed putting this mix together. I wanted to share a mix of music that was 100 percent original and produced by me.
You're handling all of your releases independently. What factors drove you to want to operate on the solo tip? How has it been working out for you thus far?
There is definitely an exhilarating part of releasing music independently. I really value the creative control and the ability to release music at a moment's notice. It is really cool to see how many people engage with my music from different parts of the world. I feel like I still have a lot to learn, but am very grateful for the people that have supported my music, and am excited to evolve even more as a producer. Also, would like to give a huge shout-out to Spotify for supporting independent artists and giving me a platform to share my music all over the world.
Being an entrepreneur has definitely helped you build a strong brand identity and content strategy. What are some of the ways you are approaching the business differently from some of your contemporaries?
One of the strategies at the core of what I'm doing is to put the music above everything. I think the business aspects of branding/marketing are cool, but the music is where most of my energy is. I also really enjoy collaborating with other artists. I had a great time working with Molly Moore on a track ["With You"] and look forward to releasing more collaborations in the near future.
Word on the street is you've got a new EP coming out next month. How long have you been sitting on the tracks that made the final cut, and what sort of emotions do they evoke when you listen to them now?
I get really excited when I listen to my unreleased EP, because I feel like it explores a lot of new sonic territories. I used a lot of live drum sounds and blended certain electronic genres and moods to create a unique space I haven't shown before. I also put a lot of time into the sound design and textures of the record, because I wanted each track to feel connected and part of a story.
In August, you will be making an appearance at HARD Summer. What would you like to relay to those who have never seen you perform but are thinking about catching your set?
Really stoked for my set at HARD. Will be debuting visuals for my show, along with more live elements, like vocals and violin. I also wanted to make a mix for HARD that people would be able to enjoy, even if they don't make the set.
Any plans for the rest of 2018?
There is a lot of new music in store for 2018. In addition to the EP, I am working with a lot of other artists, ranging from hip-hop to reggaeton. There will be new singles, new collabs, and videos.
Griffin Stoller's HARD Summer Mixtape Track List:

Griffin Stoller "Higher Places"
ID – ID
Griffin Stoller "How to Feel"
ID – ID
Griffin Stoller "The Things You Do"
Griffin Stoller "Find Your Way"
Griffin Stoller "Vibes"
Griffin Stoller "Burned"
ID – ID
Griffin Stoller ft. Molly Moore "With You"
ID – ID
ID – ID
Griffin Stoller "Faded on Your Love"
Griffin Stoller "Not Alone"
ID – ID
Griffin Stoller "Purple Skies"
Griffin Stoller "Got You Too"
Griffin Stoller "Down for Love"
Griffin Stoller ft. Maya Delaney "Wide Awake"
ID – ID
ID – ID
ID – ID
ID – ID
ID – ID
ID – ID
Griffin Stoller "Piano Fugue"
HARD Summer 2018 takes place Saturday, August 4, and Sunday, August 5, at the Speedway in Fontana, CA. Tickets go on sale now. For more information, visit the official website.
Follow Griffin Stoller on Facebook | Twitter | SoundCloud
Follow HARD Summer on Facebook | Twitter | Instagram | SoundCloud
---
Share
---
Tags
---
You might also like