Go Mental With This Exclusive Basscon: Wasteland 2017 Mix From Da Tweekaz
Norwegian hardstyle duo Da Tweekaz have spent the last decade establishing a distinctive brand of euphoric hardstyle to match their energetic onstage antics. With giant smiles plastered across their faces, the two never set foot behind the decks without their sunglasses on, some official Da Tweekaz swag to launch into the crowd, and a stack of bass bombs to keep the dancefloor pumping. As they lead their ravenous fans on a journey through hard dance and reverse basslines, Da Tweekaz radiate a positive energy that proves that even at the top of their game, they refuse to take themselves too seriously and remain two of the most fun-loving, hardworking artists in hard dance.
Ranked in the DJ Mag Top 100 DJs poll an impressive five times, Da Tweekaz are not averse to taking risks. In 2014 and 2016, they rolled out the #Tweekay project. Every month during those two years, they uploaded a new track alongside a brand-new video clip, resulting in an intense production and release schedule that would make most artists shudder. These massive undertakings paid off for the two, producing their genre-defining tracks "Letting Go" and the anthemic "See the Light," a collaboration with Code Black featuring Paradise.
Ahead of their much-anticipated appearance at Basscon: Wasteland 2017, Da Tweekaz dropped an exclusive, bass-heavy mix full of hard dance heaters for all you hardstyle-heads. We caught up with the guys to chat about the hardstyle explosion in the US, the writing process behind one of their biggest tunes, and their forthcoming plans to celebrate the duo's 10-year anniversary in 2018.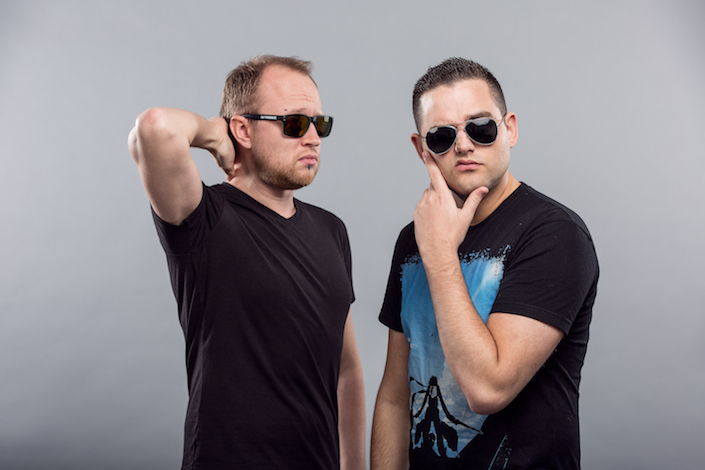 Hardstyle has taken hold in a big way here in the States. Do you see the same kind of dedication from American fans as you do in Europe?
We've been coming to the States for the past three years or so now, and we do see a large growth since when we started coming over. The large events are really putting on spectacular shows, and the smaller club events are also picking up pace. The fans in the US are very enthusiastic. Americans in general are very outgoing, whereas Europeans are a little shyer, for lack of a better word. Maybe it's because most of the artists are European-based, so of course fans are going to be super excited to see you, because it doesn't happen all too often [in the US].
The Americans also love to party, so it's great to see their energy. There are also a lot of Europeans, [as well as] fans from other continents, who are as outgoing on the dancefloor. But maybe what sets the US fanbase apart from the rest is their love for dressing up and making the whole experience just that—an experience. It's awesome to see.
How do you think Basscon has contributed to spreading the love for hardstyle in the US?
Probably the most important aspect is the fact that they've stuck with it and pushed through. Working with a relatively "underground" genre on a commercial setting isn't easy. It's very easy to want to pull out, but the fact that Basscon just keeps investing in better shows [to create] a better experience and a better fan connection has really helped push the scene to new heights. We're very thankful for the work they've put into the US market, as it also allows us to return on a more frequent interval.
We think the fans really know what Basscon stands for, and they know when they go to one of the Basscon shows, they're receiving the highest-quality production and experience, with some of the world's leading artists in the genre. It's also very important that fans have a sense of quality and are reassured they're basically getting what they paid for.
You recently posted a video of a flag toss gone wrong from EDC Las Vegas 2016. Did you know there were people fighting over the flag in front of you at the time?
That was quite a funny experience; it does happen quite regularly. We can't call it "fighting," because we don't want that happening, but you see fans really wanting to seize the moment and do all that's possible to get their hands on something exclusive. The discussion about who should get the flag or not between the two fans went on for quite a while, but it was nice to see that it ended up in a sort of friendship, that one of the two persons felt the other deserved it more. And that's what's so beautiful about our scene: Everyone is there to enjoy themselves. It's a very peaceful scene. Good job to both of those people for negotiating it without the need for aggression.
Let's talk about the inspiration behind the video for "See the Light," which has a really powerful concept. Does it have any link to a real-life story?
Initially, we were thinking of using footage from events we played during the summer, as well as some of the road trips we did along the way. However, we had a brainstorm session with our management and the video team we work with, and we all felt the track deserved something more—because it's such an amazing atmosphere and so euphoric, yet still melancholic at the same time.
We ended up with a story that maybe a lot of people can relate to. You're deeply in love with someone, and then you lose them—either through an accident or just through circumstances, like a breakup. In this case, we chose an accident, because we also wanted to make it more cinematic, with some action and some moments to shock the viewer into really thinking and feeling for the character.
The guy in the video loses his girlfriend; we leave the details of that out so the viewer can fill it in with their own imagination or experience. Then we see the utter sadness of the guy as he tried to cope with his loss. Unfortunately, he chose the wrong path, drinking, and ended up crashing his car and dying. This was the shocking moment, because we also wanted to send out an important message to our fans and viewers: Turning to drinking and these types of things aren't the best ways to cope with sorrow.
In any case, the final product left our team and us with tears running down our cheeks. And in combination with the track, it just worked.
You've done your Tweekay project twice now. What where the high points and pitfalls of taking on something of such magnitude? Would you do it again?
In 2014, we were looking for something fun to do on a project basis, so we came up with the initial Tweekay14 project: one video clip and one release each month. We have to be honest: It was very, very stressful, but we pulled it off. In 2015, we decided to calm it down a bit, but we noticed so many people wanting a follow-up of Tweekay14, so we decided to bring it back in 2016. Of course, our agendas were absolutely slammed, so again, it was really stressful getting music done in time between all the international traveling. Still, we feel the quality of the music and video clips was so much higher than 2014. It was great fun to do.
[This year] is again a bit quieter, just like 2015, but we love these kinds of projects, so who knows?! In any case, 2018 will be one hell of a year, [because] our careers started in 2008.
Da Tweekaz – Basscon: Wasteland 2017 Mixtape Track List:

Eiffel 65 "Blue" (Team Blue Mix)
Da Tweekaz "Tequila"
Coone & Da Tweekaz "D.W.X" (10 Years Dirty Workz Mix)
KSHMR ft. Sidnie Tipton "Wildcard" (Coone Remix)
Da Tweekaz "#Tweekay16" (Hard Bass Edit)
Sephyx ft. Mr Shammi "You Got the Rhythm"
TheFatRat ft. Laura Brehm "The Calling" (Da Tweekaz Remix)
Da Tweekaz x Code Black x Paradise "See the Light"
Paul Elstak "Luv U More" (Da Tweekaz Remix)
Darren Styles x Dougal x Gammer "Party Don't Stop"
Da Tweekaz & Darren Styles "Heroes"
Catch Da Tweekaz at Basscon: Wasteland 2017, taking place Friday, April 28, and Saturday, April 29, at the NOS Events Center in San Bernardino, CA.
Alexander Dias likes his bass hard. Follow him on Twitter.
Follow Basscon on Facebook | Twitter | Instagram | SoundCloud | Mixcloud
Follow Da Tweekaz on Facebook | Twitter | SoundCloud
---
Share
---
Tags
---
You might also like