Giuseppe Ottaviani Brings His Golden Live Touch to This Dreamstate San Francisco 2018 Mix
As one of the most prolific names in trance music, Giuseppe Ottaviani is an Italian talent who plays by his own rules. The veteran producer is known for taking the game to new heights by incorporating live instrumentation into his performances while staying true to the spirit of trance, which he calls "music with a soul."
Unlike most names in the scene, Ottaviani doesn't scour Beatport, looking for hot tracks to include in his sets. "I just grab parts from the recording of one of my live shows, since I like to record them all," he says. "This is also what I do for my GO on Air radio show: I take one hour of audio and video from the best show of the month and air it. So, it's very random and different each time, which is what keeps people excited about it."
Ottaviani also doesn't arrive at a gig with a digital crate of hundreds of tracks from other producers. He prefers to let his own musicianship shine. "Since I'm not a DJ and I don't play other people's records, I always bring with me pretty much all my own music, since day one," he says. "I like to be able to go back in time and play some oldies every once in a while—plus, a good part of my live sets are improvised onstage, and I play lots of new ideas that are freshly made there onstage, or right before, at the hotel or airport."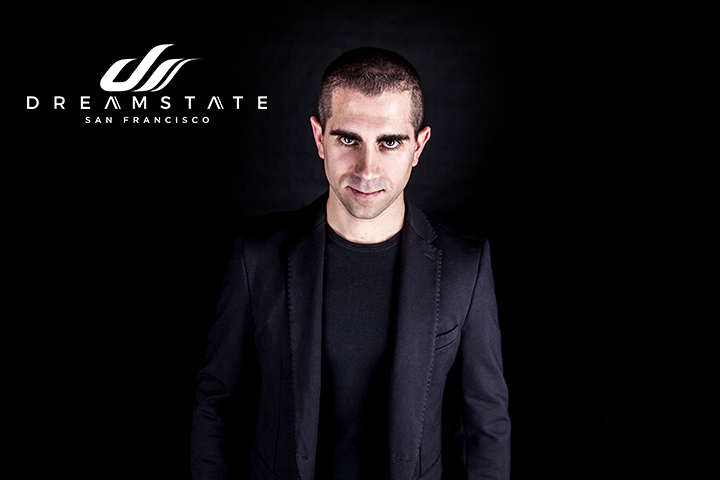 Not being a DJ in the traditional sense is one of the many aspects that has set Ottaviani apart. Take, for example, his Live 2.0 concept, with which he's currently delighting crowds from all parts of the world.
"My Live 2.0 is a sort of hybrid setup, where I use two laptops and a bunch of MIDI controllers, plus a keyboard to play and record live elements," he says. All the tracks he uses are on one laptop built with stems, which allows him to edit and control different elements of a track at his own discretion. His second laptop contains drums and six different VSTs (i.e., audio plugins, in case you're scratching your head), offering Ottaviani a variety of sounds he could tap into for creating fresh melodies and new tracks on the fly.
However, when it comes to handing tracks over to his colleagues for new interpretations, Ottaviani pretty much lets remixers have free rein. He usually picks out producers to put their spin on his music, while providing little to no input—as in the case of his ALMA Remixed album.
"Each track from the original ALMA album has a different taste, and it needs a different approach when it comes to remixing it," Ottaviani says. "Depending on what the track needs, I selected my favorite remixers and sent them the track I wanted them to remix."
Alternatively, for a few of the other tracks on the LP, he had a very clear idea of what he wanted to be done. So, Ottaviani simply remixed those himself. "This is what I used to call an 'On Air Mix,' which is my signature for a 138-BPM, full uplifting mix—compared to my 'Chill Air' mixes, that are a chill-out version of the original."
When Ottaviani dips his toe into remixing other artists, though, he has a different approach for vocal tracks versus instrumentals. "When it comes to the voice, of course, I try to build my remix around that, but using a slightly different melody from the original," he says. "If the track is instrumental, then my attention goes to the main lead. What I do is try to slightly change it—in a way that I like it more or that I think can improve it—and then build the track around that and eventually take some minor elements from the original mix."
Typically, Ottaviani doesn't request the full remix parts because he likes to build the track from scratch and use his own sounds, rather than limiting himself to the original stems, as well as mix up the order. It's his way of keeping things fresh and unique to his vision.
Currently, Ottaviani is taking some time before delving into a new studio album. He already released two full-lengths in the past four years, and it was a bit overwhelming. Thus, he's turned his attention to singles for the moment. He also hints that his collaborative project with Solarstone, PureNRG, has some surprises in the works. So, stay tuned and allow this Dreamstate SF 2018 mix hold you over until new material arrives and the festival takes off next month.
Giuseppe Ottaviani's Dreamstate San Francisco 2018 Mix Track List:

PureNRG "Prophecy" (GO Live edit)
Activa "Labyrinth"
Giuseppe Ottaviani – Live ID
Cirez D "On Off" (Giuseppe Ottaviani Bootleg)
John O'Callaghan ft. Josie "Out of Nowhere" (Giuseppe Ottaviani Remix)
Giuseppe Ottaviani "Slow Emotion 3"
Rafael Osmo "Renaissance" (Giuseppe Ottaviani Remix)
Above & Beyond ft. Richard Bedford "Northern Soul" (Giuseppe Ottaviani Bootleg)
Giuseppe Ottaviani & Paul van Dyk ft. Sue McLaren "Miracle" (OnAir Mix)
Giuseppe Ottaviani "Jakarta"
Rafael Osmo "Counterstrike"
Giuseppe Ottaviani – Live ID
Giuseppe Ottaviani is playing at Dreamstate San Francisco 2018, which takes place Friday, August 17, and Saturday, August 18, at Bill Graham Civic Auditorium in San Francisco, CA. Tickets are on sale now. For more information, visit the official website.
Follow Giuseppe Ottaviani on Facebook | Twitter | SoundCloud
Follow Dreamstate on Facebook | Twitter | Instagram
---
Share
---
Tags
---
You might also like