Farley "Jackmaster" Funk & Jessie Saunders "Love Can't Turn Around"
The birth of our underground brand Factory 93 not only brought on an adrenaline rush reminiscent of the renegade warehouse era of raving—on which Insomniac was founded—but it also had us thinking back to all the people, places and parties that made this whole operation possible. And with that came a burning desire to crack open our collection and dust off the classic records we couldn't live without. Through our From the Crates series, we break out seminal and obscure cuts alike, imparting some knowledge in the process.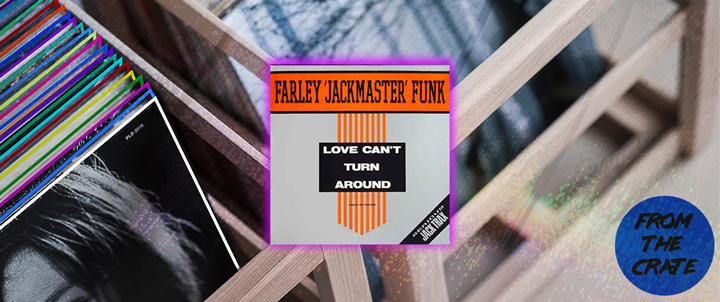 It's difficult to zero in on the exact moment when a regional genre begins its march toward greater recognition, and with house music, it's particularly challenging. Little was documented during its Chicago origin-story days—memories of the whys and wherefores of the sound's rise over time—and the memories that do survive tend to favor whoever's doing the telling. But a strong case can be made for the late summer of 1986, when Farley "Jackmaster" Funk and Jessie Saunders' "Love Can't Turn Around," featuring Darryl Pandy on vocals, became the first song to make its way out of clubland and into the world at large. Specifically, it became the first house track to enter the UK Singles chart's Top Ten, helping to set off a global love affair that continues to this day.
As with most tales from house's formative years, the story behind "Love Can't Turn Around" is a bit convoluted. The track is essentially a several-degrees-removed version of the 1975 Isaac Hayes tune "I Can't Turn Around," the first Hayes number that one could properly call "disco." The song was a favorite of Frankie Knuckles at the Warehouse, and his fellow house architect, Ron Hardy, was spinning it at the Music Box. The first third of the tune is relatively standard-issue, sort of a flowery lover-man number—but just before the midpoint, its hooky brass-and-bass chord pattern takes over for an extended coda, elevating the tune into a full-throttle locomotive that's both unstoppable and unforgettable. (There's a Hardy edit of the number that's well worth searching out.)
The song had a fan in Steve "Silk" Hurley, who, working with vocalist Keith Nunnally under the J.M. Silk moniker, had already achieved some success within the Chicago house community via 1985's atmospheric "Music Is the Key." Hurley and Nunnally, possibly inspired by the Hardy edit, decided to produce a cover version of "I Can't Turn Around." The resulting track, released in early 1986, was a leap forward in house music's development.
Up to that point, most house producers (with a few exceptions, like Larry Heard) had been content to conjure up pure jack tracks, consisting of straight-off-the-drum-machine beats, rugged bass and a synthline, with the occasional vocal sample to spice things up. "I Can't Turn Around," on the other hand, was a full-fledged song, far slicker in feel than much of what had come before. Yet even with many of house's serrated edges buffed away, the song, featuring Nunnally's satiny vocals, packed a wallop, and the cut reached No. 1 on Billboard's Club Play chart. It created a mere ripple on the pop charts, though; the only place the track registered at all was on the UK Singles chart, where it managed to reach No. 62.
Hurley's roommate, and fellow resident DJ at Chicago's Playground club, was a young producer named Farley Keith Williams. He had first gained notoriety in 1981, when he became one of WBMX-FM's Hot Mix 5 team (his fellow members, house all-stars all, were Mickey "Mixin'" Oliver, Ralphi Rosario, Kenny "Jammin'" Jason and Scott "Smokin'" Silz, the last of whom was replaced by Julian "Jumpin'" Perez in 1985).
By the time Hurley's version of "I Can't Turn Around" came out, Williams was already something of a vinyl veteran, having released such skeletal cuts as "Jackin' the Bass" and, as Jackmaster Dick, the indelible "Jack the Dick." Williams, by now known as Farley "Jackmaster" Funk, was nothing if not brash: "Our sound is so different because we can just make a bassline and a rhythm track, and we can sell 10,000 copies of that just in the city," he told The Face in 1986. Apparently, that kind of confidence led him to figure that he could do Hurley one better in covering the Hayes song, and he enlisted his friend Jesse Saunders in the effort.
"For millions of British radio listeners, this was the first exposure to house music, helping to kick off the genre's hegemony on dancefloors throughout the country and much of the rest of Europe."
Even in 1986, Saunders was something of a legend within the then-insular house scene. He was responsible for the record many consider to be the first house cut ever committed to vinyl: 1984's "On and On." (Plenty of other house tracks had already been produced—Jamie Principle's "Your Love," for instance—but they had circulated through the clubs via cassette tapes rather than vinyl.) Teaming up, Williams and Saunders took rewritten lyrics from Vince Lawrence—who, with Saunders and Larry Sherman, was one of the men behind the pioneering Chicago label Trax Records. Lines like "Now my life is rearranged/now my luck is changed/'cause you gave me love, sweet love" were replaced by the likes of "We'll never be the same/'cause you play those silly games/and yet I want you, girl," transforming it from an old-fashioned love song into something a bit edgier—a tune about a damaged relationship.
Renamed "Love Can't Turn Around," the track was released domestically on House Records, a label run by Williams and fellow house pioneer Chip E; it came out in the UK via Rocky Jones' D.J. International. But after London Records—at that point an almost-major indie label—picked it up in the UK, the song entered the British singles chart, where it peaked at No. 10 in September of 1986, making it the highest-charting house cut to that point (it also reached No. 15 on the US Dance chart). For millions of British radio listeners, this was the first exposure to house music, helping to kick off the genre's hegemony on dancefloors throughout the country and much of the rest of Europe. Williams and a glitter-clad Darryl Pandy were even invited to perform a lip-synced version of the track on Top of the Pops. As The Wire's Derek Walmsley put it at the time, Pandy was "the gayest man ever to appear on Top of the Pops—and I mean that as a compliment."
In truth, the bones of "Love Can't Turn Around" aren't all that different from that of J.M. Silk's "I Can't Turn Around." The rhythm section is essentially the same, with the addition of some deftly pounding piano; the bassline, the foghorn brass, the propulsive drive, and the earworm melody remain intact. It was, quite possibly, the inclusion of Pandy's vocals that helped push the song up the charts. A member of the choir at Chicago's Church of Universal Awareness, Pandy possessed a gruff, guttural tone that masked a six-and-a-half-octave range. "A long time ago, we were in the studio arguing," Williams told Thump in 2015, "and I said to Daryl, 'Daryl, I can learn how to sing this just like you—I just need to sound like I've got a frog in my throat.' I don't think he liked that."
Pandy went on to become one of house's go-to vocalists, but sadly, he passed away in 2011 at the far-too-young age of 48. Williams carried on crafting iconic cuts; his "House Nation," credited to the Housemaster Boyz and the Rude Boy of House, also cracked the UK Top 10. Saunders continued producing, as well, and though the hits have been thin on the ground for both Williams and Saunders since the '80s, both are still active as DJs and mentors.
Three-plus decades down the road, none of this would matter if "Love Can't Turn Around" didn't have such a massive impact. Yes, it's a song from deep in the past—one that, quite possibly, changed the course of house music history. But played at the right time in the right club, it still retains the power to transform a dancefloor into a seething mass of elation.
---
Share
---
Tags
---
You might also like