Fallen and Nightstalker Rep the Drum & Bass Colors Proudly on EDC Mexico 2019 Playlist
Offering up a dense lineup that features artists from all different subgenres of dance music, EDC Mexico promises something for every Headliner, no matter what their taste in dance music might be. Amid a rich roster of artists set to take the numerous stages of the festival, Fallen and Nightstalker are the only ones on the bill who are being tapped to bring that drum & bass heat to the D&B-hungry heads.
Having each performed at EDC Mexico in previous years, the DJs prepare to touch down together for the first time with a special back-to-back appearance at wasteLAND. There, they plan to cause absolute destruction as they build a set to keep the heads amped and knockin' from start to finish.
To get a behind-the-scenes peak into what to expect from Fallen and Nightstalker this weekend, we sat down with them and got the inside scoop. We chopped it up nicely in regards to the technical approach of playing a b2b set versus a solo one, what it's like playing in another country, and how they go about bouncing off each other's energy onstage.
If you're keen to blast off with them during the bass-heavy frenzy that'll take you for a ride through the depth of bottom-end oblivion, be sure to catch Fallen b2b Nightstalker, as they hit the wasteLAND stage this Saturday at EDC Mexico!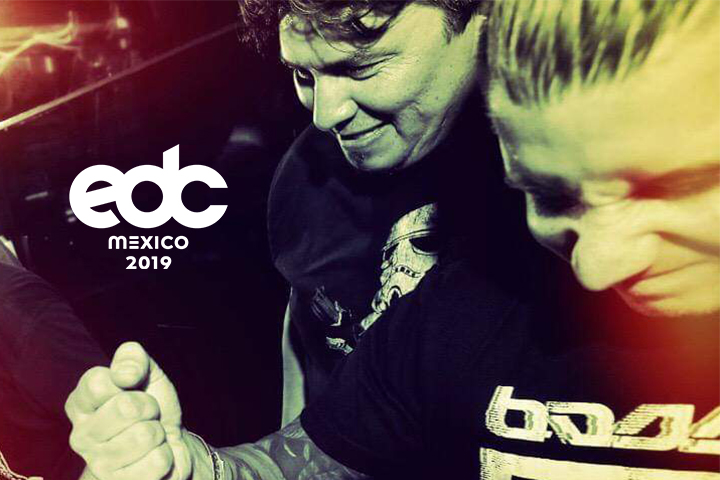 When it comes to playing a back-to-back set, how do you prepare, and how does that process compare to the way you prep for solo performances?
Fallen: Back-to-back sets are always interesting, in the fact that you never really know where the set is going to go. The crowd might be feeling a certain vibe, and the direction can change drastically, which can throw off the path we had originally intended. Lots of people would see that as a negative thing, but I think it keeps things interesting. Also, your usual solo set has basically been cut in half, time-wise, so you either need to up your game and mix quicker or get creative with how many tracks you're mixing at once. Again, you need to make your portion count. When you both do that, the performance is top-notch. A solo performance is one that can be rehearsed and perfected, whereas a b2b set keeps you on your toes and provides the audience with a bit of unpredictability. Yeah, you can rehearse the set—but what's the fun in that?
Nightstalker: I absolutely love back-to-back sets, for the same reasons. There's a unique energy that comes from just flying by the seat of your pants and trying to build a vibe with the other DJ—with Fallen, especially. I know he's bringing the heat, so I have to come ready to shred with my own fire tunes, while also staying true to my own sound.
Since b2b sets are all about feeding off each other's energy, what would you say you admire most about each other's styles/technical abilities?
Fallen: Nightstalker is an extremely versatile DJ and can bounce all over within the genre with ease. I generally lean toward the heavier dancefloor tunes and dip into some more melodic things from time to time. But I feel our styles complement each other in a way that, even if he played something that isn't on the tip that we're playing, it's still a track that would be appealing to not only me, but the crowd. He's got a great energy about him, and it's nice having that presence in the set with you. I feel that it pushes you further than you may normally go.
Nightstalker: Fallen is a DJ's DJ and can absolutely crush it on the fly with ease. He makes it look so easy and has access to heavyweight tunes, so it's always a challenge to keep up with him. His ability to run things with all four decks is jaw-dropping, and he can easily smash through a tune a minute when he's in top form. Style-wise, I know Fallen is gunning straight for the jugular from the get-go, so I like to vibe off that and serve as the bridge into different vibes and styles, while still being able to turn up the heat to see if I can keep up with him while he's in full-fledged beast mode.
Is there a noticeable difference in responses when playing sets in other countries?
Fallen: Extremely—especially in D&B. It's always kinda been the outcast sound and is usually presented in a festival environment in a very limited amount. When you represent that sound and take the stage, those people in front of you know what they're there for, versus them just being there because they think that it might be the place to be. Plus, I feel Southern California crowds are a bit spoiled with how much talent comes through on the countless shows and festivals they have. There's so much going on that so much talent goes unnoticed. In my experiences in these other countries, festivals of this caliber are few and far between, so they're going to be there and get the most out of it and go as hard as they can.
Nightstalker: I think this is especially true in Mexico, because unlike here in the US, the crowds are there right from the opening afternoon set and don't leave their favorite stage until the party is over 12 hours later. It's literally rammed from front to back the entire time.
What excites you most about playing EDC Mexico?
Fallen: This will be my third time playing EDC Mexico, and I think the overall crowd vibe is what I'm most excited for. It comes extremely close to EDC Las Vegas in intensity for me. I also feel the fans are more engaging there and dive a bit deeper into the lesser-known artists and music. There are large numbers of D&B fans in Mexico City that wait for these shows all year, and I'm excited to be one of the only artists representing the sound. I told Nightstalker the other day, "Let's make it count!"
Nightstalker: We see ourselves as straight-up drum & bass ambassadors, and we are prepared to deliver the full experience, since we are the only full-on D&B act on the wasteLAND stage this year! It's actually a great honor and definitely a privilege to be able to represent the genre for a crowd that is down to wild out and have a good time. This will be my second year at EDC Mexico, and if it's anything like last year, nothing comes close to the intensity or experience of seeing that heaving mass of bodies wilding out to your favorite drum & bass tunes.
You're bringing MC XYZ along for the ride as well, right?
Nightstalker: XYZ and I have been rocking together since the OG days, and he absolutely smashed it at EDC Mexico last year! So many fans have been hitting him up online ever since, and he's the perfect complement to the kind of heat Fallen and I will be bringing.
Speaking of heat, if you could summarize what fans can look forward to during your set in three words, what would they be?
Fallen: Bulls on Parade.
Nightstalker: ¡No mames, guey!
Hit us with a few words on the playlist you've put together to get us hyped for the festival. 
Fallen and Nightstalker: These are some of the tracks you can expect to hear us play. ¡Que viva Mexico!
Fallen and Nightstalker are playing a b2b set at EDC Mexico, which takes place Saturday, February 23, and Sunday, February 24, at Autódromo Hermanos Rodríguez in Mexico City. Tickets are on sale now. For more information, visit the official website.
Follow EDC Mexico on Facebook | Twitter | Instagram
---
Share
---
Tags
---
You might also like