Dr. Fresch & BIJOU Bring the Ghetto-House Vibes on "Revelation" for Insomniac Records
Upcoming Event
Dr. Fresch and BIJOU are two names that are equally well versed in what is known as "ghetto house," or otherwise "future ghetto." It's the fusion of pumping main-room house with the vocal work and vibes of hip-hop. Finding lots in common with each other, the pair had a huge hit last year with the brash G-house swag of "Hello." Now they're back with another huge collaboration called "Revelation," which just arrived on Insomniac Records.
Dr. Fresch is an L.A.-based producer who's on the ascent after winning Discovery Project a few years back. Meanwhile, BIJOU hails from Phoenix, Arizona, and already has releases on Night Bass, Fool's Gold, and Prep School under his belt. Together, the pair make ghetto-house magic in the studio. So, to mark the release of "Revelation," we grabbed them for a chat.
Dr. Fresch and BIJOU's "Revelation" is available here.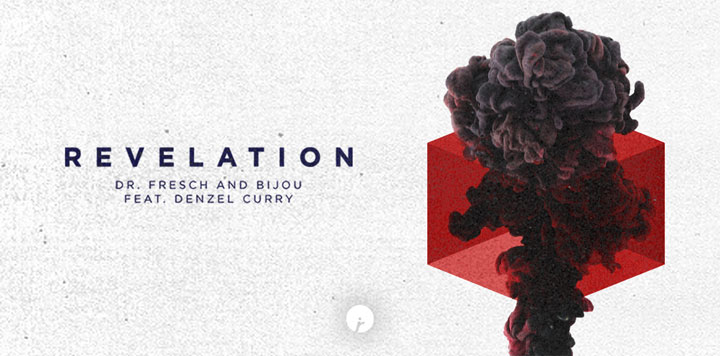 How is your 2018 starting out?
Dr. Fresch: I'm doing great! I'm bringing my Prescription live brand to life this spring after a sellout L.A. debut show at Exchange, as well as anticipating the release of my first four-track EP since 2013, titled No Introduction. Life is good!
BIJOU: Yo! 2018 is starting off great so far. Was fortunate enough to just come off of my first Australia tour and EDC Mexico last week, which were both amazing.
You guys use the labels "Future Ghetto" and "Ghetto House" to describe your sound, which takes elements of house and hip-hop and weaves them together. Stylistically, the collab is a perfect fit. What do you appreciate most about each other's work?
F: I appreciate how Ben has a strong foundation in the contemporary ghetto house sound but has pushed the envelope and moved the genre forward here in America in a major way the past few years. He's exploring uncharted territories by injecting new sounds, like traditional Indian strings, into G-House. The result is always fresh and new.
B: What I appreciate most are the vibes and creativity Tony brings to the table. He's always a blast to work with in the studio and always thinks outside the box. We can work a track and say, "Okay, this is dope, but how can we make it more diverse so it's not JUST a house record."
Are you finding lots of creative opportunities between the worlds of house and hip-hop?
F: Absolutely. Beyond discovering new ways of reinventing hip-hop within electronic music, the greatest opportunity of all is working with rappers themselves. Both Ben and I have together, and separately, been introducing more rappers to what we do. Weaving hip-hop verses with bassy, electro-influenced house presents the vocalist in a totally different way. We're excited to bring more rappers into the space for originals.
B: It's definitely created a ton of opportunities, because we both bounce so many ideas off of each other on a consistent basis.
Your track "Revelation" on Insomniac Records is a stormer. How did it come together?
F: Thank you! Ben came to me with the initial concept for a "G-house meets festival banger," and I knew it was the perfect follow-up to "Hello." When we got the opportunity to work with Denzel's vocals, we knew the track had the special sauce we needed to create a more festival-driven record. We hope it rocks the circuit this year!
What's up next for you guys?
F: On the horizon, I have a handful of records in the same vein as "Gangsta Gangsta"—midtempo electro vibes mixed with hip-hop. I am also producing several house and bassline records at the moment, a few of which are collabs with some Night Bass and Insomniac artists.
B: There's a lot coming musically the rest of the year that I'm super excited about: tons of shows the next few months, including some together, which will be amazing—in addition to EDC Vegas, where we will both be performing, as well. Can't wait to see everyone out there!
Follow Dr. Fresch on Facebook | Twitter | SoundCloud
Follow BIJOU on Facebook | Twitter | SoundCloud
Follow Insomniac Records on Facebook | Twitter | SoundCloud
---
Share
---
Tags
---
You might also like