Upcoming Event
The Discovery Project was created as a platform for up-and-coming artists to make their voices heard among all the noise crowding the world of dance music. It should come as no surprise, then, that among our most recent crop of winners, RIOT stand tall amid their contemporaries.
Hailing originally from Israel, this duo recently rocked the stage at Nocturnal Wonderland 2016, having only relocated to the US two months prior. Composed of producers Tom Davidson and Daniel Magid, RIOT have already made big waves in their native country as regulars on the Israeli club and festival circuit, as well as curators of their very own festival brand, Riot Festival. As producers, they've earned the favor of an impressively long list of the world's greatest electronic artists, including Israeli brothers in bass Borgore and the legendary Infected Mushroom. The latter tapped RIOT for official remixes no fewer than two times and even invited the duo to perform at their official 20th anniversary celebration.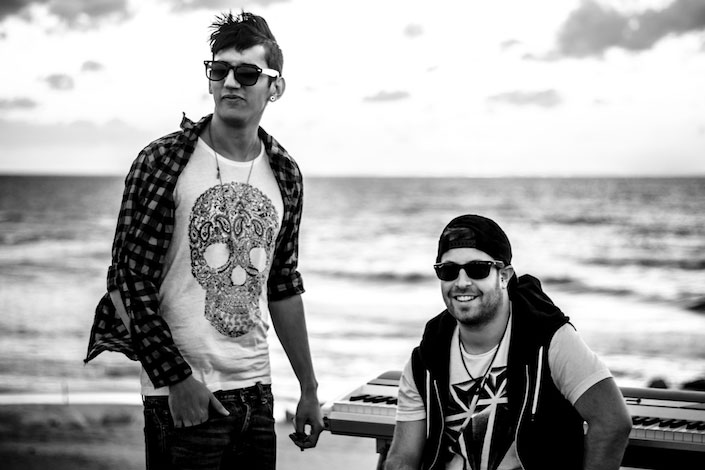 On their newest track, "Beluga Adventure"—the latest in the Discovery Project Releases series—RIOT are in top form, combining all the sounds that comprise their unique style. Emotive future bass vibes lead the way to head-bangin' trap, as a short release with a gorgeous vocal gives you a chance to catch your breath before a massive onslaught of 808 kicks.
We caught up with the RIOT boys to chat about their native Israel, their experience with two hearing loss scares, and their reasons behind originally entering the Discovery Project.
Israel is renowned for its psytrance scene. What brought you into dance music initially?
Daniel Magid: For me, it was hearing a local DJ from Tel Aviv dropping Skrillex's "Scary Monsters and Nice Sprites" back in 2010 in a small club. It was so unique and different for me; it made me jump into the studio and explore dubstep.
Tom Davidson: As a busboy at a local club more than 10 years ago, I found myself hanging around the DJ more often than doing my job. The crazy energy that united the hundreds of people together drew me into this world of electronic music—and got me fired. I was an awful busboy.
What is the dance music scene like in a country with such tight security like your native land?
Tom: Israel is known for its crazy nightlife. There is a big scene of clubs, shows, festivals and concerts, like a lot of other countries in the world. You're not wrong, though; big acts do think twice before they book a show in Israel. But when they do, the crowd goes crazy and makes the most out of the shows. On top of the Israeli crowd being totally crazy, we have a lot of [up-and-coming] and talented producers—like Jetfire, Sex Whales, Teamworx, Royal Disco, Tripl, and Crystal Lake—quickly making a name for themselves and proving that Israel is growing into an EDM powerhouse. We had the chance to share a stage alongside very big artists such as Carnage, Nicky Romero, Afrojack, and many more back home, and as time goes by, the amount of EDM acts touring Israel is only getting bigger.
Was your recent relocation to the States motivated solely by following the music?
Tom: Yes. L.A. was on our minds four years ago, [when we started] the project back in Daniel's parents' basement. We've always aimed higher than what seemed possible, and we'll keep doing so in every aspect.
It's been about four months since you moved to the States. How are you adjusting to life here?
Daniel: We feel at home. We're making much more music, better music. We meet a lot of artists we look up to on a daily basis. The city is really inspiring, but it's not cheap.
You've already experienced a high level of success before moving to the States. Why did you enter the Discovery Project?
Tom: We saw it as a good opportunity for us to say, "Hey, we've come a long way, and we're out here!"
Daniel suffered from hearing loss last year. How did the problem come about?
Daniel: It was a disease that cost me 60 percent of my hearing in my left ear. We used an EQ on our master while mixing to even it out. By the time I got out of surgery, the doctors told me I probably wouldn't get my hearing back. But a month later, it started to heal, and the hearing came back eventually. It was kind of a miracle!
By the way, about a month later, Tom pierced his own eardrum 15 hours before what came to be one of our biggest shows in Israel. He called me up and told me what happened at 5am, and I almost didn't believe him. I was sure he was trying to mess with me before the show. I drove him to the emergency room, waited there for three hours, and ended up not sleeping at all.
You undertook the task of throwing your own festival in Israel. Is that something you'd ever repeat here?
Tom: Hell, yeah! When the time is right.
Talk to us about your Discovery Project Release, "Beluga Adventure."
Daniel: "Beluga Adventure" started as an idea we formed about making an ocean-themed tune. We spent a lot of time listening to [recordings of] underwater whale mating calls on YouTube in order to really get the right feel to it [laughs]. It was important to us to make it feel as if the listener is on a journey, by combining a few genres into one track and transitioning between them smoothly. It took us longer than it normally takes us to finish a track, but we're very happy with the result!
Follow RIOT on Facebook | Twitter | SoundCloud
Follow Discovery Project on Facebook | Twitter | Instagram
---
Share
---
You might also like