Malio & Jonnie King "Fire"
Discovery Project Releases is a regular series featuring exclusive music downloads from our Discovery Project alumni.
Malio and
Jonnie King
are both transplants to Los Angeles, travelers to the electronic music capital of the US, who bring with them rich musical backgrounds in their own right. Malio came to the US after dropping his deep, melodic grooves to crowds as large as 30,000 in Israel. He quickly found himself at the center of the thriving club scene in Los Angeles, regularly playing in the city's largest and most well-established clubs. King, also known by his AEONIX alias, came to L.A. from Boston by way of London's legendary Point Blank Music School. He has established himself within the Burning Man house scene, alongside artists like
Lee Burridge
, frequently playing the desert festival. as well as
Lightning in a Bottle
and BPM.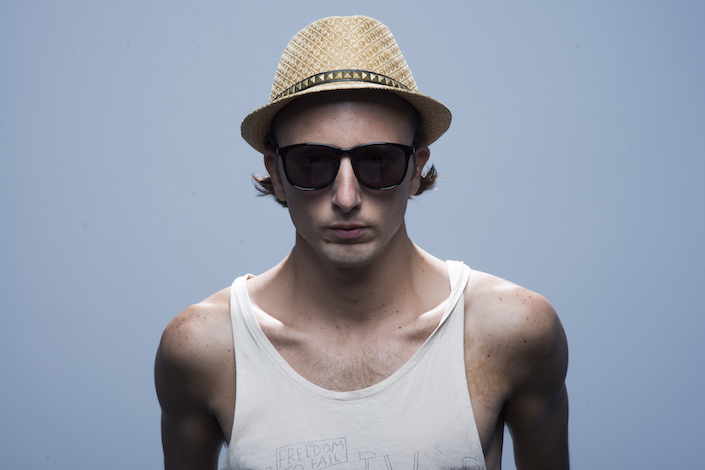 To the casual listener, these two possess styles that would sound quite similar, yet Malio and King are anything but casual about electronic music. On "Fire," the latest in the Discovery Project Releases series, the duo has found a blissful meeting point where both producers can flaunt their unique sounds collectively and individually.
Starting with a jam session in King's studio, which is filled to the brim with enough analog gear to make any producer lose their mind, "Fire" features an infectious bounce held down by a funky, minimal bassline and accented by rolling percussion and raga vocals as the melodic breakdown rises into a sweaty and driving finish.
We caught up with Malio and Jonnie King to discuss their travels and the inspiration they find all around Los Angeles.
How did you two meet?
Malio: We both live in Los Angeles, and we had a lot of mutual friends. One night, we were both out at Le Jardin, and our friend introduced us, saying how we were both great music producers and should sit down sometime to work on something together. We saw each other out a lot after that and started to become closer friends.
Was there chemistry in the studio from the start?
Jonnie: We both have a strong love for dance music, so that connection gave us a starting point in the studio. I'm more of a deep house guy, where Malio is more of a tech house guy, so it took us a minute to get used to each other's styles, but I think we found a good halfway point.
How did you conceive this particular tune, "Fire"?
Malio: I got the idea for it from just messing around in the studio one night. It had a nice club groove, but it was missing that special sauce. I then showed Jonnie the track, and we went to town on it, rearranging it to add a lot more interesting elements and textures.
Jonnie, you have a lot of analog equipment in your studio. How much of the music you make together comes from jam sessions?
Jonnie: I've really built out my studio a lot this past year. I was obsessed with getting the perfect gear for it for a while, and I can finally say I'm completely happy with where it is. Mainly, all of the music I make is just from impromptu jam sessions with my gear. I am always working on so much music—I currently have over six tracks I'm going back and forth on—so I never get bored with music now. When I used to work solely inside the box, I would pretty much only work on one or two tracks at a time, and I would get tired of them very easily.
In a city like Los Angeles, which is buzzing with creative talent everywhere, do you feel like there is something floating throughout the L.A. air that inspires innovation and creativity?
Malio: Los Angeles is one of the most inspiring places in the world, and that is why we chose to call this home base. We've been to countries all around the world, but we keep finding ourselves coming back to L.A. The best weather in the world is in L.A., the food is amazing with so many healthy options, and there are so many artists always striving toward their goals. How can you not be inspired living here?
What's on the horizon for the two of you?
Jonnie: We have another track together, which is finished up and ready to be shopped out to labels. We also started a really fun, cowboy-house-type track together, which we can't wait to get back to. I have an EP coming out under my other moniker, AEONIX, which will be released on Cenote Records December 5. I also have a dub version of [my song] "Chloe," which was released on Kallias this past summer, that will be released December 2. At the end of the year, I'll be heading back to the East Coast to play some shows, and then I'll finish off the year at BPM Festival in Mexico.
Malio: I'm focusing on building a signature sound for myself and making great music in the studio to get signed on reputable labels. Of course, with that will come bigger shows, which will help me connect my music with audiences around the world.
Follow Malio on Facebook | Twitter | SoundCloud
Follow Jonnie King on Facebook | Twitter | SoundCloud
Follow Discovery Project on Facebook | Twitter | Instagram
---
Share
---
Tags
---
You might also like