Doc Brown 'Must Be You / WICICIW'
Discovery Project Releases is a regular series featuring exclusive music downloads from our Discovery Project alumni.
Discovery Project is often viewed as a platform for young up-and-coming artists. For most of these fast-rising stars, the journey into the music industry is barely getting started, and the DP collective offers a huge jump-start for their budding careers. This, however, was not the case for Doc Brown, who had already made a career behind the scenes by the time he blessed the stage at EDC Orlando in 2012. For Doc, this opportunity served as much-needed kindling to light a fire within, propelling him into a full-time career as an artist. Winning the competition was a momentous point, even for someone who had been making music with computers since the mid 90s (and in some cases, before much of the Discovery fam was born).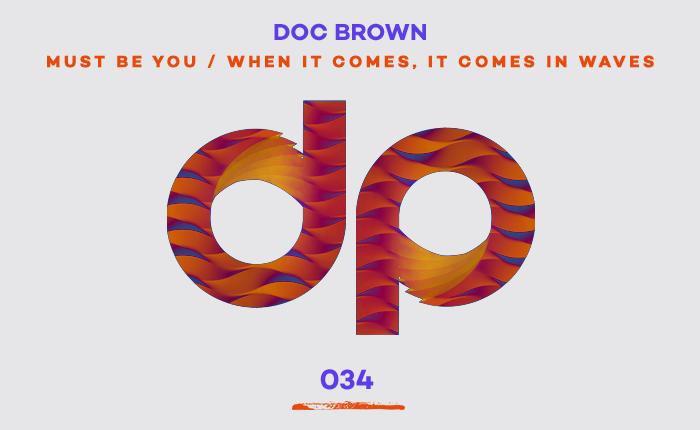 With a style that's equally suited for the warehouse and poolside, Doc's dark, low-slung grooves have made their way into the hands of Paul Oakenfold, Mark Knight, and Tiësto. With releases on Toolroom and Whartone, as well as appearances at house and techno's bacchanal BPM Festival, Doc Brown has made serious moves in establishing his place within the underground community.
On his debut Discovery Project Release, the doc is at the top of his game, as he takes things deep down inside a rabbit hole of tech-house allure. "Must Be You" is a shuffling journey into deftly layered rhythmic elements, with its darkness stemming from an ominous voice that envelops beautiful, brief periods of respite from the relentlessly driving beat. "When It Comes It Comes in Waves," or WICICIW for short, gently blends in layers of melodic elements that twist and turn atop an uber sexy bassline and a chest-rattling kick.
We sat down for a chat with Doc to find out how deadmau5 inspired him to create music completely from scratch, what it was like making music on primitive computers, and how his many years in the industry have given him a unique perspective on the current state of dance music.
You recently embarked on an interesting journey to truly build a track from scratch. What inspired the project, and are you viewing your music (and maybe others') through a different lens as a result?
It was a very interesting process, for sure! For Christmas last year, my girlfriend got me the gift of deadmau5's Masterclass. It's a really dope series of videos applicable to any artist at any level, the basis of which is how to build your own "sound" by being 100 percent original. He then opened up a competition for members of the class, the only rule being that everything in the track had to be original to you as an artist. I know enough that I realized that there really isn't any way to police this, but it was a challenge I really wanted to take on. I enjoy sound design but typically rely pretty heavily on the use of prerecorded one-shot samples for things like kick drums and cymbals—especially live rides. It was interesting to see how each element in the track could be much more dynamic when you synthesize it.
Most people won't think twice about automating the envelope or filter on a topline synth, but creating everything from scratch allows you to modify each element over the course of a track (the release on a white noise hat or even the tuning of a kick drum, for example) in a way you can't when you're using pre-printed samples. I also spent a fair amount of time recording and processing field samples, mostly for percussion—everything from tapping a toothpick on a wine decanter to slamming pots and pans with a metal bottle opener. I then spent a fair amount of time pushing air and recording lines back through various analog FX, including guitar pedals and a KAOSS pad that's probably close to 20 years old. The project took a lot more effort, but it felt really awesome to create something that I can undeniably say is 100 percent mine.
What was your background in music like prior to listening to dance music?
I was a rock guy—mostly alternative and metal, but also a fair amount of classic rock. I played guitar, and as a result, that was most of the music that I listened to. Bands like Soundgarden and Metallica were my heroes, and I wore Doc Martens and a wallet chain. I'm thankful digital pictures weren't around then, because I'm thinking it probably wasn't too pretty! I'm not sure why, but I need some angst in my music, which is probably why early house music never really appealed to me. Beyond that, I liked a lot of psychedelic sounds, so the trippy and futuristic nature of dance music was something that was immediately appealing to me.
You've been creating music with computers since the '90s. Can you take us back to the beginning and talk about your first inspirations to start making music?
In high school, I was in a fairly mediocre rock band. We had our own original music (much of which I wrote), and I got my first taste of performing in front of a crowd. But it was just never enough—I mean, I played that guitar all night and all day… driving my family crazy, I'm sure. My dad was a college radio station DJ, back when the DJ was responsible for bringing and playing his own music, so his vinyl collection was a laundry list of most great classic rock albums from the late '60s and early to mid '70s. He had this Play Guitar With the Ventures record, where the band would teach you how to play the song; then there were versions of the recordings missing the guitar part, so you could play along with the band.  I quickly realized I could apply this concept to programming MIDI parts into a computer, and I could play along with any song I was able to program.
Eventually, I went off to college in Miami (for music), and I started to try to find new people to play with, but it was difficult. Finding other musicians who were of a similar talent and dedication level, AND also had a similar creative vision, was much more challenging than I had expected. Always falling back on making MIDI projects to play along with (along with discovering electronic music my sophomore year), it didn't take long before I figured out I could make an entire song all on my own.
It was much more difficult and more expensive then. Do you think that helped you learn more quickly, and to work with fewer resources, than the newer generation, who has every tool at their fingertips?
I used to do A&R admin at a record label, so I saw firsthand how expensive it was to make a record. I think people take for granted now that you can open up a project in your DAW, hit the play button, and magically all 72 tracks start playing in perfect time. It used to take a team of engineers and interns running tape on machines in perfect sync just to be able mixdown a record.
My first experience recording was with a 4-track tape player (two tracks were recorded on the forward side of the cassette, and the other two on the reverse). Simple things, like having to play multiple lines correctly in one take, are almost non-existent now with today's technology. It's kind of funny to me that one of the main challenges of writing electronic music is making it sound more "human" and less computerized when all of the tools and technology have pushed us to be MORE computerized. Also, I think one of the main pitfalls producers fall into these days is thinking, "If I only had XXX plugin, then I could do YYY." There is an overabundance of technology out there. It's fair to remember, as one of my favorite teachers always liked to remind us, most of the Beatles' hit songs were recorded on four mono tracks. Joe Walsh also famously said that if ProTools was around when the Eagles were recording "Hotel California," they'd STILL be recording "Hotel California." You certainly don't need all this technology to make good music.
Having been a part of dance music for so long, you are blessed with the perspective of seeing not only thriving underground community develop but also seeing the boom in the American market happen a couple of times. How does it make you feel to see dance music making such a large impact on the music market in the States?
Ultimately, exposure is never a bad thing. When I first moved to Miami for school, a huge dance music wave was sweeping the city. You had celebrities like Madonna being spotted in South Beach clubs and the radio constantly playing poppy dance tunes from people like Alice Deejay and CeCe Penistion… real Night at the Roxbury–type stuff.
I thought the music was okay and all, but then one of my roommates got a copy of Robert Miles' "Children," and I immediately knew there was something different about that record.  A year later, I purchased my first electronic music CD—Daft Punk's Homework—after seeing the video for "Da Funk" on MTV's late-night show called Amp. I'm not quite sure I would have been ready for any of that if I hadn't heard the poppy stuff first.
There are more than a few black-joggers-wearing techno buffs these days that first started as candy ravers listening to David Guetta, and as far as I'm concerned, there is absolutely nothing wrong with that. I try pretty hard to avoid labeling people according to taste; if you truly believe something is good, nothing I can say or do will ever take that away from you! Plus, people's tastes are constantly changing. The more people that can be exposed to the music, the better. I think that's why you're seeing a burgeoning underground scene here in the States, a filtering down of sorts from the mass exposure we saw with the most recent EDM boom.
You've worked on both sides of the industry. You ended up following your passion for creation after winning contests like Discovery Project. How does it feel to have been on both sides of the equation and following your passion?
The music industry is drastically different now than it was when I worked at a label in the early 2000s… It's even drastically different now than it was when I started making music professionally and signing tracks five or six years ago! The move from physical product to digital eliminated the need for a lot of industry surrounding the music (manufacturing, logistics, distribution), and the cost of making and recording music went from extremely expensive to almost nothing. Both of these things happening at the same time really turned the industry upside down, and most artists and music companies are still trying to navigate through this change. It's more challenging to get paid as an artist now, and there is more competition out there, without a doubt. But there is also more opportunity out there than ever, as well.
What I'm doing now wouldn't really be possible in the old model; I can make music in my own home on my computer and be connected instantly to fans, labels, and media online. It has opened up a pathway for anyone of any generation to get out there and follow his or her passion, whatever it is—which ultimately is a good thing. I can't help but think of all the amazing unrealized musicians from the past 100 years that sat working a desk job somewhere because they didn't have the same opportunity we have now. So, it's awesome there are people like you guys at Insomniac curating things like the Discovery Project to shine a light on and encourage the enormous wealth of talent we have out there that are giving their dreams a go.
Follow Doc Brown on Facebook | Twitter | SoundCloud
Follow Discovery Project on Facbook I Twitter I SoundCloud
---
Share
---
Tags
---
You might also like