Discovery Project Releases: Truth x Lies ft. Jake Herring "Controlled"
Discovery Project Releases is a regular series featuring exclusive music downloads from our Discovery Project alumni.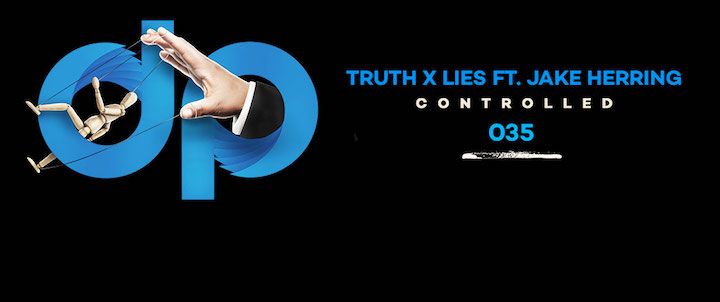 The name Truth x Lies is meant to reflect the duality of Ian Bertles and Ryan Howard's collaborative work. They decided to work together after meeting in New York City, and despite their vastly different backgrounds in music, they have found a balance that has allowed them to spin their combined expertise into a successful brand. Ian—a lifelong musician—honed his production skills at the highly acclaimed ICON Collective in L.A., while Ryan has a master's degree in classical music. Their divergent backgrounds represent two sides of the same coin. Once they finally landed on house music as their chosen genre, they knew their course was officially set.
Even before they were inducted into the Discovery Project family earlier this year at Beyond Wonderland SoCal, their original cuts had topped the Hype Machine and SoundCloud charts. They've also become sought-after due to their impressive remixing skills, stamping their signature sound on records for the likes of Bonnie X Clyde, Two Friends, and fellow DP alum Mahalo.
Truth x Lies are flipping the script for their debut release with Insomniac. Pulling from those deep and sensual vibes they have become known for, they flex them on the UK garage tip. "Controlled" features the silky vocals of Jake Herring, which rest beautifully atop a funky Rhodes riff and a snappy broken beat.
Ian and Ryan sat down for a minute to talk about what led them to dance music, why the underground rave scene is important, and what success means to them.
Truth x Lies' "Controlled" is available here.
You both have deep backgrounds in music. What was it like growing up? Are you both from musical families?
Ian: I was raised in a very musical family. Pretty much everyone in my family is a musician of some sort, and I grew up listening to and absorbing a lot of different varieties of music. One of the rules of the house was that I must play an instrument, and I had to practice every day. As a small child, I started out playing violin, then switched to piano, and finally settled on drums. My parents still make their living as musicians; they started a project called Bash the Trash, which educates children about environmental sustainability and teaches them about the science of sound. Ryan and I both believe strongly in musical education, and we plan to explore more of those themes in the coming years.
Ryan: Neither of my parents are really musical. My mom taught ballet before I was born, but she has always been very supportive. She has a love for music, so that's definitely where I got it from.
Ryan, what led you down the classical path, and how did it eventually turn to dance music?
Ryan: I started playing trumpet around 10 or 11, and always knew I wanted to make music as a career. I moved to New York to pursue a master's degree in classical music, but I always loved different genres. I've been exposed so much more to dance music while living in New York. Ultimately, I had a performance injury, and it forced me to take time away from playing trumpet, which helped me focus on writing dance music.
When and where did you first get exposed to dance music?
Ian: The first EDM genre I got into was trance, and that was before I even knew what dance music really was. I started listening to it in 2009, when I was a senior in high school. My interest in the dance scene deepened considerably when Skrillex blew up and the EDM world was expanding at an exponential rate. In 2011, I got tired of listening to long intros and outros of all my favorite songs, so I downloaded the free trial of Virtual DJ—and just like that, I was hooked.
Ryan: I was introduced to electronic music in the mid 2000s, when Justice, Daft Punk, and MSTRKFT were pretty popular. I was living in Louisiana at the time, where nobody listened to dance music, mostly hip-hop. I started to listen to deadmau5, Chris Lake, Wolfgang Gartner, and Kaskade right around the time I moved to New York.
Undergrounds have always been a growth engine for talent and music. With festivals and club nights dominating the landscape, do you see that changing at all?
Ryan: In big cities like New York or Chicago, the underground is what runs the music scene. In some ways, SoundCloud is also like an "internet underground." The underground pushes the boundaries in so many good ways, and it shouldn't be ignored. As far as change, big festivals are always great to see artists you like and to discover others you don't know well. When we played at Beyond Wonderland, it was so great to see artists like Chris Lake and AC Slater, who have been staples for years. But it was equally as exciting to see Dombresky and Angelz make their way into the festival scene.
Ian: I think as long as there are people who want to make music, there will always be an underground. Very, very few people are given the tools and connections to become famous overnight, so the underground will always be a breeding ground for new talent. Everyone was a nobody at some point in their career. How that relates to clubs is a different matter. Although it appears that club attendance has been declining in the last few years, I honestly don't think it will ever truly die. Even the underground warehouse scene has merged with the club scene in many ways—at least in NYC.
It's been only nine months since your inauguration into the Discovery Project family. How has your experience been?
Ian: Working with Insomniac has been great. Just like you said, it feels more like working with a family than it does working with a typical record label. From winning the Discovery Project and playing Beyond Wonderland, to this release of "Controlled," we've had nothing but positive experiences. I was able to visit the Insomniac office last time I was in L.A., and it's obvious that their team is dedicated to creating incredible festival experiences, as well as releasing tunes that constantly push the envelope of dance music. We're proud to be here, and we can't wait to work more with you guys.
You spoke on your Facebook page earlier this year about success. What does that mean for you? How, if at all, has that view changed as you've delved deeper into your craft?
Ryan: I think success is very subjective. Most successful people can equally balance ambition and passion. We're both pretty ambitious people, so sometimes it's hard for me to look back and see how much we've done when I see the road ahead. We wrote a list of goals for the year, and it's pretty amazing that we've accomplished as many as we have in such a short amount of time.
Ian: Ryan pretty much nailed it. We've blown past goals that were literally keeping me up at night two years ago, yet we rarely stop to think about it. Once you reach one goal, there should always be another one. There is a long road ahead for us, but you have to come to love the struggle.
You guys went the UK garage route on this release. What inspired that, and where do you see breakbeat fitting in with house music?
Ryan: We both like so many types of music. One of my favorite artists is Disclosure. It's so great to hear something with a breakbeat in between a ton of four-to-the-floor stuff. In this track, you also hear a ton of hip-hop/slow-jam influence. Our friend Jake really nailed the vocals and the whole vibe of the track.
Ian: Sometimes we sit down before a studio session and think, "What can we do differently this time?" I think this is actually a really important part of our production process, because it forces us to think creatively, while staying true to and developing our brand. We listen to all different kinds of music, especially within the greater house genre, so taking the step to make a garage track was pretty natural for us. Garage is huge in the UK, and I expect it to make more of an appearance in the US once more DJs realize it's an awesome way to throw some variation in an all-house set.
Follow Truth x Lies on Facebook | Twitter | SoundCloud
Follow Discovery Project on Facebook | Twitter | SoundCloud | Instagram
---
Share
---
Tags
---
You might also like