DC Breaks Unload the Strongest Selections in Their 'Year in Music 2016' Mix
Hold tight, family, 2016 isn't done with you yet, as the Ram Records stalwarts known as DC Breaks hit us with an epic breakdown of their top tunes of the year, month-by-month, followed by a jaw-dropping mix featuring close to 50 of the freshest, hottest, rawest cuts from the past 12 months.
"2016 was actually a very busy year for us, music-wise," the duo's Dan Havers and Chris Page tell us when asked to reflect on their evolution as artists over the past year. "We hadn't planned to do that much, but it all began to come together quite quickly, kicking off with 'Bambino' and 'Bad Flow' in April, 'Never Stop' over the summer, 'Arcade' and 'Creeper VIP,' and of course 'Infinity' and 'Embargo' with Prolix toward the end of the year. Much of the year has been spent working up to our debut album, which drops in 2017, so the workload has steadily been increasing, as has the gig schedule!"
On top of a hectic gig and production schedule, the duo's productivity was challenged by the arrival of Dan's baby girl, whom Chris says is "too cute for Dan to get any work done! It's been an interesting adjustment to work/life balance for him, that's for sure. The sooner he gives up on trying to get a good night's sleep, the better!"
Looking ahead to 2017, the duo are already gearing up for the release of their debut album, while also looking forward to continuing to evolve as artists once it's in the can. "It's an interesting time for drum & bass at the moment. The rise of neurofunk seems to continue, and there's been huge label nights going on across the world, which has been amazing to see. The scene just keeps growing and growing globally, and also sonically. In terms of our own sound, we've always kinda stuck to our guns, which is pretty broad anyway. We'll just keep doing what we do and soaking in all the great music that's sure to come this year."
Check DC Breaks' selection of the best and freshest cuts of 2016 below, while making sure to load up the massive showcase mix that brings it all together into one ball of burning dancefloor love.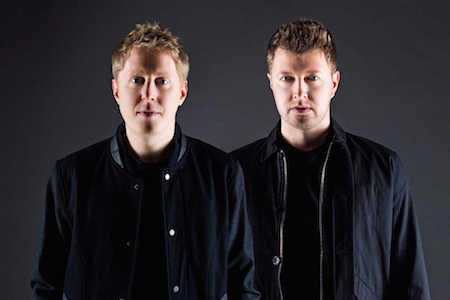 January – June Miller & Teddy Killers "Wildlife"
Class way to kick off the year with this nice techy, wonky banger with faultless production. Became a key part of the set for many weeks.
February – Prolix "Nature of Reality"
Another triplet-y kind of beat, but a much more filthy one this time, courtesy of Prolix. For those heavier kinda nights on the continent (of which there were many this year!).
March – Delta Heavy Paradise Lost LP
We played plenty of great tunes from this album through 2016 (and still do)—particularly the VIP of "White Flag," which mixed so nicely with one of our own tracks at the time and became a core mix throughout festival season.
April – DC Breaks "Bambino"
The offspring of our track "Gambino," we felt it was a fitting name, as Dan had recently found out he and his wife were expecting their first child! On the nastier side of our sound, for sure.
May – Smooth "Eraser"
Nice techy stomper from Smooth, which stayed in the set throughout the summer festival season. Heads-down vibes.
June – Audio Beastmode LP
Again, so many awesome tracks to play from Audio's album, particularly "Toecutter." We rinsed plenty of this album last year and still do.
July – DC Breaks "Never Stop"
Our track for the summer. We first played this the year before on the mainstage at Let It Roll when it was in an early form, but we remember looking at each other when it dropped, having seen the reaction of the crowd and thinking, "Yes!"
August – Cyantific "Under the Neon"
Wicked, uplifting summer vibes from Jon Cyantific—just what you need at that time of year!
September – Original Sin "Red Mist"
Oooof! Deffo one of our favorite tunes to play at the moment, as we've got a lot of great mixes with it. Top work from Original Sin! It absolutely killed it over New Year's!
October – Prolix "Danger"
Huge one from Prolix (another triplet!). Debuted with this one at Tokyo Fest in Bristol over the summer, and the place went nuts. Wicked track.
November – Dimension "UK"
Brought a smile to our faces immediately when we first listened to this, cheeky but heavy, and what a breakdown!
December – DC Breaks & Prolix "Infinity"
Probably our heaviest track of the year, and most anticipated. Was a pleasure working with Chris Prolix on this one and "Embargo" on the flip. Andy C seemed to be opening a lot of festivals with it over the summer and is our opening track at the moment.
Track List:

DC Breaks & Prolix "Infinity"
Loadstar "Encarta"
Wilkinson ft. Talay Riley "Dirty Love" (TC Remix)
Chris.SU & State of Mind "Above Earth"
Original Sin "Red Mist"
Jauz x Netsky "Higher" (The Prototypes Remix)
Phase One "ID" (DC Breaks Remix)
Prolix "We Do Our Thing"
DC Breaks "STEP UP"
Tantrum Desire ft. Rhymestar "Anarchist"
Noisia "Dead Limit"
Misanthrop "Infinite Hysteria"
Delta Heavy "Event Horizon"
DC Breaks "Underground"
Dimension "UK"
TC "Next Hype" (Malux, Crissy Criss & Erb n Dub Remix) (DRUMSTEP VIP)
Mind Vortex "Future Fold"
The Prototypes "Pale Blue Dot" (Calyx & TeeBee Remix)
Rido "Movin"
Dimension "In Bleach"
Culture Shock "Steam Machine"
DC Breaks "Vendetta"
Tantrum Desire "Nightmare"
Memtrix "IC YR PAIN"
Mind Vortex "Shall We Begin"
Break "Who Got Da Funk"
Metrik "Fatso"
DC Breaks "Never Stop"
Delta Heavy "White Flag VIP"
Culture Shock ft. Raphaella "Have It All"
1991 "Jungle Cats"
Ryme Tyme & Trace "Move" (Audio VIP)
Delta Heavy "Kill Room"
Bad Company "The Pulse" (The Prototypes Remix)
The Prodigy "The Day Is My Enemy" (Bad Company UK Remix)
Prolix "Danger"
The Upbeats ft. Agressor Bunx "Cauldron"
DC Breaks "Bambino"
Stylo G & Jacob Plant "Bike Engine" (Loadstar Remix)
The Prototypes "Redose" (InsideInfo Remix)
DC Breaks "Gambino VIP"
Ed Rush "Scarabs VIP"
Tantrum Desire "Genesis" (Friction Remix)
DC Breaks "Arcade"
Glitch City "Black Hole Skank"
Drumsound & Bassline Smith "Shutdown"
DC Breaks & Prolix "Embargo"
Follow DC Breaks on Facebook | Twitter | SoundCloud
---
Share
---
Tags
---
You might also like