Cut From the Catalog: Perfect Driver
Record labels have long been the gatekeepers of the dance music space, as they continuously define and reshape tastes via releases, endless talent scouting, and the curation of brand-hosted parties. In our Cut From the Catalog series, we big-up established and buzzing imprints alike by taking a look at the organizations' ops while running through a retrospective mix built solely from their respective catalogs.  
The road to success is rarely ever a straight shot. More often than not, it's an endless maze dotted with speed bumps, detours, traffic jams, and myriad other figurative obstacles standing in the way of every realized dream. Yet Matthew Anthony has never let any of those challenges deter him from turning his Perfect Driver imprint into a vehicle for wonky, low-end–laden grooves.
Based out of Los Angeles, the label has become an estimable channel for like-minded artists who are looking to kick house and tech into overdrive. Anthony runs a one-man operation, handling every single aspect of the business, from sussing out the hidden gems as the A&R arm, to curating the close-knit showcases that have touched down from L.A. to Miami. Perhaps his greatest attribute, though, is the down-to-earth vibe he so effortlessly carries into every interaction he's made along the way; no one is better suited to be sitting in the driver's seat than Anthony.
This year marks the fifth anniversary of PD, so we had no choice but to have him take us for a spin through the tire-screeching, truck-rattling catalog. Come ride shotgun as Anthony navigates through a few of the road-tested jams the imprint has issued since it first took off.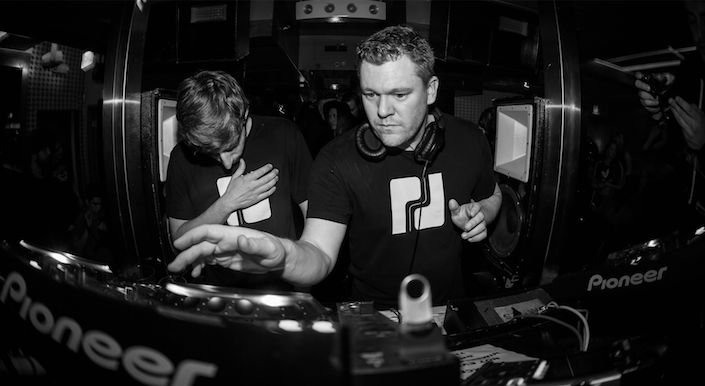 Deciding on a name is one of the most important decisions that could make or break a brand. How did you land on "Perfect Driver"?
"Perfect Driver" actually means "perfectly driving basslines." It has a positive ring to it and pays homage to the heart of our house tunes: the extra bass.
This year marks the imprint's five-year anniversary. What does a milestone like this mean to you personally?
Feels crazy doing it alone so long. It's amazing to reach this milestone. I honestly wasn't sure if I'd be running PD five years, but it gets better annually, and I can't see myself stopping. I've learned so much about the industry, myself, and the people who enjoy our music. It's incredibly gratifying.
Have there been any major changes in terms of the vision, operations, aesthetic, sound, etc. over the years?
I think we've stayed rather constant with our funky house music and extra bass. In addition, I'm taking time to further brand Perfect Driver beyond music by promoting things that are close to my heart—like science, discovery, and the preservation of nature.
What has been the hardest lesson you've learned as a label owner?
"You catch more [flies] with honey." Staying positive helps me accomplish more and empowers others around me. I've made the mistake of being negative a few times and paid the price.
Please share the proudest accomplishment in the imprint's history.
Proudest accomplishment would be our Miami Music Week party in 2016 with This Ain't Bristol. It was so special.
Aside from the label's growth, what personal and professional developments have you been afforded by sitting in the founder's chair?
There's a driving force in me to keep the label respected in our community, so I've slowly learned about marketing, advertising, design, branding and public relations. That side of the business has changed the way I look at things in life.
Boutique labels are becoming the norm these days, as more and more artists move away from the bigwigs. What are the advantages of running an indie label, and what sort of obstacles do you face on the regular?
The advantage is simple and powerful. Because it's only me, I can make quick decisions and change on the fly, where larger labels need to meet and decide together. The ongoing obstacles are time management and lack of budget. I don't have money to pay helpers at this stage and feel stretched to my limit.
What can you tell us about your roster, or any potential prospects you hope to bring on board?
I'm happy with the team we have built over the years. Some have come and gone, while others have stayed loyal from the beginning. Though it never hurts to have them on board, I'm not keen on begging big artists to join PD. I prefer becoming friends and letting it happen organically. There's no set plan on who I will sign. I like putting out good music, so I don't care if it comes from a new producer versus an established name.
DJs and Cooking is a new concept you've recently gotten off the ground. What can you tell us about the idea and purpose of this new endeavor?
DJs and Cooking is a blast! I use Facebook and Instagram live at my cramped L.A. apartment and ask my DJ friends to play house music while cooking in the kitchen. BOT is our resident DJ and chef, and former guests include TJR, Ciszak, Sage Armstrong, Billy Kenny, J. Worra and Wood Holly. It's fun watching them chop up veggies, and it also affords their fans the opportunity to witness them in a semi-normal environment. For instance, everyone got a kick out of Billy Kenny breaking a glass of wine and then cleaning it up on his hands and knees in the living room!
How does the label plan to keep up with or stay ahead of the constant shifts in the dance music market/trends?
Stay in tune with the youth. Be flexible with the sound. Stay true to our roots.
What legacy do you hope to leave behind with Perfect Driver?
I hope Perfect Driver's music and events lead fans to consciously explore new environments, while discovering sounds and ideas.
Track List:

Doug English "Hood Life"
Doug English "Hood Life" (Rrotik Remix)
Billy Kenny, Wongo "Buzzsaw"
Hotfire "Bitches"
Hotfire "Bitches" (Ryan Collins Remix)
Treasure Fingers "Felony"
Perfect Driver "Crawl Into My Bed" (Alex Index Remix)
Dillon Nathaniel, Dateless "Got That"
Aaron Snapes "Whatcha Wanna Do" (Mark Starr Remix)
Matthew Anthony "Headlights"
Sage Armstrong "Magic City"
BOT, Matthew Anthony "Oh I Know"
Fritz Carlton "Black to Back"
Perfect Driver "Circus"
Wood Holly "Spiritual Gangsta"
DJ Godfather ft. DJ Deeon "Freaky
Lux Groove "Got Em"
Lenny Kiser "Cool Guy Sounds"
Nick Rockwell "Work That Shit"
Grensta, J. Worra "Phases"
Aaron Snapes "CTC (Call the Cops)"
Casino Gold "All I Need"
Follow Matthew Anthony on Facebook | Twitter | SoundCloud
Follow Perfect Driver on Facebook | Twitter | SoundCloud
---
Share
---
Tags
---
You might also like