Craig Williams and Tony Quattro Bring Deep, Soulful Vibes on 'Malleus' EP for Insomniac Records
In many circles, Craig Williams and Tony Quattro are both names that need little introduction. The former is a now-Stateside Australian who used a solid engineering/production background to effortlessly move between sounds and styles, while always keeping an ear to the deeper end of the spectrum. Between releases with Dim Mak, Ghostly, Perfect Driver, and Turbo, as well as collaborations with Louisahhh!!! and Green Velvet, Williams is a thorough and well-rounded artist.
On the flipside, Tony Quattro was a staple of the New York underground for a number of years. From big rooms and warehouses to secret locations, Quattro kept dancers moving, both on the decks and in the studio. With a penchant for outside-the-box low-end sounds paired with top-notch production skills, he's dropped solid tracks on Trouble & Bass, Night Bass, Nervous Records, Mad Decent, and more.
It should come as no surprise that these powerhouses have teamed up to drop a new EP on Insomniac Records. Malleus is a two-tracker flush with rich, warm house sounds brimming with soul and energy. "Put Me On" rolls in with a semi-shuffled beat and a host of organic percussion sounds. Classic strings hum over emotive vocal samples that breathe life into subtle yet driving rhythms. Using organic dynamic shifts and pushing and pulling the sounds in and out at just the right moments, Quattro and Williams craft a fragile and emotionally connected low-end-minded house track that is bound to grab listeners right in the heart.
"The Maker" pounds in with a distinctly heftier kick. It's soon followed by a low, flowing bassline and the same rich hand percussion of the previous track. Classic vocal samples make their way into this track, as well, but are used more as another sound element in the works. The drive stays hard, but in an exceptionally stripped-down way that relies on the organic elements playing against the hefty low-end to carry the mood.
Both tracks on Malleus are the very definition of warehouse music, leaning on a long legacy of deep music while pulling things together with the producers' own contemporary takes. It can never be stated enough how seemingly simple tracks are much harder to pull off than maximal productions. It's done to such a successful degree here that listeners will quickly become lost in the music, transcending the boundaries between themselves and the sounds they are hearing. These are clearly very solid tracks from two exceptionally talented people.
Craig Williams and Tony Quattro's Malleus EP is available here.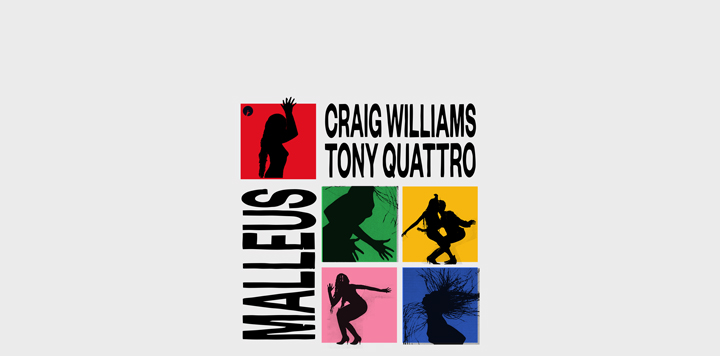 You both moved to L.A. from other distinctive scenes. What do you each find different from your previous homes, and what drew you to L.A.?
Tony Quattro: It's an endless tit for tat when comparing NYC to L.A., but I came here to make music my full-time gig (which it now is). I really like living here and visiting there now. You get used to the cushy accoutrements, and when you go back to NY, you're kinda like, "Fuck, it's freezing. I need a green juice."
Craig Williams: There is always something going on in L.A., from music to art to food. Sydney very much had this, but it was getting to the point where the artists were being pushed out, much like NYC. Another thing I love about L.A. is that there are so many creatives here, and seeing them do great things make you want to work harder to be the best you can be and create something that will hopefully strike a chord with someone.
These tracks have such a distinct personality. What was the vision and concept behind the Malleus EP?
TQ: We both wanted to make some super playable, no-frills type of tracks but ended up with a bit more weight than expected. To me, there's a severity to the word "malleus" (the bone in the ear that helps transmit eardrum vibrations), so it stuck when coming up with a name for two no-BS body-movers.
Were the vocal samples recorded specifically for these tracks, or were they culled from crate digging?
CW: After a couple of sessions, we ended up with what is now known as "Put Me On," but it was an instrumental. We both tested it out at a couple of gigs, and Tony mentioned he had a connect with Damon C Scott (famously known from Storm Queen). Tony reached out, and the vocal is what we got back from him.
TQ: The "Put Me On" vocal is Damon C. Scott, who I've been a fan of for a few years now. We got in contact a while back but really sealed the deal with this one.
CW: We started out wanting to make some DJ tools to use in our sets—something to help bridge gaps in your set, to switch up the mood or layer in with other tracks that might have a big break and no beat driving it. After a couple of sessions, we have some stripped-down tracks, but they are a lot denser than a DJ tool.
What was the collaboration process like, and how does it differ from your own individual processes?
TQ: Craig's studio is like going to Disneyland for synth nerds. He's got so much dope hardware to play with, and I use maybe two or three pieces of gear, max, so it's definitely a change of flow. We basically plucked our favorite bits from a few live jams, and then went back to the software to finish.
CW: I can't speak for Tony, but I know from my own experience, you have to be very open when working with others. The person you're working with might be working on an idea, and you have to give them room to go down the rabbit hole and explore that idea. When I'm working on my own, I might have an idea in my head, and I'm just trying to get that out of my head.
What's the underground scene in L.A. like these days, and who are some of the standout artists, promoters, etc.?
CW: I think it's really diverse; you just have to look for what fits you. Some of the standout nights for me have been at Lights Down Low (Paranoid London was probably my favorite that comes to mind). The other great underground promoter would have to be Copper Saver and his Far Away nights (you can check one of their parties out on Boiler Room).
 TQ: I've been a Late Night Laggers kinda guy since I moved here. That crew rocks. They've had me at a bunch of their functions and always book super dope international acts. In terms of artists I'm into at the moment, it's a lot of shit from the UK, Mexico and beyond, but in L.A., Siete Catorce (originally from Mexicali) is blowing my mind. That guy is supremely talented and an all-around awesome dude.
Tony, you've begun composing for film and television. How did you transition into that, and how has it been so far?
TQ: I got into it when I started composing for Broad City in season 2, via my boy Matt FX. That led to a couple more shows and rad scoring opportunities. Right now, I'm actually in the studio working on a score for the last season of Broad City that's got a really fun special guest vocalist on it. It's been a blessing and a ton of fun.
Craig, you've done some serious collaborations in the past, but you've got a lot more on the horizon. Can you tell us about any of those upcoming partnerships?
CW: I have been really lucky to have friends to connect me with some amazing artists. I have a collaboration coming out on Snatch! with Vula Malinga (Basement Jaxx and a load of huge collaborations). I also wrapped up a seven-track EP with Kim Anh, which we are super excited about. I have a single track that Zombie Nation and I finished up, and we might have found a home for it. There are a couple other irons in the fire also, but until they're 100 percent finished, you never know if they're going to get finished.
What do you both see as the state of DJ music and culture right now? Where do you think things will go or evolve to in the near future?
TQ: The EDM bubble has definitely burst, so I think there are a lot of artists going through some heavy self-discovery. I think we're coming back to Earth a bit, and the result is sounding more musical and eclectic.
CW: I like to think that people are growing as the scene grows. The people that might have just been all about the mainstage artists are now starting to dig a little more for new and exciting music. 
What do each of you have coming up that you'd like people to know about?
TQ: I've got a solo EP coming out soon on Mad Decent's Good Enuff imprint that I'm super stoked about, and should have more out in the early spring/summer that I have to keep under wraps. More coming soon as always, though.
CW: I have a pretty stacked first half of the year, with new releases that you can find out about mainly via my Instagram. I also have a monthly radio show with Insomniac Radio, which is the second Wednesday of each month.
Follow Craig Williams on Facebook | Twitter | SoundCloud
Follow Tony Quattro on Facebook | Twitter | SoundCloud
---
Share
---
Tags
---
You might also like