Free Download: Born Dirty Hooks Up With Cassius and JAW on Crunchy 808-Laced Joint "High" for In / Rotation
It's been two weeks since In / Rotation took us for a spin through the label's first-ever issue, a ridiculously effective house offering from Parisian anomaly Dombresky. There may not have been a single record better suited to show the world how the imprint intends to handle business, and they build on that point flawlessly with their follow-up. They toss it to UK duo Born Dirty this time around, and the result is a recipe for trouble.
Son of Kick and Linden Jay are the two Brits behind the outfit, which originally was thought of as a one-and-done deal. But after the mother of all stompers that was "Don't Stop Get It," it would have been a missed opportunity for them not to see where they could take the project. One thing led to another, and they were running with key stables like Dirtybird, Night Bass, and Record Record.
"High" is today's track in question, in which Born Dirty rubs shoulders with French powerhouse Cassius and the attention-commanding voice that is JAW. With as many creative minds there are tugging at the drawstring, the influences at play here never seem to overpower one another. Instead, they fit like a jigsaw made up of distorted spoken word, knocking 808s, and a retro-future thump that'll have you reaching for the rewind.
Load up on the free download of "High" after the break, and then scroll down to catch the chat we had with the Born Dirty gents.
Born Dirty's "High" is available here.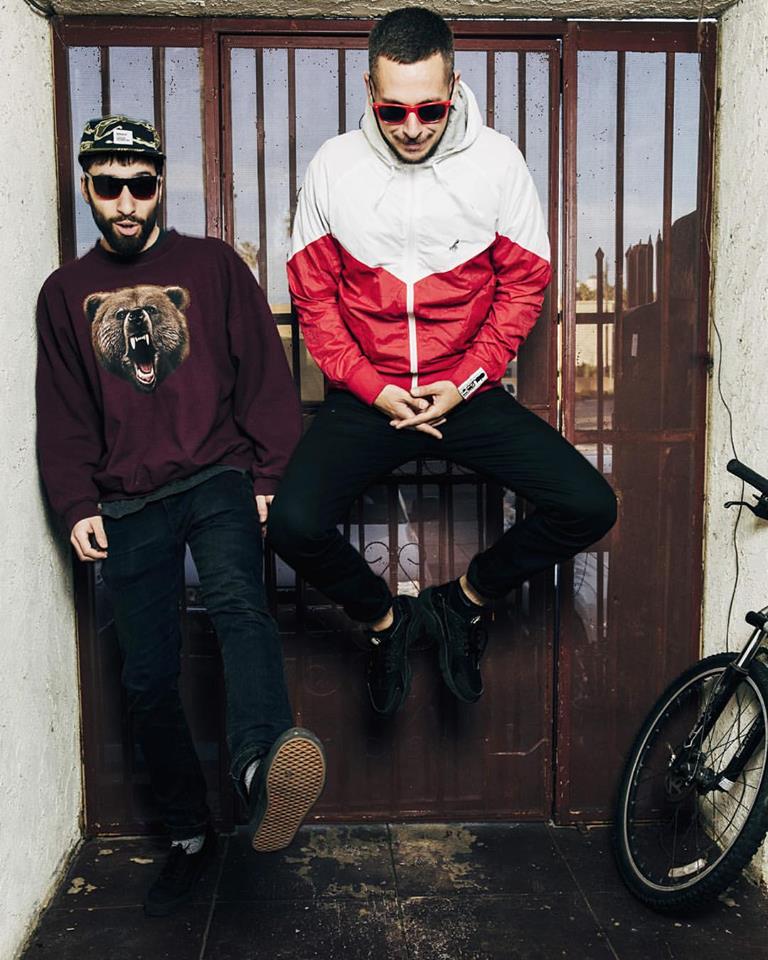 Put us up on game with what Born Dirty is all about.
Originally, we connected for a one-off session in London, and then our collaboration spiraled into us creating a lot more music together, which led to the creation of Born Dirty. We're always pushing ourselves to create music that has a different edge to everything else out there. Sonically, we're always looking for the quirk that catches your attention. Our influences are diverse, and it's hard to place us in a box, but I've heard a few people describe us as if the Beastie Boys made house/techno.
"High" is a creative jackpot, with five heads coming together on a single piece of music. How did you manage to maximize productivity on this project without letting it start to feel like there were too many cooks in the kitchen?
Originally, "High" was a remix we did for Jaw with parts of Cassius' music in it, but we all agreed that it was such a good tune, we should turn it into a single. So ultimately, we didn't really cook it all together, but it has spices from all five artists in it.
There are a few noticeable influences and creative directions working in unison here. Can you give us a breakdown on who contributed what and why?
The original track was more rock-based, with loads of energy, so we wanted to keep that feel in our version. We both have tons of influences in common, but also our own. We mix it up all the time, and this time it was '80s electro with Miami bass, breakbeat, but with a new take on the production—all glitched and crunched out.
Since the Born Dirty members are both classically trained musicians, does your shared experience help facilitate your workflow?
We both come from live music, and Linden went to Berklee in Boston. I'm self-taught. I think ultimately it helps, in the sense that we have a good idea of where we need dynamics and balance on the tunes. We play a bunch of parts live, which we don't quantize—to keep a more human feel—and in that sense, I guess being a trained musician helps.
Does it keep the bar extremely high for other artists you would consider collaborations with, or do you hold them to different standards?
We actually work with people on a vibe basis, to be honest. Come to the studio, start a beat, have fun, have a laugh, and hopefully something good comes out of it—and then we'll decide what's what. We don't work with a lot of people, but when we do, it's ultimately to have a good time. You never know where you'll get a great vocal from, so we're always up for experimenting.
You've been getting pretty creative with the two squiggly red and yellow characters on your socials. They're dope, but what's the deal there?
The little creatures were created by our good friend Reeps One, who is a genius beatboxer and artist. He had a few lil monsters drawn and offered us to pick one. The characters are going to keep developing, so keep an eye out for new content!
What are your goals with this project, either short-term or long-term?
We would love to see the project grow organically and keep making good music, whether it's straight dancefloor fire or more song-based tunes you can listen to at home. It's hard to have a clear idea of the future, as we're constantly developing our sound. There is a vast amount of different types of music we like to make, so maybe we will be making jazz records at some point (long-term). 😉
Follow Born Dirty on Facebook | Twitter | SoundCloud
Follow In / Rotation on Facebook | Twitter | SoundCloud
---
Share
---
Tags
---
You might also like