Bear Grillz Busts out the Claws on HARD Summer 2018 Mixtape
As we count down the days, hours, and minutes until we can bust out of the office and make our way to HARD Summer this weekend, Insomniac comes through with an epic mixtape from none other than Bear Grillz to cap off our month-long HARD Summer Mixtape series.
Never satisfied to just hit you with the beats, we go all in with the man behind the mask and dig deep into the past, present, and future of the hard-hitting sound Bear Grillz has come to represent, both onstage and in the studio. As he's dedicated to the grind and putting it all on the table for fans, you can expect some new insights into what makes this bass beast tick. We cover everything from his unmasking on The Jerry Springer Show to the blue-collar roots that continue to influence his unstoppable work ethic. Check the mix up top, and scroll down for some Q&A action.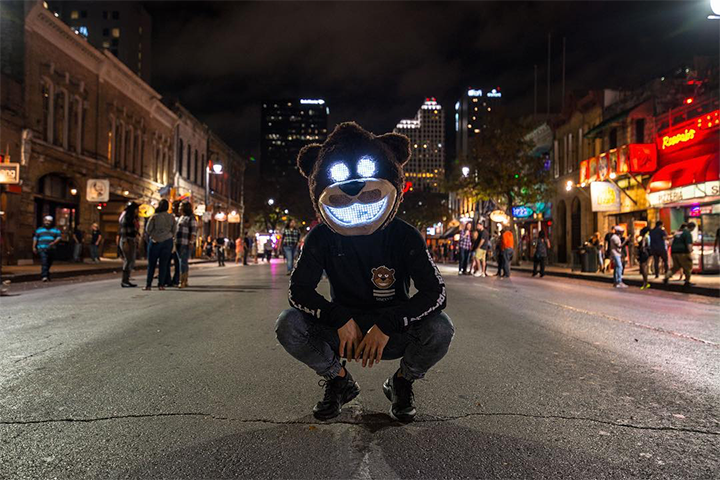 Give us a glimpse behind the mask; let us know where you grew up and what kind of music you remember hearing around the house.
I grew up in Long Beach, CA. I went to Long Beach Poly High School and graduated from the University of California at San Diego with a public law (pre-law) degree. My father was a blue-collar worker but was also the lead singer and guitarist of a band that played cover songs at local parties. There was always music playing in my house, so I have eclectic taste that ranges from classic rock to reggae.
A love for music definitely runs in the family! In terms of musicianship, were you formally trained?
My dad can play every instrument and sing. Music has been his passion since I was born. But as I was growing up, I was more into sports (mainly baseball). I do remember sitting and watching band practice and having him show me how to play the guitar—no formal training other than that.
When you were growing up, did you have your sights set on a career in the music industry?
Definitely did not have my sights on a career in music. Growing up, I always wanted to be a baseball player; I played all my life. It wasn't until after college that I realized my life and career would be in music. I started a company called INTO THE AM, and from producing concerts and managing some artists, I realized music was what I wanted to do.
At what point did electronic music enter your world? Looking back, whom do you credit with paving the way for who you've become?
Throw it back to 2010, when I producing my INTO THE AM shows. I booked a lesser-known (at the time) DJ named Steve Aoki. At that point, he was just about to blow up around the world, but locally, he was already one of the most widely known DJs. I sold out this show of 2,700 people and never witnessed so much energy from a DJ or the crowd in my life. That was when I knew I had to be involved with electronic dance music.
We've watched that clip on Jerry Springer where you reveal the human behind Bear Grillz. Tell us how that came together. What a trip that must have been!
That was definitely an experience, to say the least. To be honest, when the producers first contacted me, I thought there was something fishy going on. Like, did I have triplets that I didn't know about? The first plan was to do a skit where two girls were fighting over my identity and me. Then, they asked me to just flat-out reveal myself on the show. It took me a while to come around to the idea, but everyone around me told me that I had to do it. Looking back, I think I made the right decision.
Take us back to the birth of Bear Grillz proper. Once the idea and concept came together, what were the next steps? I imagine you came up with sketches and then sent those out to have some prototypes built? Is it like the Terminator, where the early versions weren't as robust as the later T-1000 versions? Did the outfit go through some changes over the years to get to where you could breathe, see, be durable onstage, etc.?
The very first bear suit I wore was bought on eBay. I found the nicest-looking one and bought it. It wasn't until years later that I had someone actually design a head that fit my body. I couldn't breathe or see in that original suit, but not much has changed. My current head is still pretty challenging. I think it's one of those things where I am just accustomed to wearing it and being restricted.
Do you have any horror stories of those early performances that made you guys go back to the drawing board and tweak things?
Everything went pretty smoothly at first. The only big issue was figuring out how to secure the bear head on my actual head. I used a GoPro harness that was strapped to my chest and connected to my head [laughs].
What's one of the biggest misconceptions about you as an artist?
For some reason, over the last few months, I've gotten several comments about me being a Marshmello rip-off. I just laugh, though. I correct them and tell them I was around before Marshmello. Even if I wasn't, we are so different musically that there is no need for that.
You seem to be a man-beast who loves life on the road, as you are constantly touring. The stage design appears to play an integral role in the experience for your fans, as well. I imagine this brings things full-circle, to where you began as a promoter and thinking through the eyes of the crowd.
Yes, definitely. I think it's important to cater to your fan base. I always try to maintain a healthy compromise between what the fans what and what I want. I like to think that when I play new/different music, I'm educating people to expand their taste.
We're amped to have you dropping this HARD Summer mixtape for us. What kind of vibe should we expect on this? Any final words of advice/caution before we come check you live in all your furry glory?
I'm going to give you a little taste of what you should expect when you see me live. I really strive for the crowd to experience highs and lows. One minute they could be headbanging, and the next singing along to one of the most melodic tunes out there—that is me!
Bear Grillz HARD Summer 2018 Mixtape Track List:

Bear Grillz "Take Me Away"
Excision x Illenium ft. Shallows "Gold"
Kompany "Stompy"
Space Laces "Cruise Control" (Ivory Remix)
Bear Grillz ft. Sullivan King "Wicked"
Snails ft. Dion Timmer & KLP "Forever" (Futcase Remix)
Wooli x Phaseone – ID
Bear Grillz x Getter "EDM" (VIP)
Bassnectar x Jantsen "What" (Bear Grillz x Wooli EDIT)
Gammer "The Drop" (Dubloadz Remix)
Kompany "Override"
Liquid Stranger x Space Jesus "Spaceboss"
Snails x Kill the Noise ft. Sullivan King "Shake the Ground"
Zeds Dead "Symphony" (Bear Grillz Remix)
Bear Grillz – ID
Bear Grillz – ID
AFK x Carbin "Boss" (Dirt Monkey Remix)
Bear Grillz ID
Ivory "Next Level"
PhaseOne, Yookie "State of Emergency"
PhaseOne "Welcome to Mayham" (VIP)
Kayzo ft. Micah Martin "Feel the Power" (Tisoki Remix)
Hekler x Glade "404"
Lookas "Eclipse" (Tynan Remix)
Virtual Riot "Chop Chop"
Eptic "Watch Out"
Delta Heavy "Exodus"
Bear Grillz "Brain on Dubstep"
Jantsen "Bring It Back"
Bear Grillz ft. Sullivan King "Rage"
Virtual Riot "Dog Fight"
Panda Eyes x Barely Alive x Virtual Riot "Triforce"
Eliminate "Reload"
Carbin "Space Invaders"
Trampa "Rocket Fuel"
Carbin "Twenty to Life"
Blink 182 "What's My Age Again" (Bear Grillz Bootleg)
Bear Grillz "Goin Down"
Dubloadz "Fight Music 2017"
Iration "Fly With Me"
Bear Grillz is playing at HARD Summer 2018, which takes place Saturday, August 4, and Sunday, August 5, at the Speedway in Fontana, CA. Tickets are on sale now. For more information, visit the official website.
Follow Bear Grillz on Facebook | Twitter | SoundCloud
Follow HARD Summer on Facebook | Twitter | Instagram | SoundCloud
---
Share
---
Tags
---
You might also like