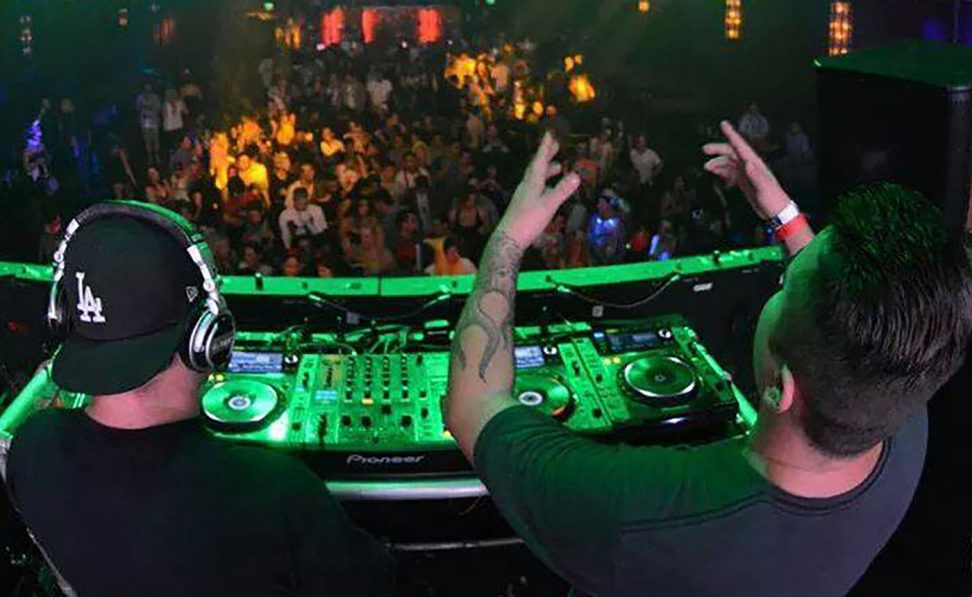 The Zombie Killaz are in the business of delivering club bangers and ground shaking performances. In only a short time since their inception, the Los Angeles duo has made a name for themselves, cranking out one quality original track and remix, after another.
ZK first started out as individual dj's in the underground scene, headlining at venues all across L.A, and the Inland Empire. Both Devon (Narkotix), and Chad (Linkin) would spin various sets for 3000+ attendees every Friday, and Saturday. At that time, Devon was mixing mostly House music, and all sub genres of House, while Chad would be heard spinning Drum and Bass, Dubstep, club versions of Electro House. At one point, they both started battling on one set and there began the birth of working together.
After EDC 2010, the demise of the underground scene began. LA started a "rave task force" which began attacking the electronic dance community, and shutting down any potential parties in the underground. Once this happened, both Devon and Chad went two separate ways. Devon, being an underground house dj, stayed, while Chad, a more so known club dj, went to the Hip Hop club venues in Hollywood. In 2012, 2 years after they went to different industries, they joined forces again, and created their now known duo, Zombie Killaz.
ZK isn't just a house duo. They are a prime example of everything that was, and now is the dance scene. From underground, to mainstream, you really can hear the diversity in each sound throughout their music production. The skill level between the two spans over years within the culture, and so many different parts of the dance community.They in turn bring that to their one of a kind production with melodic chords, and heavy bassline drops.
On the live side, their unique ability to combine their back grounds in music is what makes them different, and essential, versus any other duo out there. During their live performances you'll likely still see some of that 2008 battle they used to do back in the the day. They "one up" each other, track for track each night, almost competing within their own space. "Watching us should be like watching 2 djs battle each other seamlessly, with you as the crowd benefiting from it. It keeps djing fun and always interesting for us."
This power duo, has delivered thundering originals, massive remixes, and high energy live performances. They've been able to grace the stages for Control at the Avalon in Hollywood, Awakening at Exchange LA, and Havoc at Orange Counties Yost Theater, as well as many others.
They are relentless, powerful, and will not be stopped.
Stay alive, they're coming for you.
---
Share
---
You might also like