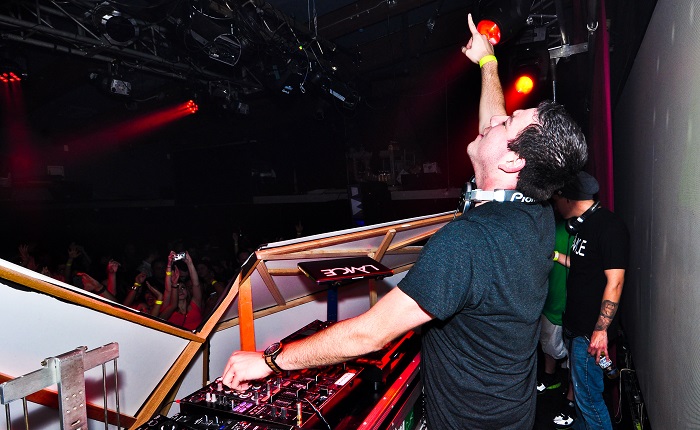 Introducing fresh new sounds and melodious beats, the acclaimed producer Ysais has made his hometown of Los Angeles proud as he continues to revolutionize elements to electronic dance music and excel in a progressive career that some can only dream of. From the very beginning, Shane Ysais strived to establish himself with a certain distinction, setting himself apart from other artists on a similar pursuit. Shane began to produce, starting with the production of Trance. For months, he studied the genre and learned various different layering techniques, developing his own distinct sound that would rattle the scene with unique division. It wasn't long afterwards that Ysais sets would earn Shane opening spots for prevalent artists such as Antiserum, Helicoptor Showdown, and Patrick Reza. His streak continued as he played at the main stage of Los Angeles' notorious Dim Mak Studios and fashioned a receptive following with his notable track selection and indisputable ability to keep the crowd moving on their feet. It is undeniable that his sets are captivating, the energy uplifting, and his passion for the music he plays infectious to the crowd. So what's next for this reactive DJ that's blowing up on the scene? In February 2014, Ysais will be headlining the main stage at the historic nightclub and music venue, Avalon Hollywood. With a mission to set himself apart from the normal sound of average producers, Shane continues to perfect his skills in several electronic dance music genres, his latest achievement of producing Deep House, a widely popular and distinguishably complicated genre of dance music now circulating through the scene. Shane Ysais' skills producing and unconditional high energy sets are sure to take him a very long way in the EDM community.
//
Where do I even begin? I have always been really into music. Fun fact: The first album I ever bought was an uncensored copy of Dr Dre's Chronic 2001. I used to make electro songs in high school on Garage Band on my mom's Mac, and you could say that's where I started producing. I then went to college where I decided to join a fraternity, Sigma Alpha Epsilon. I quickly found out our parties lacked horribly in the music department, and it was at the same time I discovered electronic music. I had always loved EDM, especially classic 90's club music like Robyn's "Show Me Love" or Darude's "Sandstorm." Then I really dove into it and started DJing bigger and bigger events. My love for music has never left and I don't think it ever will on my epic journey.
Home Town: Chino Hills, California
Currently Living: Chino Hills, California
Origin Of Name: It was the last name given to me at birth.
Weapon of Choice: Bass, breakbeat, and badass remixes
Source of Power: Some of my biggest influences are Laidback Luke, Pendulum, Showtek (their old hard style, not big room), and Eric Prydz.
What advice would you offer someone thinking about entering the Discovery Project competition?
My advice on entering is just stay true to your ears. Don't try and make music you think others will like, make music you like and others will be on board.
Was there one particular moment in the recording or mixing process for your Discovery Project entry that made you feel like you were creating something pretty damn special?
To be honest, I made this track at 4 in the morning and during the process I was half awake. It wasn't until I listened to it the following day when I woke up that I was like, "Oh my God!"
Are there any dots to connect with where/how you grew up to your musical output? From people freestyling on the street corner to a grand piano forced down your throat by your Mom.
I would like to say that my family, especially my dad, is really musical. We were always singing and listening to The Temptations, and from there I started developing my own style.
What do your parents think of what you are doing?
They love it and they support me in every way. They do question some of the ravers' outfit choices, however.
What's the strangest part of your job? What makes you shake your head in wonderment about being a DJ and producer?
I have worked with many big name artists, and I think the craziest things I see are all the demands on the contract rider. Like really, you need four bottles of Grey Goose Magnum and a vegan food truck?
What's the biggest misconception about being a DJ? Or, what would people be surprised to find out about the profession?
I think people don't realize that DJs don't party every night. While most of the artists put all of their energy into their set, the bulk of their time is spent on tour busses and airplanes and producing in hotel rooms.
Tell me about your most memorable night out as an artist or as a fan.
My most memorable night as an artist was when I played at Dim Mak studio for my launch party, OH JESUS THERE'S A FIRE! The venue was packed with so many of my fans, and I distinctly remember when I took the stage and the biggest cheer shot through the crowd. I can honestly say that I don't DJ for fame or money, I do this so people have fun and so I can have fun. The world is filled with way too much stress and negativity and it's moments like these that I strive for, because for that brief moment in time all troubles were washed away, and everyone just focused on having fun. That is why that night was my favorite night as an artist.
Do you have any memorable moments from past EDC's or any other Insomniac party?
If it weren't for Insomniac I would not be here today. The day I fell in love with electronic music was the first day of EDC 2009. It was my first music festival, and I had no idea what to expect. As we entered the gates all I saw were these crazy colors and people dancing. We then got in and went to the main stage. At the time, EDC was held at the LA Coliseum, and the coolest view was walking down the stadium steps and seeing a sea of people all just having a blast on the dancefloor. That night changed my life. Artists like Benny Benassi, David Guetta and Paul Van Dyk just made me explode with excitement and wonderment on how they could make the crowd get so crazy. Since then I have been to lots of Insomniac events, everything from Beyond Wonderland to Basscon.
How does what you do for a living affect you on a day-today basis? How, if at all, does it affect your friends and family?
It affects my Facebook, Twitter and Instagram feeds. Some people get updates when One Direction is in town, while I get updates when deadmau5 is going on tour. It's crazy that my whole life revolves around the scene now.
What is your ultimate career dream?
My dream is to end up a music producer or writer for movies.
Are you impulsive with your work (in the studio and/or DJing) or do you have a sketch in mind before you start?
I am the most impulsive producer I know. My genres don't even stay the same. If I'm in a drum & bass mood, guess what kind of music we are getting, d&b!
How, if at all, does listening to music figure into your creative process? What's the last song you heard that made you drop what you were doing and go into the studio?
I listen to plenty of music, but as of right now, a rather new producer by the name of Jauz is killing it for Buygore. I have seen him live three times, and each time was crazier than the last. That dude is a boss, just check out his song "Proppa Demands."
What's the most important piece of gear in your studio and why?
I personally would say your computer. I know some people are all analog, but long story short, if you have a bad computer or laptop, you're going to have a bad time.
How important is it for you to experiment and take on the risk of failure?
Very important. There will always be people that doubt you, and there will also be failures, but even the best of all time had failures. Stay true and keep making yourself better. It's the people that keep getting back up that finish the race.
Do you have a list of people you'd like to collaborate with (from musicians to lighting and visual artists) in the future? Why specifically would you like to collaborate with this person / these people?
I do have a wish list of artists, but I actually prefer working by myself. I have tried collaborating but I guess I just have a different way of thinking.
If we pressed Shuffle on your iPod while you went to the bathroom, what would you be embarrassed to come back to us listening to?
I have plenty of music from musicals and movies on my iPod. It would be embarrassing if the Frozen soundtrack came on.
What sound or noise do you love?
I love the clicks a rollercoaster makes when it goes up the tracks.
What should everyone just shut the fuck up about?
I personally wouldn't say those words, but I would like to stop hearing about how EDM is drug music by people who have never been to a festival.
What gets you excited when you think about the future of electronic music and club culture?
I like that music is going back to a more soulful, analog sound.
When you look at electronic music and the surrounding culture, what worries you about the future, what do you wish would change or that you could change?
I wish people would be more informed and care more about the music. Nowadays kids are going to raves with the wrong intentions, and I wish that the attention would be focused back on the music.
What are your weaknesses?
My weakness is string cheese.
Do you have a secret passion?
My secret passion is dancing, everything from the Nae Nae to the Shmoney.
How would you describe your sound to a deaf person?
I am a spicy earthquake in your ears.
Is success physical or internal? What does it mean to you?
I think that success is dependent on the person, because the standards of success are relative to who you are. I personally am happy no matter what happens, so I am already successful, but will I keep on striving? You bet your ass I will.
What do you remember about your first DJ gig?
It was at my fraternity house and I was terrible. People said I needed to practice and I did.
What's the hardest professional lesson you've learned thus far? How did it make your life easier—or more difficult?
The hardest lesson is learning that people are not always genuine. I have been screwed over by countless promoters, partners, and venues. The key is to keep trying, eventually you'll get to a spot where you call the shots.
Do you have a favorite all-time mixed CD or series?
I personally like Kutski's Keeping the Rave Alive.
Have something you'd like to get off your chest that we did ask you about? Go for it, shoot for the hip…
People need to stop taking this scene so seriously. The main message is to embrace one another and not to be a pretender. Be yourself and let your true colors shine through, that's it.
Winning Track:

Winning Mix:

Discovery Project: Escape: All Hallows' Eve 2014 by Ysais on Mixcloud
---
Share
---
You might also like