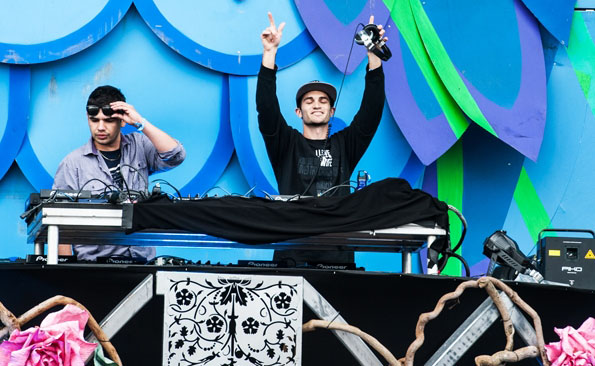 Florida producers Yordan & Dead Space are on the rise. They have quickly become one to watch out for. The two crossed paths in 2011 and began sharing ideas of what they were shooting to achieve with their productions. Having the same motive to be original and the desire to separate from the trends and create something different they began cooking up a bundle of projects together. With their first single titled "G Funk" it instantly caught attention and within a week was used to open the mix of California native "Zen World's" radio show titled "Evolution of Sound". Set for 3 releases the duo has a bundle of unheard material forthcoming on Florida Techno Records/ The Soon Music and Discoswag records.
//
We crossed paths a few years back and linked up more than a year later. We both had similar ideas and were skilled in different areas of producing. Together we made "G funk" which just came out on Florida Techno Records and started a snowball effect. We banged out a few crazy projects within a few months and a fun fact about us is we've never worked in the same studio. Living so far away we send files via Dropbox and work off of straight audio.
Yordan
Home Town: Velingrad, Bulgaria
Currently Living: Melbourne, Florida
Origin Of Name: I was never able to accept myself with some sort of "stage name." Instead I chose to stick with my given name alone because my last name is a little too complicated.
Weapon of Choice: Ableton and anything made by Native Instruments.
Source of Power: Kill Frenzy, Claude Vonstroke, Justin Martin (actually anyone from Dirty Bird), Destructo, Booka Shade, Sven Vath, Richie Hawtin, Goldfish, Vitalic, Paul Kalkbrenner and even deadmau5 on a good day
Dead Space
Home Town: Apopka, Florida
Currently Living: Orlando, Florida
Origin Of Name: Dead Space is a video game. I've never played it but it hit a spark with my productions.
Weapon of Choice: Love, Faith, Prayer, my USB and FL Studio.
Source of Power: Family, Maetrik/Maceo Plex, Hot Since 82, Prok & Fitch, Green Velvet, Dirtybird crew, old school TJR.
What advice would you offer someone thinking about entering the Discovery Project competition?
Yordan: Be unique and even a little bit weird
Dead Space: Good Luck. Expect the unexpected and keep working hard whether you win or not.
Was there one particular moment in the recording or mixing process for your Discovery Project entry that made you feel like you were creating something pretty damn special?
Not really. We recorded the mix an hour before the contest ended and barely made the submission.
What do your parents think of what you are doing?
Yordan: They're supportive but they do not think that this is my ultimate path because I'm finishing up my computer engineering degree.
Dead Space: A big chunk of my family (including my mother) all love house music and other sub genres of it, so they're very supportive.
What's the strangest part of your job? What makes you shake your head in wonderment about being a DJ and producer?
How many of us get to do the thing we love most, as work?
What's the biggest misconception about being a DJ? Or, what would people be surprised to find out about the profession?
Dead Space: Big question there, nowadays everybody can DJ. You really don't have to know much about music. All you really need to do is watch tutorials about a piece of software and you'll catch on. Sadly, that's just the way it is. It can steal the art right out of the talent and become a people pleasing routine.
Tell me about your most memorable night out as an artist or as a fan.
Dead Space: As a fan it was one of the first Takeovr's, a weekly that started the boom of dance music in Orlando. As an artist it was my first time headlining Takeovr, and EDC NY of course, but that's obvious.
Do you have any memorable moments from past EDC's or any other Insomniac party?
Dead Space: I really got to know my wife for the first time the weekend of EDC Orlando.
What is your ultimate career dream?
Yordan: Eventually I want to have a complete live production with not only music but also visual effects and a crazy stage design.
Dead Space: Ibiza, Tomorrowland, Club Space, Boiler Room
Are you impulsive with your work or do you have a sketch in mind before you start?
Dead Space: Impulsive. I have an idea on what I want to make but the melodies and bass all happen during the session.
How, if at all, does listening to music figure into your creative process? What's the last song you heard that made you drop what you were doing and go into the studio?
Dead Space: I can't help but analyze and break down the production behind everything I hear but I try to listen as a fan. The Yander Delgado remix of Yordan and my track "G-Funk" inspired me to get back into raw techno.
What's the most important piece of gear in your studio and why?
Yordan: As crazy is it sounds it's my Razor Naga mouse, it is one of these crazy gamer models with 10 different buttons on the side which I have mapped to different operations in Ableton.
Dead Space: Besides a comfy chair, my Mackie's.
How important is it for you to experiment and take on the risk of failure?
Dead Space: I don't think it should ever even come to that point. If you lose the soul behind the art then it becomes another title and sounds like everything else.
Do you have a list of people you'd like to collaborate with in the future?
Depends on what we're feeling but Maceo Plex, Hot Since 82, Tchami, Justin Martin and the Papa himself, Claude Vonstroke.
If we pressed Shuffle on your iPod while you went to the bathroom, what would you be embarrassed to come back to us listening to?
Yordan: Some old stuff from Limp Bizkit.
Dead Space: I can't imagine being embarrassed about anything but you would probably come back listening to a work in progress or some William McDowell.
What sound or noise do you love?
Yordan: Everything occurring in the low frequencies and Bass!
Dead Space: Garage bass and tons of reverb
What gets you excited when you think about the future of electronic music and club culture?
Yordan: Right now the main fan base is still going through an educational process. A couple of years from now people will understand what is going on in the studio and behind the mixer and there will be an exponential shift in the entire concept of EDM.
When you look at electronic music and the surrounding culture, what worries you about the future, what do you wish would change or that you could change?
Dead Space: Everything around us is driving itself into the dirt. It will always be that way, man is man and sin is sin. But for the dance culture, it always weeds itself out and the trend followers and clueless cats will always move on and the ones who truly love the music will always keep listening to techno or other forms of actual dance music. I say it that way because there is a difference between "jumping" and actually dancing. To each their own but I'm just keeping it honest from my perspective.
What are your weaknesses?
Yordan: I question myself a little bit too much
Do you have a secret passion?
Yordan: I am very passionate about graphic design and video manipulation, it's one reason why I hope to have a stage with my own visuals one day
Is success physical or internal? What does it mean to you?
Dead Space: What is a body without a spirit? Before something comes in to the natural, it first comes from the spiritual realm, so it's both physical and Internal.
Have something you'd like to get off your chest that we didn't ask you about?
Dead Space: We just want to say thanks to everyone reading, everyone who listens to our tracks and everyone at Insomniac. Go check out our releases on Beatport or any online music sales sites. We are always open to promo material. Producers keep the love there and have fun. Headliners be safe and keep an open mind about all genres. Thanks again, Love you all!
Winning Mix:
---
Share
---
You might also like