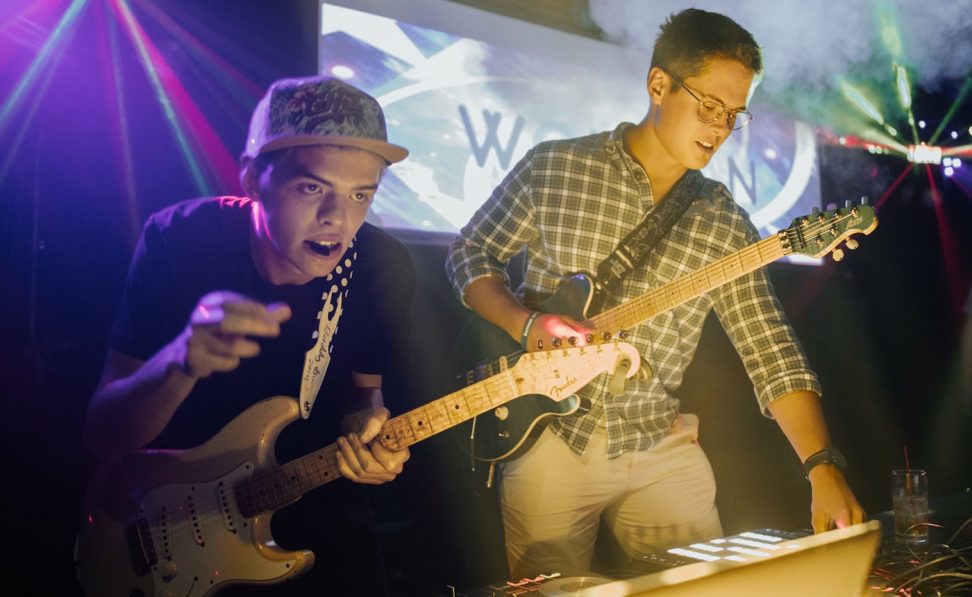 Origin: United States
Normal
0
false
false
false
EN-US
JA
X-NONE
/* Style Definitions */
table.MsoNormalTable
{mso-style-name:"Table Normal";
mso-tstyle-rowband-size:0;
mso-tstyle-colband-size:0;
mso-style-noshow:yes;
mso-style-priority:99;
mso-style-parent:"";
mso-padding-alt:0in 5.4pt 0in 5.4pt;
mso-para-margin:0in;
mso-para-margin-bottom:.0001pt;
mso-pagination:widow-orphan;
font-size:12.0pt;
font-family:Cambria;
mso-ascii-font-family:Cambria;
mso-ascii-theme-font:minor-latin;
mso-hansi-font-family:Cambria;
mso-hansi-theme-font:minor-latin;}
WokeZan was started by Connor Wilson and Dirk Phelps, after the
two were introduced via mutual friends who recognized that both were avid
guitarists who were beginning to make electronic music. The duo began making
and releasing high-energy singles on SoundCloud for about two years before
winning the Electric Forest Prize Cart Remix Contest. This granted the two
enough attention to start performing small shows around Michigan. WokeZan puts
on a high-energy, funk-fueled electronic show with Connor and Dirk dueling back
and forth with live guitar over it all.
//
Hometown: Traverse City, MI (Dirk); Midland, MI (Connor)
Currently Living: Ypsilanti, MI (Dirk);
Grand Rapids, MI (Connor)
Origin of Name: It's a
made-up word that came about when we first met each other.
Weapon of Choice: Six-shooter (pre-1900s
exclusively)
Source of Power: KOAN Sound, Copycatt, the
Floozies, Griz, Tipper

What advice would you offer someone who's thinking about entering
the Discovery Project competition?
Don't ever think that you can't win.
Blurb Yourself:
We both grew up on
classic rock and blues music. We both started playing guitar in elementary
school, so music has been a big part of our lives since we were very young. We
met each other in college through mutual friends from high school. The two of
us bonded heavily over electronic music when we both went to see the Floozies
perform. Shortly after, we decided to start making music together. We have a
shared love for badass Western films, and we think it definitely shows in our
music.
Tell us about your
most memorable night out as an artist or as a fan.
A few months ago, we played a show for pretty much
nobody at Rocky's Pub in Detroit, but the sound system was so wild for this
tiny dive bar that it ended up being an absolute blast.
How, if at all, does listening to music factor into your creative
process? What's the last song you heard that made you drop what you were doing
and go into the studio?
Every time we listen to Copycatt's
music—songs like "Reverend" and "Ditto"—we are absolutely amazed by the energy
he creates with his music and the technicality he puts forward. It constantly
inspires us to do better and keep trying new things.
If we pressed shuffle on your iPod while you went to the bathroom,
what would you be embarrassed to come back to us listening to?
"Pontoon" by Little Big Town. 
What sound or noise do you love?
Kick drums. We know that's not original
or anything, but like, really though, we realllllyy like kick drums.
How would you describe your sound to a deaf person?
It's like the Wild West, but it's in
outer space.
What do you remember about your first DJ gig?
Connor had to make an emergency trip
back to Michigan from his job in Florida when we got our first gig. So, it was
pretty rushed getting to the show to begin with. The sound system was
horrendous. Half of the bar was filled with regulars who had absolutely no idea
what they were hearing. All in all, it was probably one of the best nights of
our lives.
What's the hardest professional lesson you've learned thus far?
How did it make your life easier—or more difficult?
It took us a while, but we have learned
to pay very close attention to somebody's mission or motives when we decide to
work with them. We have been burned before by people who are solely focused on
money, and we've learned that we need to work with others whose values align
better with ours.
---
Share
---
You might also like