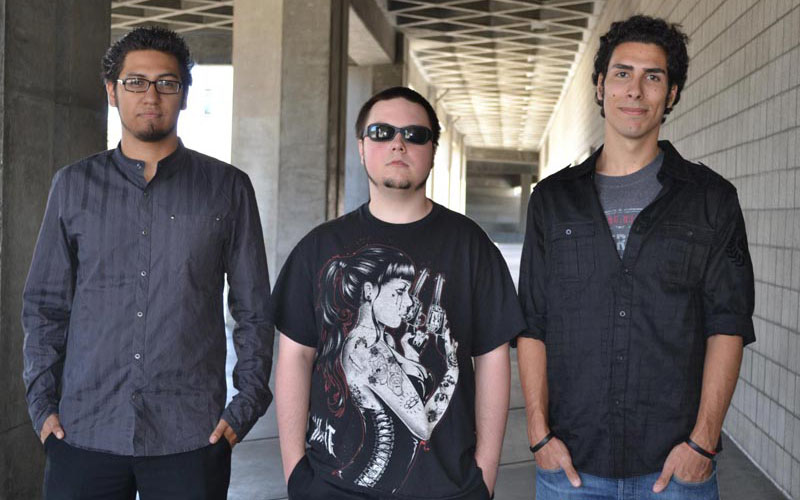 Voodoo Tribe consists of three brothers, James Kurek, Juanchi Negron, and Tony Villalobos. In 2006 they discovered a new genre, Hardstyle. They then decided that creating a unique new sound from Hardstyle was the next goal in their lives. Through the years they have worked diligently to perfect that unique sound, which is still accepted in the realm of Hardstyle. There have always been challenges between balancing their dream and reality, but keeping that one goal in mind that would make a difference was never ignored. Now, as this new incredible experience is finally making this dream a reality, we would love for everyone to be a part of Voodoo Tribe and live HARD!
//
We are James Kurek, Juanchi Negron, and Tony Villalobos, three brothers on a mission to create a unique sound through hardstyle. Experiencing the reactions to our music and seeing peoples' brains break when we perform is one of the greatest highs in life. We want to bring that experience to larger audiences and to a wider range of people. One of our current goals is to make hardstyle more accessible and well known to American audiences. There have been many obstacles to overcome on the way to achieving our dreams, but when life gets us down, we remember to go hard and stay classy.
Interview
---
Home Town: San Jose, CA
Currently Living: Sacramento, CA
Origin Of Name: Thought it would sound awesome being said at climax
Weapon of Choice: Menthol cigarettes and Hennessy
Source of Power: Anyone that has made a hardstyle song. Every producer that has given a piece of their self to this genre. Even if we don't really care for a song or artist, we respect the effort and creativity they have brought to our ears.
Was there one particular moment in the recording or mixing process for your Discovery Project entry that made you feel like you were creating something pretty damn special?
"Eternum" was a song that gave us goose bumps right from the start, but what really did it was the climax. Once we all sat in the studio and crafted that climax, we knew this was the one.
Are there any dots to connect with where/how you grew up to your musical output?
To be honest, for as long as I can remember my whole family has always been deep into music. A huge part of my childhood involved a lot of Metallica and Ozzy being blasted through my house. It wasn't until my dad introduced me to Fruity Loops Studio at around eight years old that I really started getting into EDM. By the time I was 14 I found hardstyle and my entire life simply began to revolve around the sound. All I want is to produce amazing hardstyle so others can experience what I experience.
What do your parents think of what you are doing?
Simply put, they are supportive and concerned at the same time.
What's the strangest part of your job?
You can spend every day in the studio trying to make a song and come out with nothing. But randomly out of nowhere you end up making an amazing track in an hour.
What's the biggest misconception about being a DJ?
The fact that it really has nothing to do with fame, money, or any sort of physical object—the feeling of being able to control thousands of peoples' emotions at once is what "DJing" is all it's about.
How does what you do for a living affect you on a day-to-day basis?
Our sleep schedules have been completely obliterated. When we decide to work on a song, sometimes we sit there for 16-hours working and get no sleep. It makes it really hard to effectively plan anything out with anyone because music is such a spontaneous thing. There's no way we could tell you, "We'll be done in 30-minutes." It just never pans out that way.
What is your ultimate career dream?
To be able to hangout and meet many of the veteran hardstyle producers out there. We have a pretty big list. We'd also love to be able to pay our bills without worry.
Are you impulsive with your work or do you have a sketch in mind before you start?
A little bit of both.
How, if at all, does listening to music figure into your creative process?
Listening to music helps come up with new ideas. We'll listen to a song and hear something we never thought about trying and it sparks new ideas. I'd have to say the Crypsis album was definitely the last thing that made us go directly to the studio.
What's the most important piece of gear in your studio?
Our monitoring speakers. Having a loud and flat frequency response is essential.
How important is it for you to experiment and take on the risk of failure?
It's extremely important. We feel you never truly waste time in the studio. You always learn something new that can possibly help you in the future.
Do you have a list of people you'd like to collaborate with in the future?
Frontliner is on the top of the list. He is such a down to earth and dedicated person who has crafted some of the most masterful productions we have ever heard. Crypsis is definitely a close second; his style is so aggressive and unique. His new album has been on repeat for months now. They're both huge inspirations for us.
If we pressed Shuffle on your iPod while you went to the bathroom, what would you be embarrassed to come back to us listening to?
Nothing at all. Our iPods have bomb shit on them.
What sound or noise do you love?
Hard distorted bass.
What should everyone just shut the fuck up about?
Drugs in the EDM scene. Drugs are everywhere, not just raves.
What gets you excited when you think about the future of electronic music and club culture?
We get excited that EDM is getting more widely accepted in our society. 10-years ago if we showed people in our hood the music we are making, we would have gotten a lot of headshakes and ignorance thrown at us. Nowadays we can show people our music and they're much more interested. It's kind of a trip.
When you look at electronic music and the surrounding culture, what worries you about the future?
Our biggest fear is that the number of producers that steal samples, kicks and sounds will grow even larger than it is now. The shortcuts these people take destroy the originality in EDM. It really saddens us when a producer cares more about the commercial success of a song than the actual song itself.
What are your weaknesses?
Networking. We put so much time into producing that we tend to neglect promotion and socialization. It's something we're definitely working on. Facebook and YouTube get ready!
Do you have a secret passion?
Energy drinks and video games.
How would you describe your sound to a deaf person?
We would show them pictures of smiley faces and rainbows. Then a picture of the Archangel Tyrael stabbing Satan with a sword of energy. Hardstyle is a diverse genre.
Is success physical or internal?
Being happy is success to us.
What do you remember about your first DJ gig?
Being super excited. We went through thousands of songs to try to make the most masterfully crafted set we could think of, and execute it perfectly. By the time we were on stage all we could think of was how happy we were and how much fun we were all having. The energy from the crowd was just unreal. It's something we'll never forget.
What's the hardest professional lesson you've learned thus far?
It's definitely trying to manage the time between the studio and publicity. It gets tricky sometimes to keep that constant appearance in the world when you're working sixteen-hour studio sessions.
Tell me about your most memorable night out.
Playing for thousands of people and having them go fucking crazy to our music at EDC New York is pretty up there. We spend so much time crafting our music; it really was a life changer to see how hard and intense our music sounds at that volume. We definitely feel ready for some more festivals and arenas.
What advice would you offer someone thinking about entering the Discovery Project competition?
If you're going to enter the competition, make sure to enter a song and mix that you put your heart and soul into. If the song you enter doesn't give you Goosebumps don't even bother entering.
Last words?
Bay Life. Fuck it.
Winning Track:
Soundcloud:
---
Share
---
You might also like