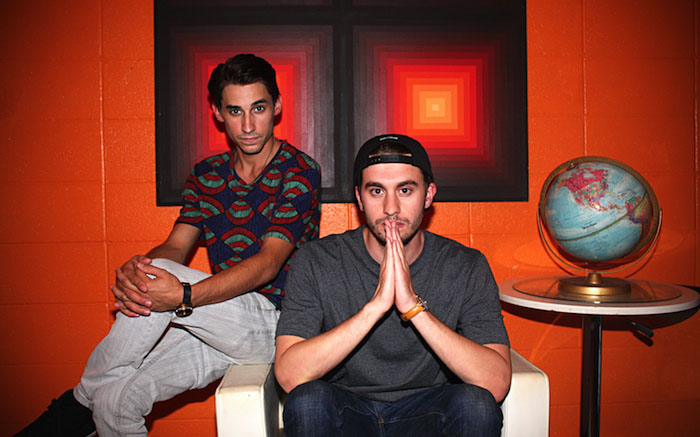 Since I was young music would drift me to sleep at night and pry me awake in the morning. It's one of the most important things to any society, anywhere you go in the world. Being able to create it, in one form or another, is something very special to us. In the beginning, producing music was just about having fun and exploring uncharted territory. Once I realized that other people were not only interested but also excited in what I was doing, I knew it was something I wanted to do for a living. We both grew up playing instruments, but producing trance in his bedroom at age 12, Alex was obviously ahead of the curve. I [Luigi] bought my first pair of turntables at age 16 and I've been pissing off the neighbors ever since. Making music is fun, there is no better feeling then to see other people enjoying what you've created.
Interview
---
Hometown: Sacramento, CA / Rancho Palos Verdes, CA
Currently Living: Long Beach, CA
Origin of Name: To be honest we're not quite sure how we decided on Von Don, it kind of just floated into my head one day. It didn't take any brainstorming it just kind of appeared. It's easy to remember and it sounds bold so we decided to keep it.
Weapon of Choice: Tribalism. We always get down with it because it makes bodies move. It's instinctual and it's a formula that's worked for thousands of years.
Source of power: Funk. We were raised on it and it's deeply rooted and reflected in our music. From the Latin rarities to the classics, we draw almost everything from it.
Do you have any memorable moments from past EDC's or any other Insomniac party?
We've been very fortunate to play EDC Las Vegas the last two years in a row as part of the Discovery Project, so for us every moment has been unforgettable. The energy alone is something that not many other festivals can achieve with the same caliber. A particular night that stands out is the Insomniac Inception party that we played at Exchange LA. The crowd was absolutely mental and it was the first time we each had our own CO2 gun cannons—awesome!
Are you impulsive with your work or do you have a sketch in mind before you start?
Definitely impulsive with our production; in fact we usually just start out with a simple kick/snare and just start experimenting and building until we've got a melody that sounds just right. Most of our actual sounds are all tweaked later on. Gotta build before you guild, ya know?
How, if at all, does listening to music figure into your creative process?
Exploring different kinds of new music is what inspires us to push our own musical boundaries in new directions. We have a pretty wide range of influences, and always try to incorporate sounds and progressions from different genres into our tracks. Plus, going to live shows (aside from our own) is the best way for any producer to not only see what works, but also to feel out the dynamic of a set and learn from what's just right and what can be improved. Recently, an artist that's been really turning things on their head is Pleasurekraft. Every track has such unique character with each sound fitting together so perfectly into the mix, it's like a story. That kinda of sound quality is what we've been striving for with our latest.
Do you have a list of people you'd like to collaborate with in the future?
There are quite a few people that we look up to and would love to have the chance to work with one day. Pleasurekraft, Umek and Basskleph to name a few of our most obvious influences. We have big ideas for our live show as well. We've been working on implementing some live percussions and have also been dreaming up working with the university drumline to really put our tribal style to work.
What's the hardest professional lesson you've learned thus far?
One of the most important lesions learned in the years that we've been doing this is to not expect things. It's so important to be proactive and make things happen for yourself. Stay focused and genuine to your sound, the rest will fall into place.
What gets you excited when you think about the future of electronic music and club culture?
The fact that no one really knows where the hell it's going! It's so fun to be apart of something that has deep roots but has just recently exploded into the limelight. Everything is evolving so rapidly that's it can be hard to swim through the saturation, but that's where the fun lies. There are no rules and that's what really helped dance music become so intriguing.
What advice would you offer someone thinking about entering the Discovery Project competition?
Make your entry reflect you and your style as much as possible. After that, go for the gold, you've got nothing to lose.
Winning Mix:
---
Share
---
You might also like