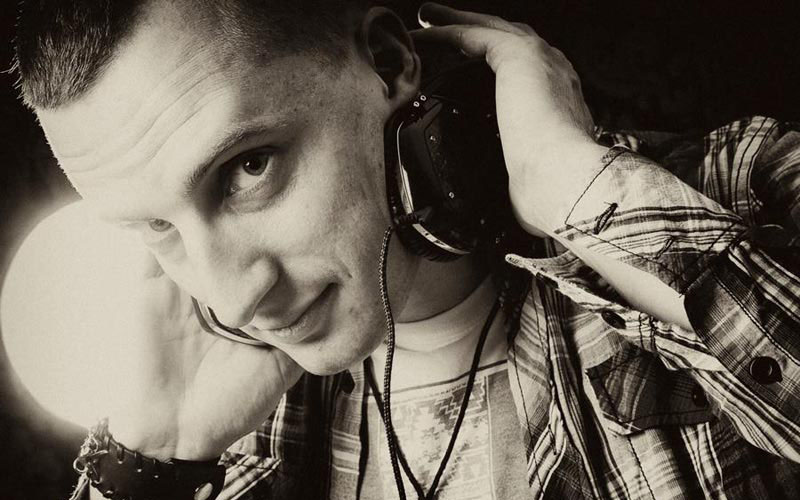 Life without music would be mad. My world wouldn't exist. There would be anger, madness, insanity-music is a must have ingredient for expressing feelings such a joy, happiness and sadness. It triggers many aspects of our lives. I wouldn't be around if music wasn't. But it is and so I do…and so do many others. So share it in every way you can, it's going to make people much more happy!
Interview
---
Home Town: Bogatynia Poland
Currently Living: Romsey United Kingdom
Origin Of Name: There's no special meaning behind Vincent Rayne, it's an alias which has been previously used and was a bit hard to say for lots of people, which is why I came up with something simple…I always liked the name Vincent.
Weapon of Choice: Tunes of mass destruction, which cause madness of crowds
Source of Power: Tiesto. For me everything started from his records. I also love the crazy rhythms, energy and emotions coming from progressive house, electro and trance music.
Was there one particular moment in the recording or mixing process for your Discovery Project entry that made you feel like you were creating something pretty damn special?
Every time I'm doing anything which somehow is connected to music I feel like it is something special!
Are there any dots to connect with where/how you grew up to your musical output?
Everything started in my hometown when one of my friends bought his first decks and invited me to see what he can do with it! And, that was…magic! I remember him mixing Darude tracks ("Sandstorm," "Feel The Beat"). That was a great and unique feeling, I fell in love with that sound and the way he mixed, and I simply decided to do it myself in the future. And that was 14-years ago. Since then I was following my favorite DJs, hunting for some rare tunes, learning about music, listening to what others had to say about the music industry. Now I'm happy where I am and will continue to do what I love most!
What's the biggest misconception about being a DJ?
I think being a DJ not only means having technical abilities, but most importantly is a job you love…and you give people what they want! Good music. Don't do it for fame, girls or free drinks. I think many DJs forget about that today!
Tell me about your most memorable night out.
Most memorable night was definitely my first time seeing Tiesto on his tour in Wroclaw 2005. That was his first time in my country and the atmosphere was phenomenal! People were singing, screaming his name, crying when he dropped some emotional tunes. That was like one big united family. In a simple word…magic!
What's most memorable about EDC for you?
I've been given a chance to open on one of the EDC stages this year and for the first time ever in my life I was performing for such a big crowd! I was bit nervous in the beginning because I didn't know what to expect. So in the first 15 minutes stress was my closest friend, but then when people started coming in and after few deep breaths everything went back on the right track. After that I enjoyed rest of EDC with my closest friends. The whole event was fantastic and memorable!
What is your ultimate career dream?
Sharing good music and energy with passionate people all over the world, showing people who I am and what I do! That's the highlights.
Are you impulsive with your work or do you have a sketch in mind before you start?
When it comes to DJing, I like to have a general idea of what I'm going to present on stage, however I'm always putting some experimental tunes into my case, which I'm ready to drop when the moment is right. In the studio I'm very impulsive and spontaneous. I like to experiment, but it really depends on how I feel in that moment.
How, if at all, does listening to music figure into your creative process?
Listening to music is my everyday ritual. Sometimes when I hear a nice bassline or synthline, I try to reproduce that sound with my tools, see if I can make it sound fat, clear and nice—result: it always sounds different. Sometimes it just drives me crazy. The tune that killed me last time: Albin Myers "The Beast."
What's the most important piece of gear in your studio?
Definitely anything from my PC, synth, monitors to CD players and mixer—all is equally important on my list. Without these I wouldn't have been be able to do anything.
What sound or noise do you love?
Deep, dirty, bouncing, crazy basslines and leads that cause faster blood flow.
What should everyone just shut the fuck up about?
Just stop saying how EDM destroys everything. It was much better in the past. Things are always changing and this is the natural order. Deal with it! If you can't, then wait for better times or come back from the past!
What gets you excited when you think about the future of electronic music and club culture?
New, undiscovered artists that are going to surprise all of us!
What are your weaknesses?
Waking up early morning.
Do you have a secret passion?
Yes, cooking. I love to spend time in my kitchen and experiment with food!
How would you describe your sound to a deaf person?
I would turn the volume to maximum, start dancing and let him feel the energy coming from all around the place.
What do you remember about your first DJ gig?
2009 national DJ competition in the biggest club in town, then me behind the decks for the first time ever live, making people dance and trying to look professional. It was only 30-minute set, but I will never forget it.
What's the hardest professional lesson you've learned thus far?
Always be you. That alone will let you stand out from the rest.
Do you have a favorite all-time mixed CD or series?
Yes, the In Search of Sunrise series is one of the best things that has happened to my ears.
What advice would you offer someone thinking about entering the Discovery Project competition?
My advice would be to never give up, be patient, relaxed and believe that you can do it and one day you will, if you really love it!
Last words?
Just want to say thanks to Insomniac for giving me a chance to discover new territories, and to all the people who supported me on last years! And hope to see you again soon guys.
Winning Track:
Winning Mix:
---
Share
---
You might also like