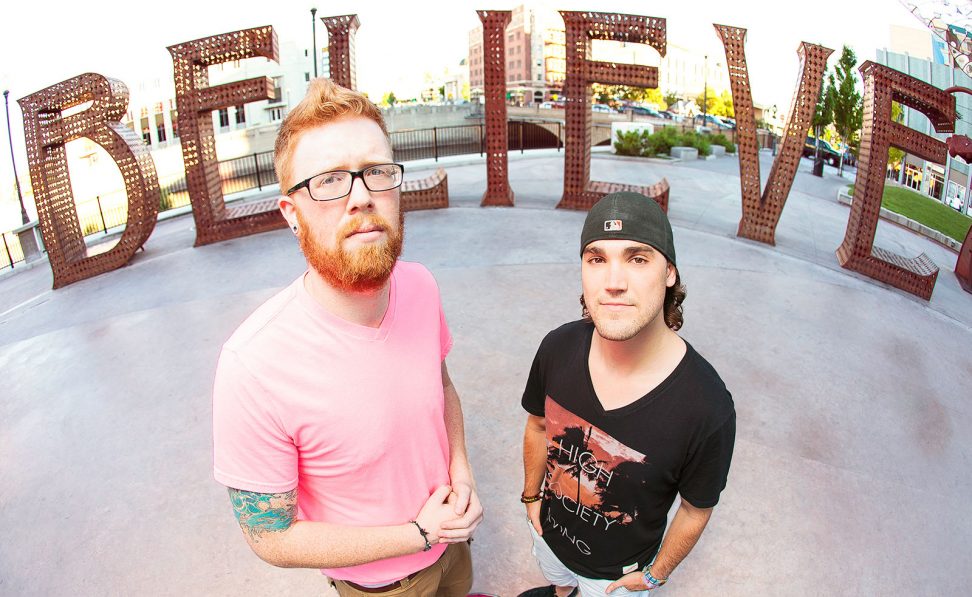 We have both been huge fans of dance music for years. Both of us started in trance at the same time back in the early 2000's. Music has always been a way of life for both of us and something we can turn to whether we are in the best mood ever or having one of those rainy days. It's always been something very special, and we love to share our musical likings with our friends as well as the world. Coming together for the passion of dance music and making something special out of that union has been a blessing. Our two different tastes in music have been the driving force in creating unique sounds and DJ sets..
Home Town: Lodi, CA and Carson City, NV
Currently Living: Reno, NV
Origin Of Name: When we first started collaborating we recognized our different writing and musical styles. It was "a little of this, and a little of that." "This and that," "Visa Versa," add a little Miami Vice in there, and we became "Vice Versa."
Weapon of Choice: Versatility. Being able to cover multiple genres in our sets and productions effortlessly is one of our strongest traits.
Source of Power: Armin van Buuren, BT, Paul Oakenfold, Hardwell, Steve Angello, Axwell, Sebastian Ingrosso, Above and Beyond, Sander van Doorn, and labels such as Armada, Anjunabeats, Spinnin' Records, Dirty Bird and Size Records.
What advice would you offer someone thinking about entering the Discovery Project competition?
Let your passion and soul drive your creativity and good things will follow!
Was there one particular moment in the recording or mixing process for your Discovery Project entry that made you feel like you were creating something pretty damn special?
We were laying down new ideas in the studio one day and came up with this unique sound, but still brought back some of the old 90's gritty synth. Once we pieced it all together, we knew we had created something very special.
What do your parents think of what you are doing?
Both our families have supported us from the first day we chose to make this a career path. Granted, they definitely questioned our antics, but after seeing how much passion we both have for the music, they knew we found our muse and backed us 100 percent.
What's the strangest part of your job? What makes you shake your head in wonderment about being a DJ and producer?
The strangest thing to me is how many people actually try tearing you down. You would think in such a peace-driven movement people would want to help each other, but that's not the case. You have those awesome people out there that support you all the way, but for every supporter it seems like there are two haters. We just turn our heads the other way and keep doing what we do.
What's the biggest misconception about being a DJ?
People think it's easy and that beat matching is the "holy grail" to being a good DJ. There are so many other technicalities that go into playing an amazing set such as music selection, timing, reading your crowd and even just staying relaxed and remembering to have a good time. DJing is an art and you have a chance to paint a beautiful picture with your music, but just like any other skill it takes time, patience and practice to deepen your talents as a skilled DJ and producer.
Tell me about your most memorable night out as an artist or as a fan.
We were at Bass Camp Festival in Lake Tahoe in 2013 and it was the perfect storm of artists, fans, weather, mountains and the lake in the background. The whole day felt like a dream.
Ross: For me it was during Seven Lions' set that I got chills down my spine and I knew there was no other path for me. That was when I had my epiphany. This is now my life.
Do you have any memorable moments from past EDC's or any other Insomniac party?
Having the chance to network with so many different industry leaders was an absolutely amazing experience! Not to mention meeting some of our favorite DJs.
How does what you do for a living affect you on a day-to-day basis?
It's that leap of faith into the unknown that keeps our friends and family either riddled with anxiety or in acute excitement. It's feast or famine in this business, so knowing that our family and friends support us during this process is the most encouraging thing.
What is your ultimate career dream?
Our ultimate career dream would be to have our music loved by fans around the world. To create an original track that is so good, that people relate to it, sing it, have it be their anthem from small villages in the remote parts of Africa to major metropolitan cities in Europe. We'd love to make music history with a track that moves, touches and inspires the human spirit.
Are you impulsive with your work or do you have a sketch in mind before you start?
We are actually very impulsive with our productions. We hop in the studio and develop a sound and keep building on it until we have a finished product that we love.
How, if at all, does listening to music figure into your creative process? What's the last song you heard that made you drop what you were doing and go into the studio?
Ilan Bluestone and Jerome Isma-Ae have been putting out some killer productions that have definitely had a influence on a couple of tracks that we have in the works.
How important is it for you to experiment and take on the risk of failure?
Extremely important. That's why we experiment with multiple genres and even combine them together sometimes.
If we pressed Shuffle on your iPod while you went to the bathroom, what would you be embarrassed to come back to us listening to?
Hell no! We would both probably make you sit down and listen to everything on either one of our iPods!
What sound or noise do you love?
Untz, untz, untz.
What should everyone just shut the fuck up about?
Genre wars. If you are a true fan of the music, you will find appreciation for all different genres.
What gets you excited when you think about the future of electronic music and club culture?
The entire movement is exciting to us. To see where we were just eight short years ago listening to Kaskade spin small clubs in Lake Tahoe to selling out arenas in major cities is truly exciting. The global love and appreciation for the time and detail producers spend perfecting a sound, harmony, vocal, bassline etc. and having millions of fans adore it puts a huge smile on our faces. This is not a fad, it's the birth of a new genre of music that is now put in the same category as rock, blues, country and now electronic. How cool is that?
When you look at electronic music and the surrounding culture, what worries you about the future, what do you wish would change or that you could change?
What worries us the most is some of the public perception of the EDM culture. We hate to be labeled by folks who choose to only look at the negative things that come out in the press. We hate to see young people experiment with their bodies and minds, and hope that the future will be a culture filled with only love of music and healthy well-being.
What are your weaknesses?
Patience. We would love to get our tracks out now, and have people fall in love with them, but all that takes time.
Do you have a secret passion?
We really like Dr. Pepper.
How would you describe your sound to a deaf person?
We would put the best kaleidoscope in front of a multi-colored LED panel and hire several professional massage therapists to work on their body parts whilst looking through the looking glass.
Is success physical or internal?
It's a little bit of both. You have to have the drive to make things happen and it doesn't come over night. That can wear you down physically, especially sitting in front of your computer for hours and having a tough time getting over writer's block. It can be aggravating to say the least.
What do you remember about your first DJ gig?
Ross: I remember thinking that if I were on the dancefloor right now, what would really get me moving? It worked. My tastes at that first gig seemed to groove with the kids on the dance floor, and boom, I was hooked. You could say it was love at first "drop."
Logan: I remember playing to a room of 10 people at Würk in Reno. I was so nervous for the first 10 minutes but after I saw my friends I felt like I was at "home." I will never forget that night, shout out RV and the old Würk crew.
What's the hardest professional lesson you've learned thus far?
Patience is a virtue. There have been some tracks that we have tried forcing and they just didn't turn out right and it was very frustrating. We have found if we get stuck on a song and can't come up with a solution, we will put that project to the side and come back to it after it clicks.
Do you have a favorite all-time mixed CD or series?
We both love the Anjunabeats mix tapes that come out annually. We find some good motivation in those tunes.
---
Share
---
You might also like