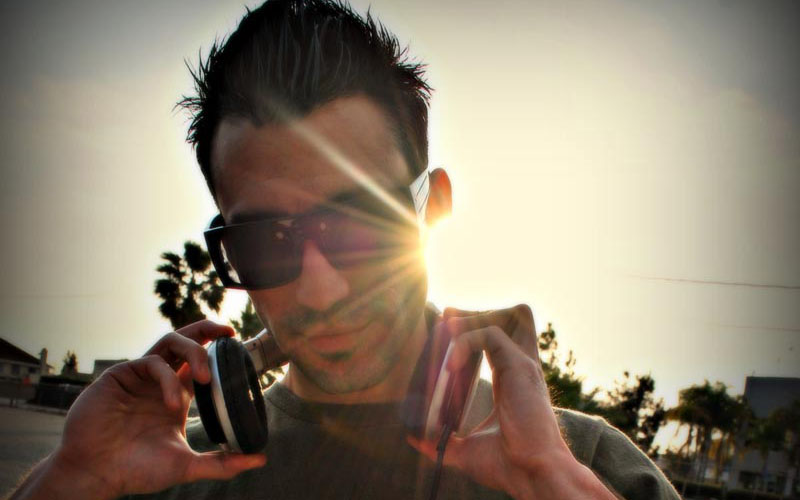 Hailing from Mexico City, Javier Jauregui (VIBESHOCK) has quickly rose to become one of Los Angeles' most sought after dj's and remixers. After pumping out several releases on smaller labels, he was picked up by Paul Oakenfold's Perfecto label for his massive hit 'Invasion', which Oakenfold supported by opening every set worldwide in 2009 using the track as his signature intro. Around that same time in 2009 he met Embarcadero Records founder Donald Wilborn, who, having passed on the 'Invasion' demo, released Vibeshock's debut 'Who's The Channeler' E.P., followed by the singles 'Eternal Bliss' and 'Illuminate'. Also in the works was remix work for Perfecto Black, Supercool, Boink Music, Filthbox, and several others, in addition to touring under the Perfecto banner. 2010 and 2011 found VibeShock expanding his catalogue with the Embarcadero Records group, with Donald Wilborn releasing the seminal 'Tri-Polar' as well as marketing Vibeshock's sound through the Embarcadero Collection series of compilations. This year also saw a one-sided release on Dub Tech Recordings entitled 'Autumn Vibe'. Up next was another smash single, 'Double Take', a collaboration with Arizona's top talent Sean Essex, as well as his biggest to date single, 'Serenity', a joint effort with fellow Perfecto maven Barrington Lawrence, both marketed and promoted under the Embarcadero brand. He joined good friend Narcotix for the club anthem 'Catalyst', turning in one of his best remixes to date. When he is not touring the Southwest and California region, Javier finds himself locked in the studio, whether its remixing, original tracks, mixing sets, or collaborating with like-minded artists. In his own words: "Growing up with a mother who sang and a professional drummer as a father, I was constantly surrounded by music. It was very influential. It helped me develop my musical skills at an early age, as well as the understanding of music theory and all the elements involved." – VIBESHOCK
//
I've always said follow your dreams. Music has been the driving force behind my whole existence; it dictates the way I live, think and feel. There is not a day that goes by where I'm not thinking creatively and expressing my artistic ideas. Everyday I wake up, I have the opportunity to create a new dream and tell its story through my music. For me, music is the language I speak everyday, whether it's in the studio creating melodies and riffs, or whether it's at the gym listening to other artists' ideas and stories. Writing music is like writing a book; it lets you express different ideas and convey certain messages. So in a sense, I'm writing a book, or books with a beat. This is why trance and progressive music has played a very important role in my life; it has shown me the emotional and euphoric states you are able to achieve when listening to these genres. To me, trance and progressive are the ultimate avenues of expression-it's always a journey.
Interview
---
Home Town: Stockton CA
Currently Living: Huntington Beach, CA
Origin Of Name: It was given to me by forces unseen, lol. My friends have always known me for my positive vibes and eccentric personality; I like to shock people with my good vibes
Weapon of Choice: In & out cue button and a fauxhawk.
Source of Power: Armin Van Buuren, Above & Beyond, Ferry Corsten, Deadmau5, Marcus Schulz, Tiesto, Paul Oakenfold, Sander Van Doorn, Paul Van Dyk, ATB, Andy Moor, Junkie XL, John Digweed, Sasha, Dave Seaman, Super 8 & Tab, The Chemical Brothers, Prodigy, Deftones and the list goes on…
Was there one particular moment in the recording or mixing process for your Discovery Project entry that made you feel like you were creating something pretty damn special?
It was special because I was able to create something new, a musical journey that people would be able to experience with me
Are there any dots to connect with where/how you grew up to your musical output? From people freestyling on the street corner to a grand piano forced down your throat by your Mom.
The only things that were forced down my throat by my mom were vegetables when I was a kid. I grew up in an artistic environment so nothing was forced unto me, it came like second nature.
What do your parents think of what you are doing?
They fully support me and all they want is to see me succeed.
What's the strangest part of your job?
Hmm…I haven't found anything strange about my job, so maybe that's the strange thing.
What's the biggest misconception about being a DJ?
It's not all sex, drugs and techno. It's a lot of hard work, especially in the studio. It's also about being patient and having a lot of perseverance
Tell me about your most memorable night out.
Playing at Nocturnal Wonderland 2012. Listen to my mix, the music doesn't lie.
Do you have any memorable moments from past EDC's or any other Insomniac party?
They have all brought memorable moments. Insomniac always keeps it interesting and innovating.
How does what you do for a living affect you on a day-to-day basis?
I spend most of the time in the studio working on tracks, crafting my art and perfecting my sound—I hardly get to go out and party. I keep a very strict schedule: music, gym, food and sleep.
What is your ultimate career dream?
Becoming #1 DJ in the world! (In the works.)
Are you impulsive with your work or do you have a sketch in mind before you start?
A little bit of both, depending on how strong my coffee is in the morning.
How, if at all, does listening to music figure into your creative process?
It helps me gather new ideas and helps me explore new techniques. I would say Cosmic Gate & Arnej "Sometimes They Come Back For More" made me jump in the studio. Epic track!
What's the most important piece of gear in your studio?
Everything counts, but I would say the Virus Ti. It has a very warmth, analog sound.
How important is it for you to experiment and take on the risk of failure?
It's very important because it pushes me to work harder each day so that failure becomes no longer an option.
Do you have a list of people you'd like to collaborate with in the future?
Yes! Armin, Ferry Corsten, Marcus Schulz, Andy Moor, Cosmic Gate, Above and Beyond, PVD & Tiesto. All the giants of EDM. It would be such a huge honor and privilege to work with legendary people, and share and exchange musical ideas & techniques!
If we pressed Shuffle on your iPod while you went to the bathroom, what would you be embarrassed to come back to us listening to?
Me singing, ha-ha! JK. Probably my early production.
What sound or noise do you love?
So many…electro, trance, progressive.
What should everyone just shut the fuck up about?
Everyone seems to want to join the "EDM band wagon" because it's becoming so popular and mainstream. Hey, nothing wrong with welcoming newcomers to the scene, but perhaps evaluate your motives and ask yourself this question: Why is it that you want be a part of this movement? Will your involvement make a difference? Trends die, but style never goes away.
What gets you excited when you think about the future of electronic music and club culture?
This is the future. We are living the future. The electronic music and club culture will continue to evolve, but the message shall be the same; Peace, Love, Unity & Respect. For the music and for the fans.
When you look at electronic music and the surrounding culture, what worries you about the future?
I hope it doesn't become so mainstream, commercialized and monopolized to the point where people forget its origins and roots. It came from the underground culture lets not forget; it doesn't have to sell out.
What are your weaknesses?
Perfectionist when it comes to my music. I also lack in social media and marketing skills.
Do you have a secret passion?
Giving people Goosebumps with my music!!
How would you describe your sound to a deaf person?
Warm, pounding and vibrant!
Is success physical or internal?
Both, you must be successful physically (being healthy, eating healthy) in order to become successful internally. If we break it down, everything starts at the subatomic level.
What do you remember about your first DJ gig?
Playing EDM music at a hookah bar from my hometown where hip-hop and rap were the predominant genres. The good old days.
What's the hardest professional lesson you've learned thus far?
Nothing happens overnight. I'm very impatient at times. I'm still learning day after day. As long as there's a burning desire in my heart, I will continue to put in the work until my time comes.
Do you have a favorite all-time mixed CD or series?
Yes!! Tranceport in 1998 mixed by Paul Oakenfold.
What advice would you offer someone thinking about entering the Discovery Project competition?
I would advise anyone to enter the competition with humility and respect. Make sure you have all the right reasons as to why you want to enter a competition; is it for the "fame" and the spotlight? Or is it for the music and the fans?
Last words?
First and foremost I would like to thank Insomniac for the opportunity, and for being able to share some of my thoughts and opinions about the scene. I look forward to playing more Insomniac events and many more to come. How does one become a butterfly? You must want to fly so much that you are willing to give up being a caterpillar.
Live at Nocturnal Wonderland:
---
Share
---
You might also like