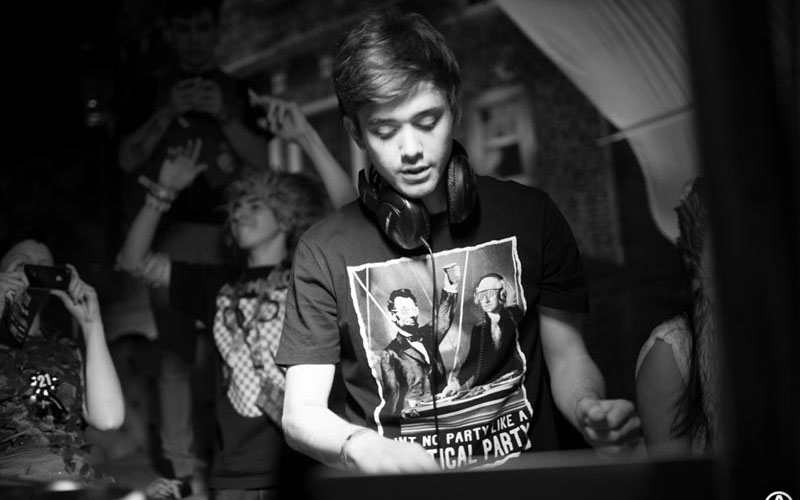 Tyler Rouse, T-wrecks, is a 22-year-old producer based in Los Angeles. He has been producing for over 5 years, and DJing for 3. With a strong head-start into Minimal and Techno genres, he cultivates a unique vibe. He provides an uncommon sound of deep bass and endless grooves. T-wrecks has held multiple residencies during his 3 years in the City of Angels. In 2012, he won a spot in the Discovery Project at Insomniac's Escape from Wonderland, and has since won several DJ competitions in LA and Orange County. T-Wrecks hosts his own monthly podcast "Basslines and Good Times", which includes a mix from himself and a guest DJ from around the globe. He released his first EP on the German Techno label, Kitu Records, in June of 2013. T-Wrecks recently played at the 2013 Electric Daisy Carnival, where he returned to the stage as a Discovery Project Alumnus.
//
My passion for music goes back as far back as I can remember. I grew up playing in bands (synth/vocals) all through high school. By the time my last band started to split up, I had already been producing intros and interludes for our shows. I started listening to a lot of different genres in electronic music, and it made me realize the freedom of being able to create every single aspect of the track. In a band, you bounce ideas off each other to create a unified sound. With producing, the track is a direct reflection of you, giving you the ability to turn any idea you think of into a form of audio that you can share with the rest of the world.
Interview
---
Home Town: Bend, OR
Currently Living: Los Angeles, CA
Origin Of Name: My buddy Stefan used to call me tyrannosaurus rouse a lot growing up (my last name is Rouse). I have always loved dinosaurs, as well
Weapon of Choice: RPG-8 monophonic arpeggiator
Source of Power: Dubfire, Nicole Moudaber, Loco Dice, Green Velvet, John Digweed.
Was there one particular moment in the recording or mixing process for your Discovery Project entry that made you feel like you were creating something pretty damn special?
The moment I read the contest description, I was already smiling. I had looked at previous Discovery contests, and didn't think I stood a chance to win since I make darker music like techno and minimal. The Escape from Wonderland contest basically asked for a "theme song" to a Halloween event. So the whole time I was creating the track I was very excited to hear what people would say about it.
Do you have any memorable moments from past EDC's or any other Insomniac party?
My first EDC was 2010 in Los Angeles. I remember walking up the stairs into the coliseum and being completely blown away. All I could think about after the event was trying to figure out what I needed to do to get involved. I continued to produce as much as I could. When I saw the Discovery Project come around, I knew it was my chance.
What is your ultimate career dream?
I would love to show as many people as possible my music and the vibe it creates. Playing somewhere like Space Ibiza with artists like Carl Cox and Dubfire would be a dream come true for me.
How, if at all, does listening to music figure into your creative process?
It helps me a lot when I hear something I have never heard before. When I really start enjoying a track I try to pick out the things that are making me love it, and try to figure out how I can incorporate that with my music in my own way. The most recent song that made me want to produce right away was the new Umek and Groovebox track "Cause and Effect."
How important is it for you to experiment and take on the risk of failure?
I make techno because I feel like it leaves you with the most freedom to do what you want. I think a lot more sounds are acceptable in techno and minimal, which will always cause me to experiment. New sounds are created when something happens on accident, and it's important to try new things every time you produce.
Do you have a list of people you'd like to collaborate with in the future?
If I could work with anyone in the industry I would have to say Nicole Moudaber. Her positive attitude is a big inspiration to me, and the tracks she is putting out have the exact sound I hope techno continues to grow towards.
What sound or noise do you love?
I love deep serious bass you can feel instead of hear. A lot of the music coming out lately, especially in America, is trying to make the "heaviest" or "dirtiest" bassline possible in their music. It continues to grow in volume and distortion, but lacks the low vibrations that got us groovin' in the first place.
Do you have a favorite all-time mixed CD or series?
I love the Transitions series with John Digweed…it's a little deeper than most stuff I would play or produce, but it's perfect music for almost any time. You can dance to it, relax to it, clean your house to it…whatever your into, Digweed won't disappoint.
What advice would you offer someone thinking about entering the Discovery Project competition?
Be creative. Don't go for something you think "people want to hear." Go for something no one has heard yet.
Winning Track:
Winning Mix:
---
Share
---
You might also like