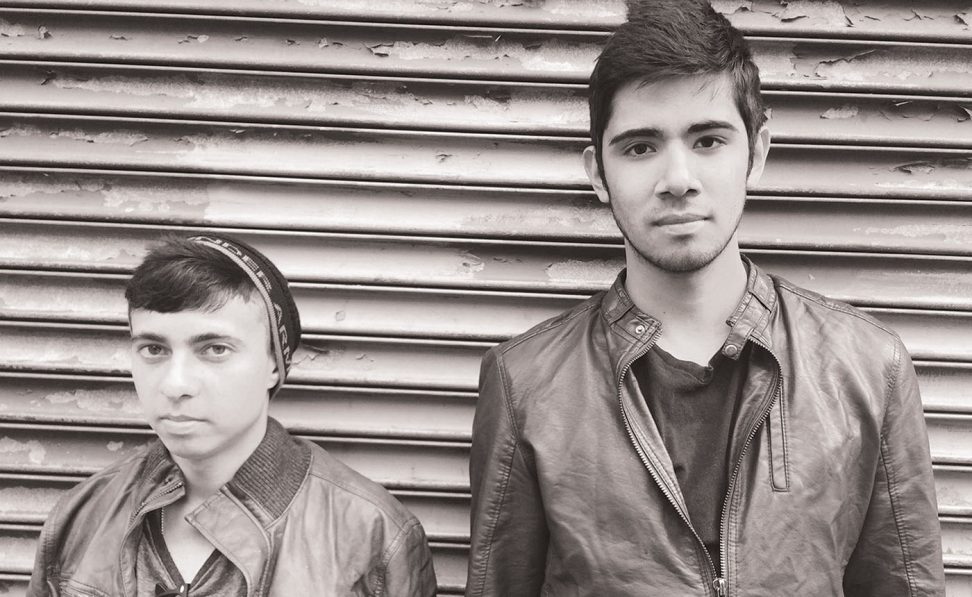 Hometown: Chicago, IL
Currently living: Chicago, IL
Origin of name: I was studying for an atmospheric science class final, reading about the winter solstice, and at that moment it just clicked. The name went through a few different spellings, but we ended up with Solstis.
Weapon of choice: Some good ol' rock 'n' roll.
Source of power: Odesza, Porter Robinson, Flume, Muse, Nirvana, early Daft Punk, and a lot of midnight snacks.
Blurb yourself:
Make the music you like. We always make things we truly love regardless of whether it's a trendy genre at the moment, so don't be afraid to do you, as you never know what will happen. People doing whatever they want and breaking some of the rules create trends, so as long as you believe in what you make and constantly try to better yourself, you are already successful.
Never let money stop you. You don't need expensive equipment or professional graphic designers to create yourself as an artist. A lot of people let money keep them from doing what they love, so find a way to make it work. If music is your dream, then go for it. We have to make the most out of this short life we have, so give it a shot and give it your all, as there really is nothing to lose. Too many people give up on their dreams because those dreams are labeled as impossible or crazy by society, and because of that, they never find out what their true potential is. We hate wasted talent, so don't become it. Create a vision for yourself, and believe in that vision—even if no one else does.
Are there any dots that connect where/how you grew up with your musical output?
We have both known each other since as far back as we can remember, so we both grew up listening to similar music. In grade school, we both began playing the guitar, messing around in Brandon's basement. High school came, and we got really into bands like MUSE, Silversun Pickups, and a lot of '90s stuff, like Nirvana and Smashing Pumpkins. Eventually, we decided to stop just messing around and formed a band. We were a three-piece garage rock band with me (Andres) on bass and vocals (believe it or not), Brandon on guitar, and my brother Erick on drums. To this day, I'm still not sure of what our band name was, since we constantly changed it.
We played a few gigs, and I'm sure we sounded okay at best, but something that stuck with us is the amazing feeling of playing live music. Sure, DJing is super fun, but there's just something about playing a guitar and soloing over a live drummer that doesn't compare to mixing. Because of this, we eventually plan on transitioning into a live show with guitar and other instruments involved. Our band background really helped define us, as not only did we learn music theory through playing instruments, but also our alternative and indie influences merged with our electronic influences to create the sound we have now.
What do your parents think of what you are doing?
They actually support what we are doing, which I am very grateful for. I know some parents might think it's crazy for their son or daughter to venture into the music industry, but my parents always told me to do what I love, as long as I have a vision for what it is I want to do with it. They have always supported my dreams and taught me that the most important thing in life is being happy. I owe a lot to my parents, and I consider myself very lucky to have parents as open-minded and driven as they are.
What is your ultimate career dream?
We want to create more than just music; we want to create an experience or another universe where people can just go to when they get fed up with the negativity in this world. This entails eventually creating a live show unlike anything anyone has ever seen and becoming successful enough to help out other artists or people trying to live out their dreams. Solstis is a family that extends way beyond me and Brandon, and we all just want to do what we love for the rest of our lives.
Are you impulsive with your work (in the studio and/or DJing), or do you have a sketch in mind before you start?
It all depends on the situation. When it comes to shows, we sometimes really prepare for sets and even practice specific transitions, while other times we just improvise. We have found that we sometimes even do a better job when improvising, as we work well under pressure and come up with some pretty cool transitions on the spot. When it comes to production, inspiration comes at extremely random times. Listening to other artists really helps. Brandon has gotten inspiration from even non-electronic genres, like rock and classical pieces. I guess we are impulsive when it comes to production, as forced creativity doesn't work very well with us.
How important is it for you to experiment and take on the risk of failure?
Musicians take on the risk of failure every time they release a track. It is something we learn to live with, but we should not let it affect our overall goals. In the world of electronic music, remixes of popular songs are usually what gets the most plays, shares, etc. We make mostly originals, so we always face the risk of the song being a failure, or a flop, as we call it. A few of our songs actually have been flops according to the numbers, but we don't see them as such. Original music gets people to remember you more so than if you remix a song that everyone else is remixing. The way we see it, as long as our original got us a few truly dedicated new fans, then it was not a failure, and those fans mean more than the thousands of plays a remix is getting from people that see it as another recyclable track.
What should everyone just shut the fuck up about?
Too much negativity in the world of electronic music. I think people should stop acting like it's a competition and start helping each other out more. It's a win-win that way, but people don't seem to get that and prefer to hate on each other.
What gets you excited when you think about the future of electronic music and club culture?
I like what is happening lately. It seems a lot of the people just in it for the money are being weeded out, and people are slowly waking up and being able to spot the truly talented artists from the fakes. With EDM being so mainstream, it seems everyone wants their cut, which leads to a lot of trash. But I have a good feeling that soon people are going to get sick of the trash, and they will start paying more attention to the good stuff. I also get very excited when I see that more and more artists are switching to a live show instead of DJ sets.
What do you remember about your first DJ gig?
It was an apartment party at U of I—Champaign. So many people complained about how bad I was, that I eventually was replaced by an iPod that played Chief Keef on repeat. Good times.
SOLSTIS – Discovery Project 2015 Mix by Solstis on Mixcloud
---
Share
---
You might also like