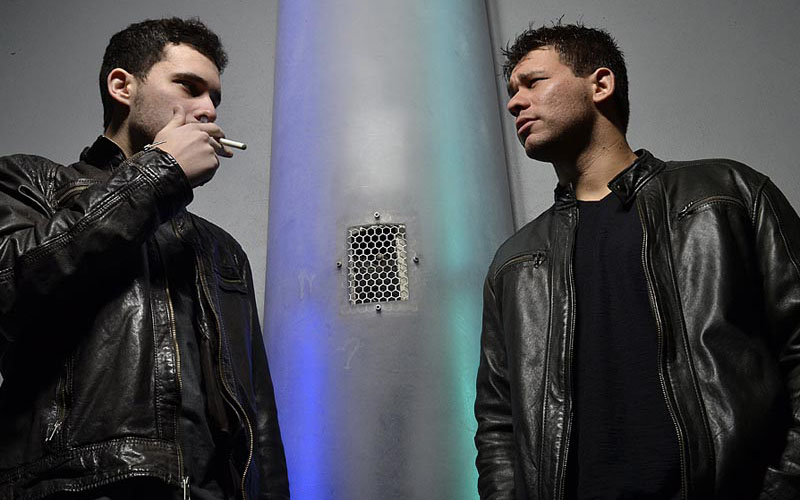 Paris Burns is an up and coming production/DJ duo out of Denver, CO. Once the two stumbled upon the EDM world, they found an artistic focus and creative freedom that was missing in other conventional musical genres. Paris Burns brothers, Dan & Alex (ages 23 & 20 respectively), have been producing a variety of electronic music for the past few years. However in 2011, finding the EDM world lacking in darker melodic electro, the duo aimed to fill this void by producing electro bangers with an underground rave feel. With influences such as Uppermost, Wolfgang Gartner, Deadmau5 and Daft Punk, Dan & Alex cultivated their own sound and electro flavor. This unique style has been met with an enthusiastic response by fans, shooting their tracks "Bit Bot" and "Lose Control (Paris Burns Remix)" to #35 and #65 respectively on the Beatport Electro House chart. Further, their unique dirty electro sound and melodic charisma have landed their tracks in the sets of DJs such as Mau5trap's The Frederik and The James Egbert. With additional releases coming soon on Beatport Top 10 label Fuzion Muzik, Paris Burns is poised to make a name for themselves in the electro house scene.
//
Alex: I've been the musical type since I was 11, but it wasn't until I was a teenager-going to parties and festivals non-stop-that I got into EDM. I can vividly remember seeing acts like Above and Beyond and Gui Boratto and being wrapped up in the experience of it all. When I turned 18, I quieted down and got serious about production. I found that music production affords me an intense sense of focus that has allowed me to learn many technical aspects of the craft. Dan: Growing up, I dedicated myself to learning first the guitar and then the drums. Learning both instruments intimately really solidified my passion with music. Music is now my addiction. If I'm not making music nearly everyday, I'll start to go a little crazy. I have always felt an innate drive to create things that reflect my personality and creativity. Music proved to be the perfect medium as it has always played an important role in my life. After being in many bands, my brother suggested that I should start producing EDM. I experimented for a few months and then asked my brother if he wanted to create a project together, and thus Paris Burns was born. Ever since, I have been refining my skills in an effort to master the art of production.
Interview
---
Home Town: Queens, NY
Currently Living: A mile high in Denver, CO
Origin Of Name: Originally it was inspired by a track from the UK, "Paris Is Burning" by Ladytron. We shaped the name into something that mirrors the emotions elicited when acting chaotic and irrational toward something orderly and structured. It's like destroying something beautiful just because you feel like it. We've always had a connection with the idea¾the name felt natural.
Weapon of Choice: Rugged good looks
Source of Power: Premium leather jackets, no pleather
What's the biggest misconception about being a DJ?
The profession demands that artists be multi-faceted and knowledgeable in many different aspects of our culture. Getting people to listen takes much more than just making good music itself: design, marketing, people skills and showmanship all play a part.
Tell me about your most memorable night out.
Alex: One of my most memorable nights turned out to be when I only 16/17. I was still a bit young for clubs in the states, so I use to take my brother's ID to go see acts over at a local club in Denver. The first time was as ideal as it gets: free entrance to a show that ended with an unannounced performance by deadmau5. I can't put my finger on it, but there was something remarkably memorable about going way out of my way to experience it all. It was enlightening.
What is your ultimate career dream?
Dan: Ideally, I would love to produce all sorts of music for any occasion. It would be a dream to work on a hip-hop album one week and a film score for a major motion picture the next. I want to be a true master of the discipline.
Alex: Couldn't have said it any better.
Are you impulsive with your work or do you have a sketch in mind before you start?
Dan: It really depends. My studio creativity can be either planned or impulsive. Some days, I'll have a melody in my head and then later transcribe it at the studio and write a song around it. Other days, I'll be in the studio for hours experimenting with sounds and impulsively writing five concepts into one project file.
What's the most important piece of gear in your studio?
Dan: Earplugs. Blasting music in a confined space for 10+ hours a day probably isn't the best for one's hearing, so earplugs are a must. I still want to be pumping out bangers when I'm 30…not deaf.
When you look at electronic music and the surrounding culture, what worries you about the future?
Dan: The future is exciting but terrifying at the same time. We live in an age where we can share anything anywhere at anytime. It's a blessing and a curse to our culture and attention spans. We have an amazing array of upcoming artists who push boundaries with new sounds, yet much of it is lost in a sea of noise, distractions and pop up ads. As there is no quality control on the Internet, we are consistently flooded with mediocrity, and thus our culture is settling for mediocrity in the arts, especially EDM and filmmaking. If we want to mitigate this dark side of the Internet, our culture must set higher standards that will allow the future George Lucas's, Steven Spielberg's and deadmau5's of the world to shine through.
Alex: The lack of diversity in music is kind of frightening. The people who make the interesting stuff either keep it to themselves or don't know how to reach an audience. Even if these said musicians were able to reach out, our current culture has marked the end of the age of wanting to find the "next big thing." With all of the freedom and decentralization in music, the spotlight is as good as burnt out.Different and diverse do not have a place on a stage where all of the mainstream performers are fighting tooth and nail for the last photons of a dying spotlight. It's sinking a ship, and everyone on the damn thing is too busy salvaging what's left of it. It's both incredibly beautiful and infinitely nauseating at the same time. I cannot tell where the future of music is heading, but I hope those in the industry will stop fighting over fans as if they were a limited commodity and realize that fans have the capacity to enjoy many artists simultaneously. If we accept the later model, there is always more room for good music.
What are your weaknesses?
Dan: I tend to be a perfectionist. I pay attention to all of the nuances and subtleties in my tracks that other people usually wouldn't notice. I then spend a substantial amount of time fixing and tweaking until my obsessive/compulsive mind is happy…music OCD.
Alex: I tend to get fixated on multiple things at once. If it catches my attention, I'll be devoted to it for as long as my attention allows. Given that I'm one of those kids with short attention spans, I've got more hobbies and interests than I can keep up with.
Do you have a secret passion?
Dan: For me, it's Jiu-Jitsu. Jits helps me balance out the hours of sedentary mouse clicking that music production demands. I find that my creativity flows more fluidly when I am active and healthy (besides, I need something to offset the plethora of local Colorado beer). Ultimately, structuring my life around balance keeps me focused.
Alex: As real as I can be, gardening. Catch me at a show, and let's talk about soil.
Is success physical or internal?
Dan: I feel that success is more internal for me. In my experience, internal success means overcoming internal struggles and challenges, which often have common themes. It's finding the balance between creativity, novelty, likeability and playability. Once I find that happy medium, I give myself a mental high five. It's that feeling of climbing over a mountain you've been stuck on for a while. Often, once you overcome said internal struggles, physical success typically follows.
Alex: For me, success ebbs and flows between the internal and external. My greatest success is found when there is balance between the two.
What advice would you offer someone thinking about entering the Discovery Project competition?
We've never liked preaching the cliché of hard work and determination all too much, but in reality that's what it takes. You have to dedicate a substantial amount of time and effort to your productions in order to cultivate your own sound that will allow you to stand out from the plethora of DJs/producers. When you feel you've reached your 110% mark in your productions, it's time to whore out your music to the masses and enter the Discovery Project competition.
Winning Track
---
Share
---
You might also like