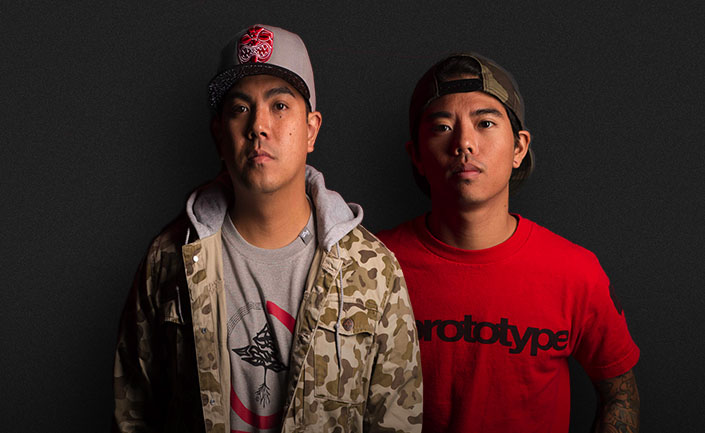 Because Hawaii is such a melting pot of different ethnicities, music, food and cultures, we are constantly inspired by so many different things and it shines through in our music. We aim to continue brining high energy music that speaks about not just our music or what's going on in the mainstream, but also about all the influences we have in Hawaii by being the stopping point in the middle of the Pacific Ocean.
Home Town: Honolulu, Hawaii
Currently Living: Honolulu, Hawaii
Origin of Name: It's slang for something in Hawaiian.
Weapon of Choice: Coconut water and black licorice
Source of Power: The vibe and energy here in Hawaii, we call it "mana."
What advice would you offer someone thinking about entering the Discovery Project competition?
Make sure the quality of your submission is on point. Everyone is trying to get noticed but make sure when they do listen to your track or mix that it's not the quality of it that ends up being the reason you didn't get picked.
What was the first thing you did when you found out that you won the Discovery Project?
We looked up the Insomniac rep who contacted us on Facebook to ensure she was real and it wasn't one of our friends playing a joke on us.
Your history as a DJ/producer up until this point?
Before teaming up the three of us have all had fairly "successful" local DJ careers and since we've kind of been the big fish in the small pond (Hawaii). We've had the opportunity to open up and play alongside some of the biggest names in EDM as they come through Hawaii.
What was your winning Discovery Project submission and how does it reflect your vision as an artist?
We definitely wanted our mix to stand out so we took a gamble and started it off with an actual Hawaiian song. It reflects our artistic vision in the sense that instead of looking at being from Hawaii (which is such a small market) as a disadvantage, we wanted to just own and represent it. We did this by incorporating some of the stuff we grew up on and twisting it into what's popular now. As for our original track, we chose to go with our signature sound which is big room and festival style progressive house that sounds really wide and something you'd hear on the main stage. We also made sure to add vocals that were catchy and complemented the melody.
When was your "Awakening Experience?" (The moment you fell in love with dance music or realized that you wanted to be a producer.)
I would have to say when we realized how accepting the culture was. No one cared about how cool you were, how tough you were, everyone was just there to have a good time.
What is your favorite aspect of dance music culture and why?
Pretty much the same as the previous answer. We love how open and positive everyone is.
A producer/DJ should never…A producer/DJ should always…
Never: Worry about what other artists are doing. Focus on what you do and become great at it. Always: try and stand out. With the landscape filling up so quickly, you have to distinguish yourself from the pack.
Best set you've ever played? Worst?
Best set: We'd have to say when we opened up for Major Lazer. We were allowed to totally rock out and incorporate live singing and live instrumentation. Worst set: We haven't had a bad set per say, just bad experiences when technical difficulties arise due to bad planning.
List three tracks that encapsulate your sound:
Hardwell and Matthew Koma "Dare You"
Henry Fong and MAKJ "Encore"
Major Lazer "Watch Out For This (Bumaye)"
What purpose does music serve in your life?
We know this is such a cliché answer, but music literally is everything (and we're not just talking about dance music). Living in Hawaii we are surrounded by all kinds of different sounds and influences that we experience on a daily basis.
Winning Mix:
---
Share
---
You might also like