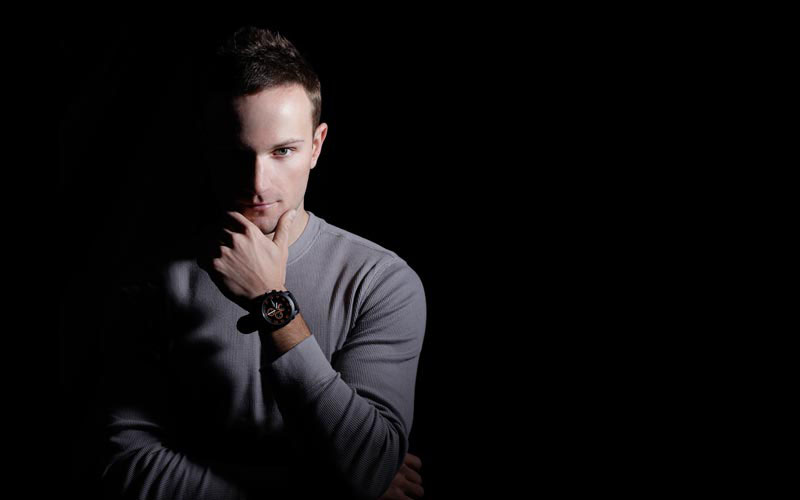 Odmark spent his entire childhood immersed in music. Successful music careers in the Odmark family don't just belong to his immediate family, but can be traced back generations. His parents, both classically trained, made sure to start him on the piano at the age of 8. He attended high school at a world-renowned school for music performance, and toured Europe with the school's wind ensemble yearly. It was while backpacking through Europe while in college that his friend turned him on to house music and the culture of the club scene. Listening wasn't enough for him, however, and so he started producing. It was only a matter of months before he gained support from Morgan Page, who endorsed his and Hohme's "Fight For You" bootleg remix over twitter, then messaged them exclaiming that he needed a copy. The remix climbed quickly on Hype Machine, getting to the #1 spot on the twitter chart, and #3 spot on the popular chart. 3 months later, he was announced as a runner up in one of Beatport's remix contests for his remix of Tommie Sunshine & The Disco Fries – "Don't Look Back". His productions continue to gain the support from some of the world's elite-including Matisse & Sadko, Special Features, Sick Individuals, Ian Carey and Filo & Peri to name a few. It's only been a year and a half, and Odmark has just begun. He is lining up a slew of originals for release, so stay tuned!
//
In the whole scheme of things, I'm still fairly new to the producing world-I've only been producing for a couple of years now. Coming from a family of musicians, music has been in my life since I was born. I knew it would be a big part of my life forever but I never really knew what role it was going to play until I started making my own. These past two years I've learned a whole lot, not just on the engineering and technical side of things, but on a more rooted, deeper, spiritual side of things. Call it one's destiny or purpose, at the end of the day, regardless of what genre of music I'm making, my mission is to make timeless music that people will want to listen to for years and years-oh, and dance to as well.
Interview
---
Home Town: Arlington, VA
Currently Living: New York, NY
Origin Of Name: Odmark is my last name! I'm very proud of my family. Successful music careers can be traced back generations!
Weapon of Choice: Hmmmm, diction
Source of Power: Family, Friends, Strangers, just people in general
Was there one particular moment in the recording or mixing process for your Discovery Project entry that made you feel like you were creating something pretty damn special?
Definitely! I recorded a lot of live electric guitars in the record, although I'm not a great guitar player by any means. When I finally got the right takes all lined up and mixed into the other parts of the track, I could just hear how novel the sound was becoming. Originality is key!
What's the most important piece of gear in your studio and why?
My brain! In order to produce an amazing record, or any record for that matter, you have to have the right attitude and thought process. If you don't, you're going to get easily frustrated over the smallest of hurdles. This will lead to frustration, and then procrastination. It's like Thomas Edison said: "Genius is 1% inspiration and 99% perspiration."
Do you have a secret passion?
This is hilarious. I love to grow grass. I have a degree in Crop and Soil Environmental Sciences from Virginia Tech, and before I realized that music is what I'm supposed to be doing, I was on the path to grow the best damn grass out there.
What is your ultimate career dream?
To be able to change just one person's life by a record I make. That is the best reward anyone could ever ask for, in my opinion. Myself along with a fellow DJs and producers from home have already started brainstorming on starting up a non-profit to help the less fortunate. We have tons of awesome ideas for a whole brand, with the mission of helping the needy through dance music.
Are you impulsive with your work or do you have a sketch in mind before you start?
Both. The way my creativity works, is that I normally do have a very vague idea of where I want to go with a project; that being a DJ set, a new record, or a remix. I usually start out with the intention of following that blueprint, but as I go along I follow my intuition, which usually calls on some pretty random ideas; ideas that I could never have thought of on my own—recording an autoharp, a ukulele, and a church bell in my last track, playing a forgotten track from the '90s at my last gig, etc. I believe that this intuition is your "muse" telling you what to do. Follow it! I've been following this intuition for a while, and it's been working wonders! I think the biggest enemy to anyone in a creative field is over-thinking: paralysis of analysis!
What advice would you offer someone thinking about entering the Discovery Project competition?
Absolutely, go for it! It's even more important for the more inexperienced producers to go for it because it forces you to work efficiently and quickly.
Winning Track:
Live Mix:
---
Share
---
You might also like