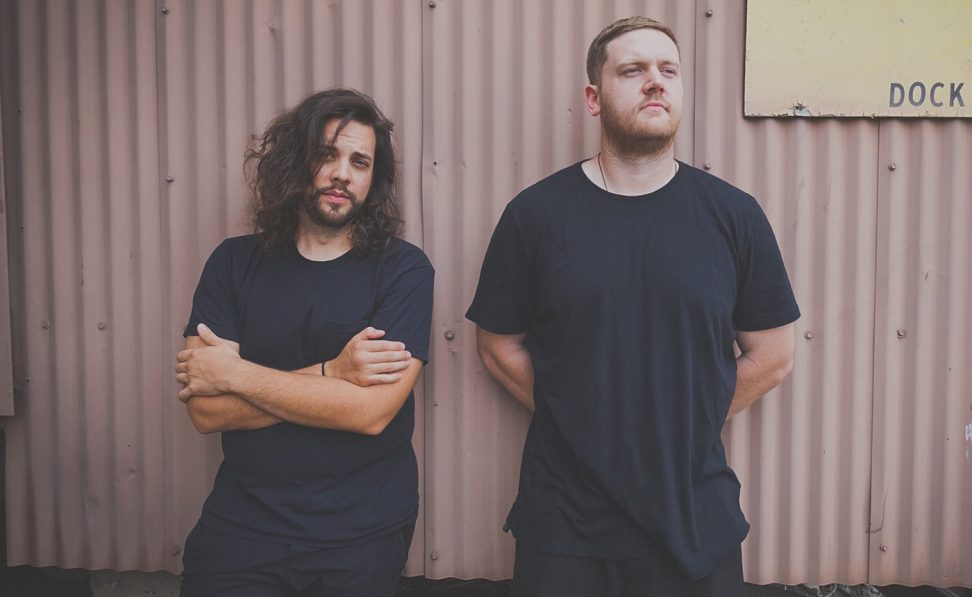 Origin: United States
When it comes to sharing exciting and fresh dance music, Niles Shepard hits the mark each and every time. Full of contagious energy and talent to match, they are no strangers to showing the dance community how they get down. As experienced curators and phenomenal producers, these selectors know how to bring people and floors together. They are the soundtrack to those unforgettable nights, making new best friends on the dancefloor. Niles Shepard is ready to work it all the way out till the lights come on!
//
Hometown: Minneapolis/St. Paul, Minnesota

Currently Living: Minneapolis (Shout-out Northeast!)

Origin of Name:
It's a few things, really. I (Jim) had just changed jobs from building custom drum sets to working for a new local craft brewery, Bauhaus Brew Labs. It's in an old building equipped with a large ceiling crane capable of lifting five tons. I'd stare at that crane while working, listening to house music and new collaborations with Cam. The crane has a large metal badge that reads "Shepard Niles." We flipped it and loved it. We felt like it was easy, oddly familiar, and cool. Not to mention, our studio is located right next to the brewery in a space called Building 8, so we thought this would tie it all together. And thus, Niles Shepard was born. We even titled our first EP Building 8. (Our logo & font are also based off of this crane.)

Weapon of Choice:

Jim: Drum kit, Ableton, Roland TR-8S, DSI Prophet 08, and solid inspiration.

Cam: CDJ 2000s and DJM 900.

Source of Power:

Jim: Realistically, way too many to list. I love what Minneapolis is doing and is known for. There is a great techno scene, dub/bass as well, and of course, what we love: house! As far as labels, I really love Simma Black, Toytonics, Black Book, Nite Records, House of Hustle, Nervous, Country Club Disco, and so many more.

Cam: Again, too many to list… but I really love disco music and anything with some rocking keys and a nice bassline. The Minneapolis house scene has definitely influenced our sound—along with so many other key players in the scene, from Black Loops to Chris Lake to Chic.
What advice would you offer someone thinking about entering the Discovery Project competition?

Jim: Go for it. Just know that X hours on a DAW and/or behind the decks can't be forged.
Cam: Pour in 100 percent, and never look back. Believe in yourself and stay on course, and over time, results will flow.
Blurb Yourself:

Jim: Music has always been my outlet. From pretty early on, I used my drums as a way to release whatever it was that I needed to release: joy, anger, sadness—anything. It's helped me escape when I want to run away, and it's helped me be seen in the light I want to be in. It's also allowed me to connect. When I think about it, most of my strongest memories are with people who have shared a musical experience with me.
Cam: I have always been an avid fan of music, and more often than not, some kind of music is playing in my house, car, office, head, etc. When I first started DJing and got a chance to share my favorite songs with people on the dancefloor, the feeling sparked something inside. Seeing people dance to songs you select and songs you create is truly something special. Connecting with people who share the same passion also bears a unique bond between you and them. Music has fostered more relationships than any other avenues in my life, and I know I have made some lifelong friends through this journey.
Are there any dots to connect where/how you grew up to your musical output?
Jim: I started with piano when I was 10 or so, eventually eyeing my brother's drum set and commandeering it around 13. Also, growing up, I went to a LOT of my older sister's dance competitions. I think this is what started my interest in both dance/electronic music and how to record/create music, as well. I played in metal bands with my good high school friends all the way through college, gaining more and more skills in both drumming and recording, all the while making beats on the side.
After college, my good friend from high school and I started a dual drum kit electronic performance duo. I would DJ while drumming, using Ableton to launch clips we made and full tracks to jam over. This is what ultimately led me to meet Cameron in Duluth, Minnesota, where he was going to college. We eventually played many shows together (me as a live drummer and DJ sets). Many years passed with many great moments, including opening for Above & Beyond in 2013 to a sold-out crowd. In late 2017, we decided to officially start a project together, and just a few moments later, here we are.
Cam: I have always loved music, yet never learned how to play an instrument, as sports were always the thing in my household growing up. However, from a young kid rocking music videos on MTV or VH1 all day, every day, to getting subwoofers installed in my first vehicle at 16 for extra bass, to finally catching my first dance music show in 2009 (which was Tiësto on Halloween), I became enthralled with the DJ scene and wanted to know more about what was happening onstage. Christmas 2009, I purchased DJ Hero for my Wii. Two months later, I found myself purchasing real DJ gear, and the rest is history.
Tell me about your most memorable night out as an artist or as a fan.
Jim: As an artist, for sure had to be just a few weeks ago at EDC Las Vegas. This was both my first time to Vegas and EDC, and I don't know how to explain how absolutely wild it was. Besides being blown away by the sheer size and energy this festival has, the hospitality, crowd and experience were second to none. We had the pleasure of playing with our L.A. homie Cabrillo and had a blast debuting a pile of new music. Unforgettable.
As a fan, in November of 2012, Zedd was playing a sold-out show at Target Center in Minneapolis with Bassnectar. After their show, our friend Matt sent Zedd a tweet asking if he wanted to play at an after-party. He agreed and arrived at the club shortly after. It was daylight-saving, and all the bars were shutting down early because of this. Naturally, we asked him if he wanted to come kick it at our house, and he did. Next thing you know, we are crushing beers and playing my drum set in the basement. Good times.
If we pressed shuffle on your iPod while you went to the bathroom, what would you be embarrassed to come back to us listening to?
Jim: You would think I would be embarrassed, but you'd potentially be confused. It could be anything: Yanni, JaRule, Ultar (Siberian black metal), or Prince. I also listen to lots of podcasts—lots of great sound design in some!
Cam: No shame in my game here. I am definitely a house head, but I love a lot of other kinds of music, from '90s/2000s rock/alternative music, like Goo Goo Dolls or Matchbox 20, all the way to classic jams from the likes of the Eagles or the Doors. I think the most embarrassing would probably be some dumb rap from my high school days—probably something along the lines of D4L's "Laffy Taffy."
What sound or noise do you love?
Jim: Big old kick drums and my dog's howl.
Cam: I am a sucker for key stabs on tracks! Aside from music, I love the sound of a hockey puck hitting the goalie's pads… I mean, we are from the state of hockey.
What gets you excited when you think about the future of electronic music and club culture?
Jim: The technology and convenience is awesome. It's so easy to learn about new artists now. You can find someone who has been making music for a decade, let alone a few years, all in the palm of your hand. You can find them at any time of the day or night! That's amazing and so much fun; it will only help boost the scene.
What do you remember about your first DJ gig? Details, please…
Cam: While I was in college in Duluth, Minnesota, I started DJing there and playing random EDM events at bars here and there, pushing my love of (at the time) big room house onto the masses. Duluth is known for jam bands and bluegrass, so as you may imagine, I was definitely going against the grain, and unless there were drunk college kids, chances are no one was getting down to my sets.
Finally, in January of 2011, I received word that I won an opening slot to play the mainstage at Avicii's first performance ever in Minneapolis. Epic Nightclub (RIP) was the most packed I have ever seen the place at 9pm. I was full of nerves and excitement, and after playing my set, I remember going to the bathroom and looking in the mirror and realizing what just happened: being lucky enough to play a room full of friends and lovers of music getting down to MY SET before the international superstar Avicii went on at midnight. I know this wasn't my first DJ gig ever, but it was my first one in a big city, with a big crowd, and it left a massive impact on me. Avicii never played again in Minneapolis, and I will always remember and cherish that special evening. Shout-out SIMShows for the amazing opportunity!
What's the hardest professional lesson you've learned thus far? How did it make your life easier—or more difficult?
Jim: If you really love it, you can't give up. Once you realize this, it makes it easier, because you stop fighting it and start fighting for it.
Cam: You can't change who you are or what you enjoy. Don't roll with the trends. If you have a passion for something, keep pushing and crafting that passion, and you never know what may happen one day. Back when I first got into dance music, I had friends from high school making fun of the genre and asking what was so cool about raves. Those same cats are now going to dance music events regularly!
Another lesson that I have not personally experienced but have witnessed it with others: Do not burn any bridges. This music scene is a pretty tight-knit circle, and you never know who knows who or whom you may be crossing paths with again in the future. Keep it professional and be a good person, and you can never go wrong.
---
Share
---
You might also like