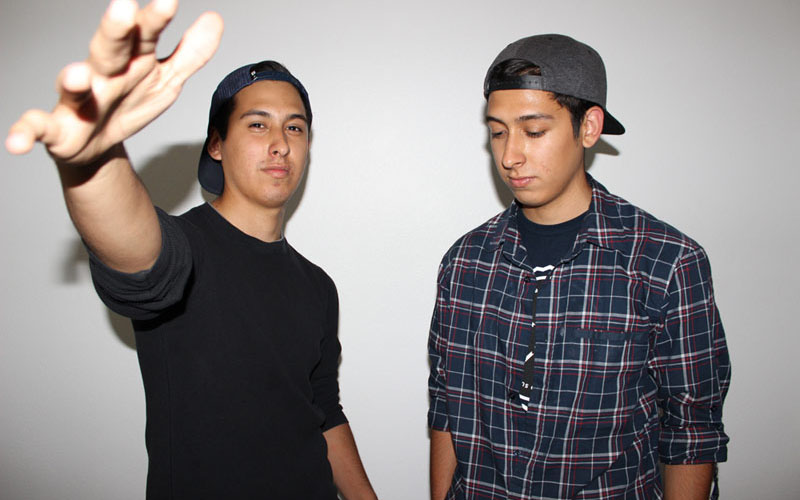 Next Order, named after a song from Dog Blood's first EP "Middle Finger", is a duo comprised of twin brothers Kelvin and Matthew Perez. They have been making music as a group since May 2013. Drawing inspiration from artists such as Dog Blood, Disclosure, The M Machine and many more. Focusing on making music that attempts to innovate and progress the EDM scene. They dream to one day be playing along side the artists that they look up to and making a career out of doing what they love.
//
Matt: I'm always chasing that feeling when a certain song makes you smile without noticing. When every element of the song sounds so perfect that there is nothing you can add or take away from it to make it better. When I listen to these songs I truly appreciate music for how it really affects people. A couple of my all-time favorite songs that make me feel this way are "With A Little Help From My Friends" by The Beatles and "Make Things For Smile" by Skrillex. It's to an extent where I force myself to not listen to the songs too much for fear of wearing them out, but it doesn't even matter because they never get old. Music is universal; everyone loves some type of music. It amazes me how powerful it can really be, not to sound corny. Kelvin: In my mind I feel like no one in this world can possibly love music more than me. This isn't just addressing EDM specifically, but all music in general. I think my intense love for music allows me to appreciate any song that I deem to be great. I don't care if it's a sappy love song by Taylor Swift, an explicit Danny Brown track, or a Groovy Disclosure record. Good music is good music period. The feeling that my favorite songs give me is ridiculously inspiring and unconditionally loving. The ultimate goal is to create music that will make others feel the same way.
Interview
---
Home Town: Los Angeles, CA
Currently Living: Corona, CA
Origin Of Name: The name came from a Dog Blood song, mainly because they are one of the biggest inspirations to us. They were the reason we started trying to make music that's a bit different.
Weapon of Choice: Ableton for producing
Source of Power: Of course, Dog Blood, The M Machine, Disclosure, Oliver, Baauer, GTA, Alvin Risk, Dillon Francis, Birdy Nam Nam and many more. Mainly people who are making new and exciting music.
What's the biggest misconception about being a DJ?
Again with the clichés, the biggest misconception about being a DJ is "anyone can do it, you just press the space bar and these programs mix the music themselves." The whole argument about sync buttons versus old school turntables is just very tiring at this point. First of all, most of the people performing at events such as EDC aren't here to be "DJs." We don't see ourselves as "DJs" in the traditional sense of the word. Most of us are producers; so showcasing our music through a "DJ" set is pretty mandatory unless you want us to put on a CD of an EP or album and let the songs play continuously without mixing. If we wanted to be a true "talented DJ" then we wouldn't be playing at EDC, we would be beat matching on turntables at you nearest club or house party mixing the best of old school and radio station music while pressing that little annoying air-horn sample. We want to put on a good show and if some people need sync to do so then so be it.
Are you impulsive with your work or do you have a sketch in mind before you start?
We are definitely impulsive when it comes to producing. Anytime we try to copy down an idea in our heads it just never works out. As of right now, our method for producing usually entails stumbling upon an idea while making sounds in Massive, creating different drum loops, or tweaking samples. As for DJing, we like to plan out our sets. We think it's more satisfying to the audience for us to come up with clever mash ups and transitions. A lot of people will argue that being a great DJ means reading the crowd and playing accordingly to whatever they react to, but we think that playing songs we enjoy could possibly expose some of the audience to songs they have never heard but now love.
Do you have a list of people you'd like to collaborate with in the future?
Skrillex, since he is the reason we even started producing music in the first place. We listen to any given Skrillex song over and over, dissecting every element that we can hear. The drums and how they are processed, the synths, percussion, background noise, sub bass, melodies, vocal processing. We're just really curious as to how he goes about doing everything.
And The M Machine for basically the same reasons. They make really unique chord progressions and melodies along with innovative sound design. Their songs are ridiculously inspiring to us. Especially "Luma."
If we pressed Shuffle on your iPod while you went to the bathroom, what would you be embarrassed to come back to us listening to?
Matt: "Chasing Pirates" by Norah Jones. It's just so relaxing and beautiful—haha. Norah has a great voice.
Kelvin: "Hit The Lights" by Selena Gomez, it's embarrassing but I love that song.
Tell me about your most memorable night out.
For both of us, it was seeing Skrillex for the first time at Hard Summer 2012. It felt so unreal to finally be standing a few yards away from him and watching him throw one of the best shows we've ever seen. It made us realize that we also want to be the ones up there performing and watching people singing along and vibing to our music.
What advice would you offer someone thinking about entering the Discovery Project competition?
This might sound cliché, but…just do it for fun. It seems like people try too hard to make something everyone is into at a particular moment in time. Some people could be worried that stepping out of the box could cripple their chances of winning so they would feel pressured to make a big room house song or a trap song. Not that we have anything against those genres, but everyone wants to write those types of songs. But hey, we could be wrong. If you truly enjoy doing that then go ahead.
Winning Tracks:
Winning Mix:
---
Share
---
You might also like